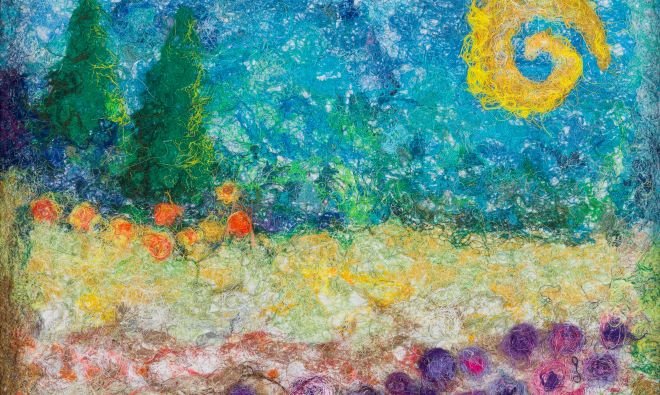 About the program
Each year, a jury of practicing artists and County residents recommend artworks to be purchased for the County's art collection. 
Guided by the Art Collection Advisory Committee, The Art Acquisition program takes place during "The Strathcona Salon"—a sweeping exhibition of the artists who help to shape the County's artistic landscape. From this exhibition, eligible artworks are considered for County purchase. 
"The Salon" also features artwork by ten promising youth artists. Winners of Art Society of Strathcona County's annual youth exhibition are invited to loan their artwork to the County for one year following "The Salon".
---
Participate in the 2023 Annual Art Acquisition program
Apply by April 17, 2023
Before applying:
Download and review the application instructions

(318.5 KB)

. 
 
Gather all necessary information about you and your artwork. The online application form will not save your progress. Please prepare the following items before starting your application:

Contact information
Artist bio (maximum 200 words)
For all submitted artworks: relevant information including title, medium, year created, number of pieces, size, and price/value. 
Artwork statement(s) (optional, maximum 150 words)
Jpeg images of artwork submissions
For new participants who live outside of Strathcona County: a description of your connection to Strathcona County (maximum 500 words)
Alternatively, artists can apply using the  PDF version of the application form (961.0 KB) . 
Consent derivative artwork and representation of individuals and communities. (140.3 KB)
---
View artwork selected for purchase in 2022
Thirteen artworks were recommended for purchase in 2022. These artworks will be on display in the Community Centre through June 2023. Click on an image below to view the gallery.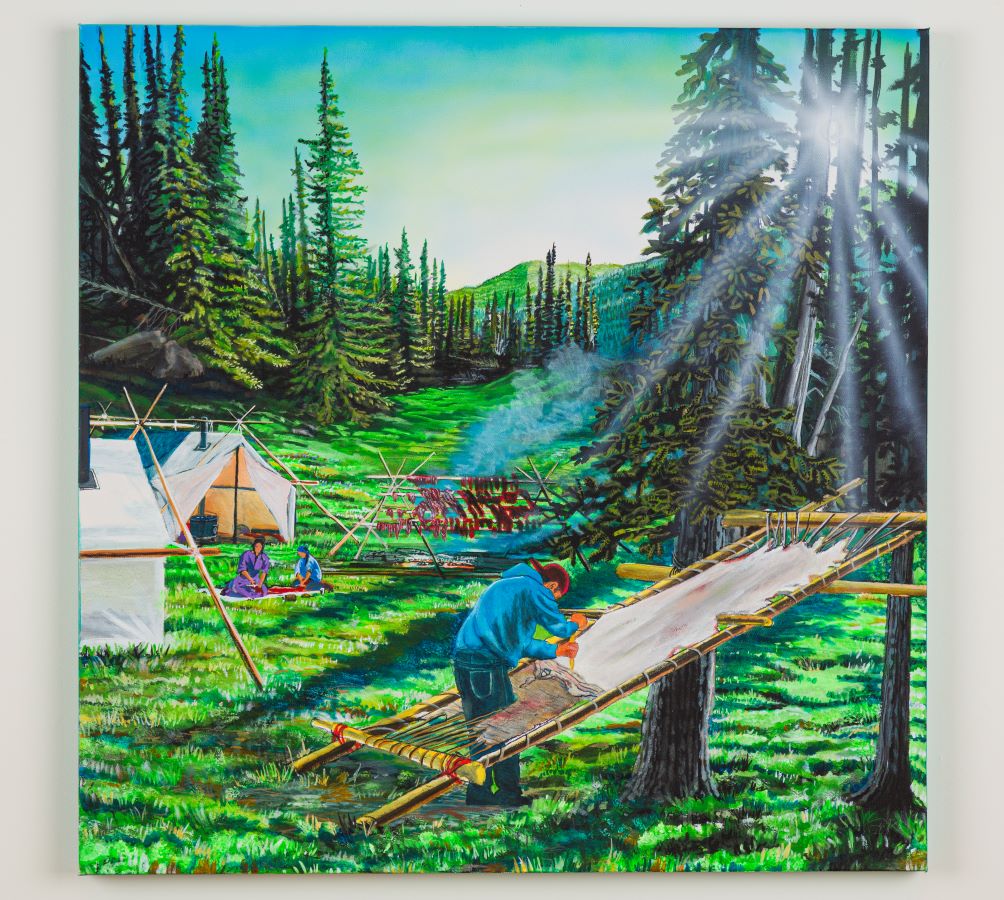 Nabe Gduzahan Eugene Alexis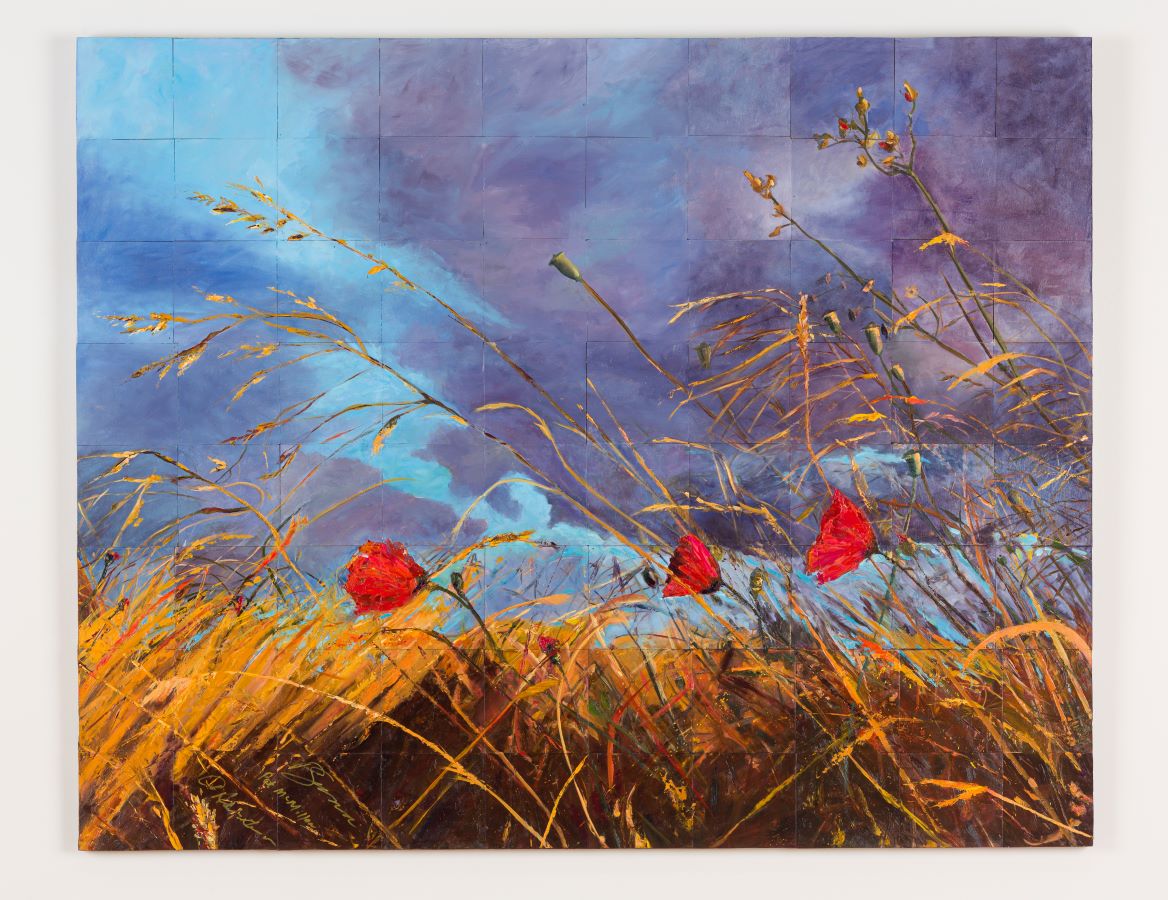 3X9 Collective: Angele Hebert-Gunn, Paulette Gunn, and Pat McMillan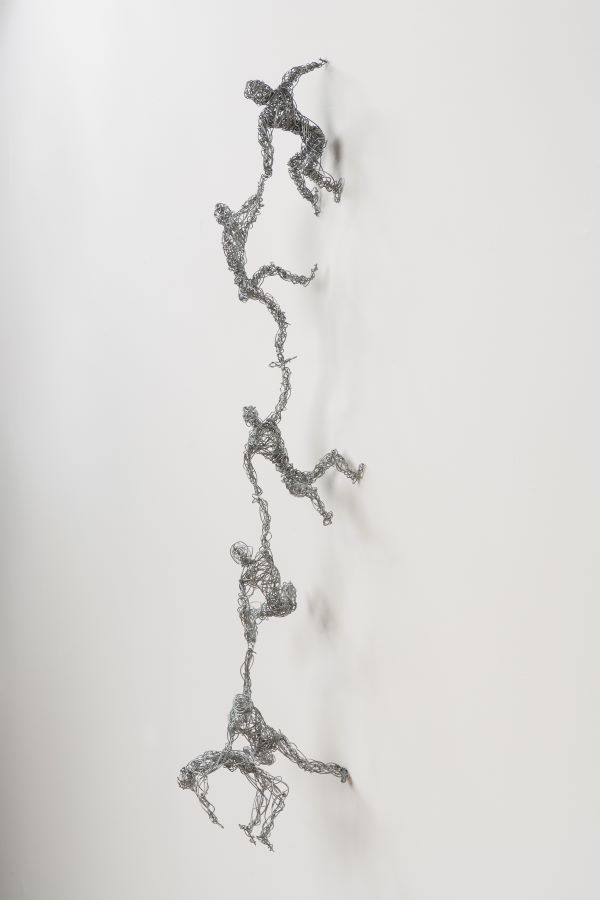 Blanca Jose Hernandez Cruz

Canadian Landscape: a visual gift, 2021

Upcycled threads embroidered on canvas

The thread that makes up Canadian Landscape was gifted to Blanca by local quilter Fran Laroche. As a medium, the collection of threads is special. For more than forty years, Laroche had been collecting and sorting bits of thread leftover from her quilting projects. For Blanca, the medium is completely unique and can never be replicated.

Blanca and Fran's friendship began nearly twenty years ago, shortly after Blanca had arrived in Canada for the first time. Blanca then returned to Nicaragua for several years where she created Boheme Atelier, a designer fashion brand and boutique featuring handcrafted footwear, handbags, and accessories. Boheme Atelier closed in 2018 due to political turmoil in Nicaragua and the artist moved to Canada once more. She obtained permanent residency in October 2021.

Through experimentation, Blanca found that embroidery techniques worked best to adhere the thread to the canvas while maintaining the unique qualities and textures of the threads. The piece was created entirely by hand.


2022 Acquisition
Strathcona County Art Collection

Nabe Gduzahan Eugene Alexis

Young Man in Red Cap, 2021

Acrylic, oil, airbrush on canvas

Eugene Alexis is a Stoney Nakada from Alexis #133 Indian Reserve, located in Treaty No. 6 Territory. He lives on the shores of Wakamne (God's Lake), also known as Lac Ste Anne. Eugene is a fluent speaker, translator, transcriber, and curriculum developer of the Alexis Stoney Nakoda Language.

Eugene was named after his late grandfather, Chief Joseph Alexis and his late great-great grandfather Aranazhi, Chief Alexis who signed Treaty for the Alexis Tribe and was also known by the Cree as Klskiyciciy, or Nabe Gduzahan in Stoney Nakada Language.

2022 Acquisition
Strathcona County Art Collection

3X9 Collective: Angele Hebert-Gunn, Paulette Gunn, and Pat McMillan

Freedom Field, 2020

We are 3 fabulous female painters local to Strathcona County who discovered a kinship in the art world and long a lasting friendship outside the art world. Initially we gathered at each other's home to paint an image chosen by the home owner. We collaborated, and shared tips and ideas. Since that worked so well, we decided to challenge ourselves to each paint 9 paintings, hence the name 3X9 Collective. We enjoy bringing new challenges to the table, and of course all the fun we have working together and creating gives each of us an incredible appreciation of each other and the art we create.

2022 Acquisition
Strathcona County Art Collection

Ainsley Toner

The Original Sherwood Park Kids, 2022

Acrylic on canvas

There is something to be said about the feelings associated with watching the face of your parent or grandparent light up when they find an old sports bomber jacket or stuffed animal from their childhood. I hold great value in the way objects can shape our identities and create the same joyful feelings in us now, as they did many years earlier. The feeling of nostalgia is one that can connect us across all generations, and I aim to explore how I can elicit that feeling in myself and others through art.

2022 Acquisition
Strathcona County Art Collection

Jason O'Donnell

Six Feet Under, 2019
Wire sculpture

I am wire artist who works with new and reused wire and barbwire. Born, raised and now working in the Park, I own a local photography company called Infinite Eye Photography. Six Feet Under is a series of six 12 inch tall human wire figures linked together in an effort to help their distressed fellow.

2022 Acquisition
Strathcona County Art Collection

Colleen Lou Frederick

Lily of the Valley, 2021

Arcylic, pen on canvas

I am a self taught artist and learning as I go. An excellent escape from the stressful time in our world, painting is a mini vacation for me. Mornings are my most precious moments as that is when my ideas arise. 
 

2022 Acquisition
Strathcona County Art Collection

Krista Hamilton

Half of Me is Sky, 2021

Mixed media on canvas

A long walk on a cold day; the sky, the space and the winter are a comfort. They feel like the deepest breath. A person can be changed by brisk air.


2022 Acquisition
Strathcona County Art Collection

Bruno Canadien

Rita Therese, 2020

Acrylic, satin ribbon on canvas
 

The paintings within this series (Mother Tongue/ Ehts'o Ket'a, 2018 – 2020) draw on and celebrate the legacy of Madeline Canadien, Rita Coats, and Mary Elsie Canadien specifically, and other practitioners of Dene and Metı́s floral artwork generally, in beadwork, tufting, embroidery and quillwork. The original impetus for this work came in the form of 3 pairs of beaded moccasin tops, made by Setsų Héɂı and gifted to me posthumously by my Aunt Elsie, with the suggestion that I incorporate them into my practice. These beaded tops have come to symbolize my relationship with my grandmother: quiet, beautiful, yet tangible. Expanding the symbolism, and without exaggeration, Dene traditional artwork represents our love for family and our love for our land, Denendeh. It is this symbolism as well as Setsų's designs that are at play in these paintings.

This work was made in honour of my matrilineal line, and is dedicated to my family and the Dene and Metı́s of the Dehcho. The design on this canvas is inspired by Elsie Canadien's work, and is named for my mother.

2022 Acquisition
Strathcona County Art Collection

Tammy S. Henkel

Art at Play, 2020 – 2022

Bear Fishing 

Magazine collage

The Art at Play series was a means to challenge and occupy myself during Covid-19. My scale has shifted from extremely large to more modest dimensions. Recently I have been producing work at my kitchen table rather than in my basement studio. Currently I am exploring form,  color, pattern, natural motifs, square formats and recycled magazines. Using a #11 hobby blade I cut free form shapes to assemble nature inspired images. I use Elmer's tinted glue sticks.

2022 Acquisition
Strathcona County Art Collection

Tammy S. Henkel

Art at Play, 2020 – 2022

Fowl Landing

Magazine collage

2022 Acquisition
Strathcona County Art Collection

Tammy S. Henkel

Art at Play, 2020 – 2022

Koi Pond

Magazine collage

2022 Acquisition
Strathcona County Art Collection

Tammy S. Henkel

Art at Play, 2020 – 2022

Leap Frog

Magazine collage

2022 Acquisition
Strathcona County Art Collection

Sabine Hahnel

Open door to your dreams, 2021

Acrylic on canvas

My first inspiration was my grandfather. I grew up admiring his talent and spent many hours watching him paint. I am, like him, entirely self-taught and always strive to improve my technique. Besides being an artist, I am a full time Registered Nurse in a Critical Care Unit. Creating art is my refuge and therapy, offering me a time out from the hardship and emotional turmoil my days at work often bring.


2022 Acquisition
Strathcona County Art Collection
---
Receive timely updates on artist calls, exhibition opportunities, and Gallery@501 programs