Annual Art Acquisition Program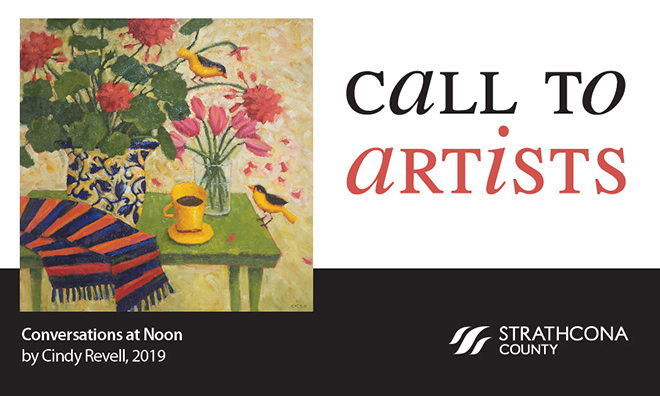 Since 1987, in support of our arts community, Strathcona County has issued an annual call for submissions from local artists. Submitted work is juried and pieces selected are purchased and added to the Art Collection. All submissions will hang in the Salon Series Exhibition at Gallery@501 from May 13 to June 19.
Donations to the Collection are also accepted, but they are juried to determine their suitability.
In 2003, high school artists became eligible to submit to the Collection. Since many young artists do not wish to sell their work, they have the option to submit their work for purchase, donation or for loan for one year. For these artists, this is an opportunity to profile their work, gain recognition and to build a portfolio for college or university. 
Selected work is displayed in the Artrium of the Strathcona Community Centre for one year. After one year, work is distributed to public areas in Strathcona County buildings.
Submission process for adults
Detailed instructions for adults can be found in the submission package.
The submission form must be completed before you arrive at Gallery@501 to drop off your artwork.
Artist information evening  
Learn more about how the submission, selection and exhibition process works! Thursday, April 8, 2021 at 7 p.m. This meeting will be virtual. To register and receive a meeting link, please email artacquisition@strathcona.ca 
Submission process for youth
Detailed instructions for high school artists can be found in the submission package.
Non-residents
Non-resident artists who have a strong tie to Strathcona County and/or have contributed to the enrichment of art in the County and the larger arts community may apply for eligibility.  The deadline for application is April 16. 
Submit your Non-Resident Application Form to artacquisition@strathcona.ca
Applications are reviewed by the Strathcona County Art Collection Advisory Committee. You will be notified of your acceptance or non-acceptance by April 22.
COVID information 
In order to keep our community safe, the following precautions are in place: 
Appointments are required for adults dropping off and picking up artwork – refer to the submission package for details.
The Salon Series Exhibition will be available in a virtual format. The public may be able to visit the Exhibition in person; Strathcona County continues to align its COVID-19 response with the Government of Alberta.  
A reception is scheduled, but may be cancelled. 
Please refer regularly to this webpage for updates  
---
Frequent questions
This program is our way of encouraging and supporting the artists who live in our community and contribute so much to our County's cultural development.

Every year there are different jurors and every year there are different artists who participate. We encourage you to keep trying. It's also a great opportunity to show your work.

Yes, with your permission, we are happy to give out your contact information to potential buyers.

High school students can loan their work to the County for one year. Because we want to encourage the creativity of our youth, we select up to 10 loans. In terms of purchases made, only a few youth pieces are purchased.

All artworks must be appropriately presented and ready for gallery display. Where applicable, artists are encouraged to adhere to museum standards for matting and framing artwork (acid free materials, conservation glass). Be sure to include framing costs in your pricing. Art on three dimensional canvasses does not have to be framed but the sides must be painted.

If your work is framed, but not to museum standards, please note this on your submission form as the cost of reframing will need to be added to our budget calculations.

More details on framing can be found in the Submission Packages.

A different jury is selected each year. In 2021, the jury will be comprised of three non-resident arts professionals and two members of the Art Collection Advisory Committee. Names are suggested by the Art Collection Advisory Committee and by members of the Recreation, Parks & Culture Cultural Services Branch. We also contact organizations such as the Alberta Foundation for the Arts, who also have a juried art selection process for adding to their collection.

authenticity and originality
quality of materials, and the impact on future conservation or maintenance needs
presentation
aesthetic quality
technical excellence and craftsmanship
overall success and effect

For the first year after purchase, the art is placed in the Artrium of the Community Centre. After that, it is distributed to various County buildings. You can view our collection here. The locations are "tagged."
---