Fire brigade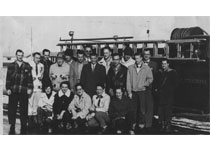 The fire brigade was comprised of both men and women. Nearly all the interested men worked outside of the community, so during the day, fire emergencies were responded to mostly by female volunteers. 
Supplies were limited, but this did not hamper the training commitment of the volunteers. Videos were watched, manuals shared and time working with the equipment was scheduled. 
In 1958, Mr. Trowbridge (the developer of Campbelltown) agreed to pay the volunteers an honorarium of $5 per fire call and $2 per practice session. 
In December 1976, the last two female volunteer firefighters retired after serving in Sherwood Park for 20 years. Marjorie McMaster moved to British Columbia and Margaret Jordheim assumed duties as a full-time dispatcher at the Sherwood Park station. 
Information and photo courtesy of Strathcona County Museum and Archives.