Sherwood Park 50 years
This article is one of several commissioned by Strathcona County as part of a project to celebrate the 50th anniversary of Sherwood Park. These stories were published in the Sherwood Park News in 2006 and 2007​​​​​​​.
Last modified: July 6, 2021, 11:28 a.m.
August 16, 2006
Sherwood Park's fire brigade began with dedicated volunteers - men and women!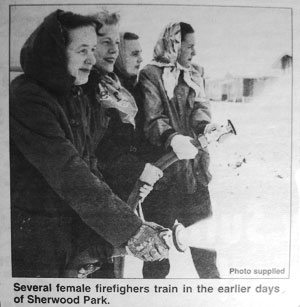 The winter of 1955-56 marked the arrival of the first residents of Sherwood Park. This series of articles, provided by Strathcona County, celebrates Sherwood Park's 50th birthday.
In November of 1956, the Sherwood Park volunteer fire brigade got its start at an organizational meeting held at the Salisbury Rural School. Wayne Stanyer who had firefighting experience at the plant where he worked, was appointed fire chief.
There were about 90 homes in Sherwood Park and the developers, A.L. Trowbridge and Associates, were responsible for all services in the hamlet until 500 homes were built. They provided a half-ton truck, some fire hose, fire extinguishers and a ladder. Henry Unrau, a member of the original brigade recalled that the equipment was stored at Wayne Stanyer's place on Conifer because he had a two-car garage and, like most residents, just one car.
Since almost all the men in Sherwood Park worked outside the community, a crew of female firefighters took over during the day. Marg Jordheim, who served for 20 years, was quoted in 1985, "While strangers in the area were surprised to see a fireman take off his helmet and calmly take the rollers out of "his" hair, Fire Chief Wayne Stanyer always treated the women volunteers the same as the men". Venice Harris, who moved to Sherwood Park in early 1956 says, "As soon as a fire siren would go, the women would grab their kids, boots in one hand, kids in the other and go up to somebody else's place for the neighbour to take care of their kids while they did the firefighting."
In November 1958, the community newsletter, "Notes and News", included the following instructions for reporting a fire, "Call the operator, give her your house number and the type of fire you may have. Then stand out on the sidewalk to direct the truck to the proper location."
In 1958, as the community reached the 500-house number, the Municipal District of Strathcona started construction of a fire hall, which was opened in February 1959. The building, on the corner of Alder and Ash, now houses the Strathcona County Museum and Archives. A new pumper truck also arrived, along with protective clothing, breathing apparatus, a resuscitator, and other fire fighting equipment.
In July 1959, automatic telephone service came to Sherwood Park and five firefighters had fire alarm phones installed in their homes, which rang simultaneously when a call was placed to the emergency number. From their homes, these firefighters could activate the siren on the roof of the fire hall to call the other volunteers. The siren also rang daily at 7:30 pm to check the siren and was an unofficial "curfew" for many of the neighbourhood children.
In 1962, a second pumper truck was purchased and the fire department began to respond to rural fire calls. In 1964, Wayne Stanyer became the full time fire chief. Bob Oscroft became the first full time firefighter in 1965 and a year later, Tom Lukinuk was also hired. Both Bob and Tom had been volunteers.
Ambulance service was not added to the responsibilities of the fire department until April 1972. Prior to this time, a private ambulance service operated in Edmonton, but Sherwood Park residents sometimes called the fire department and the Fire Chief's station wagon was often called into service. The first paramedics joined the department in September 1985.
Firefighters contributed $2 a month to the social fund, which paid for family picnics, Christmas parties, bowling parties and broomball matches. The first Firemen's Ball was held in 1963 and was deemed a "howling success". This tradition will be resurrected in November 2006 at a 50th Anniversary Firefighters' Ball for former and current members.
Henry Unrau remembers his time with the fire department as a highlight. "It was so far removed from my teaching vocation and if you've never ridden in a fire engine with the siren screaming and the lights flashing, you really haven't lived! It was exciting and you never knew quite what you were going to find when you got there. We really relied on each other. We formed a very close knit family because each of us knew that our safety depended on the back up behind us."
In 2006, Strathcona County Emergency Services answers over 4,000 calls a year throughout the County and operates out of 5 fire stations located in Sherwood Park, Ardrossan, South Cooking Lake and Josephburg. Personnel are trained in fire, rescue and emergency medical response, resulting in an integrated service to residents.
Check out the Strathcona County Museum and Archives for more stories and actual artifacts from the early days of Sherwood Park's first fire hall.