Museums are institutions that amass and preserve collections of historical artifacts and/or natural history specimens. The traditional museum uses static displays, albeit now often enhanced by some interactive wizardry, to interpret their collections. Other museums are "living museums" that aim to recreate historical periods through the use of artifacts and, often, costumed interpreters.

Imagine a living museum that requires no such recreation. Imagine such a museum where family artifacts are still in use. Imagine a museum where buildings, machinery and equipment span generations, thereby continuing to impart meaning to their owners. Such a place is Elmer Prochnau's Century Farm at NW 20-55-20 W4. Here, there are echoes that trace the family's involvement in Strathcona County's history since their arrival in 1894.

Tucked in between a shed and the Prochnau's main house is a log summerhouse, the original house that Elmer's grandfather, Samuel, built upon his arrival. Much later, one of Samuel's sons, Ludwig, moved the log house and attached it to his frame house that he built after his marriage in 1920.

Ludwig was only two years old when his father, Samuel, and his mother, Caroline, emigrated from Volhynia, Russia. They were one of 14 Moravian farm families who left in search of religious freedom and land they could call their own.

A mid-summer frost that turned the unbroken sod white must have been discouraging for the newly arrived Moravians, but the immigrants had little choice other then to buckle down to the hard work that is the lot of the pioneer. They were desperately poor. If it had not been for Andreas Lilge, their self-styled leader, they may not have survived. It was Lilge's ties to the Mennonite community in Altona, Manitoba that gave the fledgling Moravian settlement its start when the Mennonites donated a carload of food and livestock; it is said that the lineage of some Strathcona County cattle can be traced back to these cattle.

Meanwhile, some Moravian families filed on homestead land recently surrendered by the Papachase band where Edmonton's Mill Woods subdivision is now located; others, like Samuel Prochnau took land northeast of Edmonton. By the time Elmer took over his father's (Ludwig) farm in the 1960s, his grandfather's old log house was in poor condition. Rather than tear it down, Elmer decided to restore it, replacing sill logs and insulating the building so that his wife, Margaret, could use it as a summer kitchen. On cooler days, Elmer heats the summerhouse with the same wood stove that was in his father's home.

Close to the summerhouse is a modern shed where a 1912 Rumley tractor sits, bought in Saskatoon in 1914 by Elmer's grandfather. When he got it home, his son, Ludwig, discovered that it was not working very well. He lifted out the crankshaft so that he could scrape the bearings. After that, the old Rumley served him well until 1924 when he bought a new Oil Pull Rumley. By then, Ludwig had his own farm, the one where Elmer and his wife, Margaret, now reside. This quarter-section had been homesteaded in 1897 by a cousin, also named Samuel Prochnau, and had gone through several owners before Ludwig bought it in 1919. Today, Elmer proudly displays the tractors at parades and, as a member of Strathcona Vintage Tractor Association, at the tractor pulls held each year at the historic Bremner house.

Ludwig invested heavily in his farm in the early years, and made shrewd purchases of machinery and equipment that Elmer still keeps. For example, Elmer still planes logs using the portable sawmill that his father purchased prior to his marriage in 1920. After he purchased the farm in 1919 from a cousin, Ludwig used the sawmill to build a new house for his bride, and all his farm buildings. His sawmill must have been one of the few in the district, for he did a lot a custom work for other farmers. Ludwig didn't mind; in fact, he enjoyed helping people. When he purchased a small flour mill in 1929 to grind grain for his own use, he did custom grinding for his neighbours as well. The flour mill, although not used by Elmer now, is still in working order, stored in a corner of one of his sheds. In addition to doing custom lumber planning and flour grinding, Ludwig also did custom threshing throughout the area, pulling his threshing machine from farm to farm to help his neighbours bring in the harvest.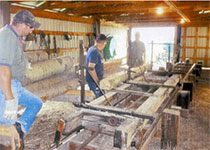 Ludwig's portable sawmill is still used by his son, Elmer, on his Century Farm in Strathcona County.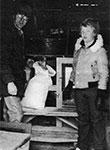 When this photo was taken in February 1984, Elmer Prochnau was using his father's stone flour mill to grind flour for his family's use. 

Although he had only a few years of formal education, obtained at Deep Creek School, Ludwig was a natural when it came to working with machinery. The 1930s were difficult years, and Ludwig had to struggle to keep the farm. He couldn't afford to buy a new feed cutter. So, he invented one! He fabricated many of the moving parts and after perfecting the shape and design of the wooden components, Ludwig had Coutts Foundry in Edmonton make casts. In his wood- and coal-fired blacksmith, he drilled, filed and forged parts for this feed cutter. The feed cutter proved to be such a success that seven other farmers in the district persuaded Ludwig to build them one as well. Always a bit of a "lone wolf", Ludwig did things his own way and paid little attention to formalities. As a consequence, it appears that he did not apply for a patent on his feed cutter. Today, Elmer not only has the feed cutter but he has also saved the wood patterns of the gears that his father made. "Dad was somebody in my books. He was a great person."

"If you couldn't sing, you probably weren't the best kind of Moravian," Elmer grins. His parent's home was always filled with music. His mother sang while kneading bread dough, and Ludwig played his violin. Their second boy, Clarence, born in 1928, grew to be a gifted musician who taught school, and Elmer still has the piano that his mother bought so that Clarence and a sister, Elsie, could learn and, later, teach piano. Both earned their ARTC (Associate of The Royal Conservatory) diploma in piano from the Toronto Conservatory of Music. Elmer and a younger sister, Jeanette, also took piano lessons. "That piano has a lot of miles on it!" After some training, Elmer dropped his piano lessons. But once his own children were grown, he returned to music and had the old piano rebuilt. Now, Elmer sits down every day at the family piano that he keeps in Ludwig's 1920 home, and tickles the ivories. A love of music and old artifacts are evident as well in the old pump organ, also in Ludwig's house, stored there on a friend's behalf. Next to it is a 100-year-old traveling organ—"You can fold it up like a suitcase"— that Clarence adopted for use in his classroom when the school at Namao was about to toss it out. Later, Elmer made a bench for the traveling organ from the shell of what had been at one time another organ. Elmer's love of music led him to sing in a quartet, and of course, in the church choir. "I liked singing something that was difficult."

Like his father, Elmer has an interest in all things mechanical. He was hired at Sherritt Gordon in Fort Saskatchewan at the age of 18. After working shift for seven years, Elmer grasped the chance when Sherritt Gordon offered to apprentice him as a machinist, a job he kept for 38 years until his retirement in 1999. Meanwhile, "I was a moonlight farmer," he chuckles, having bought his father's farm in 1967. His father, Ludwig the entrepreneur farmer and inventor, had stopped modernizing his farm when his custom threshing business died with the introduction of combines in the 1950s. So, in addition to holding a job at Sherritt Gordon, Elmer bought new equipment and purchased the quarter-section east of the farm and rented other land. Today, the Prochnau Century Farm is strictly into grain. Elmer hires someone to seed his land, although he still takes off the crop on the home quarter himself.

Elmer and Margaret Prochnau are proud to be recognized by both the province with its Century Farm and Ranch Award, and by Strathcona County's Century Families project. Like others, though, they wonder what will happen to the farm once they are gone. Elmer and Margaret married in 1966 and have four children, three boys of their own and an adopted daughter. Of their children, Elmer and Margaret feel that their eldest, Jeff, has the greatest appreciation for the farm, having lived in Ludwig's house for a few years after he married in 1994. They realize that whichever child of theirs takes over the title to the land they will not be able to afford the high cost of running a farm. "They could still own the farm and not necessarily do the work," muses Margaret hopefully.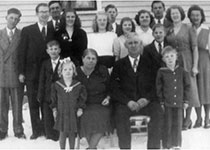 Ludwig and Martha Prochnau had a large family of 15 children. Elmer is in the front row, extreme right, next to his father, Ludwig, circa 1950