Family reunions are wonderful opportunities for the various branches of a family to come together to share stories, to re-acquaint with each other and, sometimes, to meet for the first time. Often families do not know the details about their own history, and such was the case with Melvin (Mel) McEachern, his wife Matilda and their son, Christopher. It was at the McEachern family reunion in 2000, when their farm on NW 23-55-22 W4 received Alberta's Century Farm and Ranch Award that "we found out a lot of things."

Rifling through a large plastic tub full of photographs and other memorabilia, Matilda finds a 1992 program of the district's celebration of the 100th anniversary of the arrival of the Parry Sound colonists to Alberta. The program gives a succinct history of how English and Scot settlers came to the fertile, but empty, land in north-central Alberta. The settlers had been trying, unsuccessfully, to carve farms out of the Canadian Shield near Parry Sound, Ontario. Thomas G. Pearce, an agent for the Canadian Landed Credit Company (a subsidiary of the CPR), undertook to re-locate the settlers. With his persuasion, the CPR underwrote a loan for fares and freight costs, and reduced the cost of transportation. Meanwhile, Pearce travelled out to Alberta and chose land northeast of Edmonton. In May 1892, some 298 colonists left Ontario with 42 carloads of household effects and their livestock including 86 horses and 170 head of cattle. The first train arrived in Edmonton Wednesday, April 13, 1892, and two more trains arrived on Thursday and the fourth on Friday. There was no immigration shed at Strathcona to house them when they arrived, as had been promised, so the colonists were forced to live in the rail cars for two weeks until the water in the North Saskatchewan River dropped enough that they could then ferry over their effects. So confusing was their search for homestead land as opposed to CPR, HBC and school lands that a number, thoroughly discouraged, promptly returned to Parry Sound. But others persevered, and over the next six or seven years another 200 to 300 Parry Sound colonists moved to Alberta.

Among the first wave of Parry Sound colonists were Donald Archibald McEachern, his wife Mary, and two sons, Neil age 15 and four-year-old Ernest. A third son, Gilbert, was born on the first homestead in the Horse Hills district in 1897. Later, Donald bought CPR land two miles south of Fort Saskatchewan, land that remains in the McEachern family. Neil and Ernest filed on land when they became eligible to do so at age 18 and young Gilbert farmed with them after completing his schooling at Partridge Hill. Although each son had land in his own name, their lands were considered part of the family farm.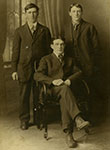 Gilbert, Ernest and Neil McEachern, circa 1915 

In 1921 Gilbert married Olive Grace Black, whose parents were also Parry Sounders, by whom he had four children, two boys and two girls. The boys, Delbert and Melvin, farmed with their father and lived with their parents on their grandfather's home quarter. It was in the mid-1960s when the elder of the two boys, Delbert, met a young 18-year-old Ukrainian woman, Matilda Doskoch. She was waitressing at the Forbes restaurant in Fort Saskatchewan, a Greek restaurant that nonetheless "sold a lot of hamburgers." She had come out to "the land of milk and honey" from Manitoba in 1964. The next year, she and Delbert married. Their honeymoon was a little unusual. The whole McEachern clan joined them at Pigeon Lake, the men and women sleeping in separate tents, including the bride and groom! Upon their return to the farm, Delbert and Matilda took up housekeeping in a small 26' x 32' white house that still exists on the property.
When Delbert and Matilda married, the McEachern family was farming seven quarter-sections, three of which were rented. Theirs was a mixed farm with about 80 Herefords, swine that Gilbert kept in a 50-foot pig pen, turkeys and chickens. Although the farm was completely mechanized, Delbert kept a couple of horses for old time's sake. They were put to good use during the twice-annual cattle roundup. Most farmers threw their cattle onto the Blackfoot reserve, but the McEacherns drove their herd to pastureland along the Josephburg road in the spring after branding and castrating them, and later in the summer moved them south towards Trapper's Lake. "We'd make a day of it. The women would make the lunch. We'd go down the road with the cattle and stop some place to have our picnic lunch," Matilda remembers fondly.

A self-avowed "tom boy," Matilda preferred working outdoors, helping with the seeding and harvesting. "I don't like chickens," but for a while she fattened wiener hogs to take to auction. She enjoyed her flower and vegetable gardens, and her fish pond. Like all farm women, Matilda canned and put up preserves, and took part in the fall suppers and the Mother's Day breakfasts at the Partridge Hill Community Hall.

In 1976 Delbert died at age 42. Matilda continued to live in her little white house on the farm. "This was my home, my little house." Meanwhile, her brother-in-law, Melvin, and his sister Dorothy lived with Grace and Gilbert in the other house on the property. Gilbert died in 1982 having suffered a stroke a few years earlier, and the farm passed to his youngest son, Melvin. Then, to the surprise of Grace and Dorothy, in 1984 Melvin and Matilda married. A year later, a son, Christopher, was born. It is now Christopher who runs the farm, as Melvin died in 2008 at the age of 72. A welder, Christopher does not have time to farm, but he keeps a few head of cattle and the farm's three quarter-sections in hay. Apparently, when Melvin counselled his son to sell the cattle, Christopher reduced the herd to 10 or 12 cows, but did not get rid of the entire herd. When in 2012, he had a number of problems with his small herd, Matilda told him: "Your father is still talking down to you."

Matilda still enjoys going over the family photos. When she finds a photo of her mother-in-law's family, the Blacks, she remembers going through seven trunks of Black photos, cards and clothing, some of which came with the family from Ontario in the 1890s. "I had a heyday. I'd bring in boxes and sit on the porch half the night going through all this. And Christmas cards and love letters, she had them all tied up." She donated much of the clothing, including hand-stitched petticoats, to the Fort Saskatchewan Museum.
The Gilbert McEachern clan, circa 1930. Photo courtesy of McEachern family. Mary McEachern (in the front row, centre), wife of Donald McEachern with her three sons, Gilbert, Neil and Ernest (in the back row). The children in this photo all belong to her son Neil.

Mel, Matilda and their son, Christopher, received the province's century farm family award in 2000, and Matilda was happy to partake in Strathcona County's Century Families project.