Krebs family set out the welcome mat over 100 years ago
Hospitality is a well-known German trait, and one by which the Krebs of the Josephburg area have lived since their arrival in 1892.

Philip Krebs and his two adult sons, John and Daniel, arrived in Alberta in 1890, part of a group of German immigrants who settled first in the Dunmore district in southeastern Alberta. After being dried out two years in a row, the entire community moved north, to Strathcona County. In considering his options, Philip chose to take land on the NW16-55-21-W4.

It was a savvy decision. Running through his land was what was known as the South Victoria Trail. It was part of a larger system of cart tracks known as the Carlton Trail, developed by earlier fur traders to connect the fur trade posts of Fort Garry, now Winnipeg, to Fort Edmonton.

Philip Krebs reasoned that land seekers would follow the South Victoria Trail in both directions, north from the new CPR train station in Strathcona, and southward from Fort Victoria, a Hudson's Bay Company outpost located further east along the North Saskatchewan River. As his land lay roughly half way between Fort Victoria and Edmonton, his homestead was a logical stopping place.

Consequently, when he built his first home, a log house, it was fairly large with four bedrooms on the second floor. Sure enough, homesteaders and travellers began to overnight at the Krebs' place where Philip and his family fed them and provided sleeping quarters, as well as put up their horses.

As the tide of immigrants moving into central Alberta swelled in the late 1890s, Philip built another house onto the original log house, this one of frame construction. Hoping to get a license to run a hotel, he built a large parlour and one bedroom on the first floor and five bedrooms on the second floor. Although his application for a hotel license was refused—he did not have enough bedrooms to qualify for a hotel— Philip Krebs and his extended family ran a stopping house for a number of years.

Even in the 1930s, long after land seekers had disappeared, drifters and families on the move still stopped at the Krebs' home quarter. By now, it was Philip's son, John, and his son, Leon, who fed and put up vagrants in return for splitting wood or doing some other chore. And there was John's medicinal moonshine that found a ready market among some of the visitors.

There were others, too, who availed themselves of the Krebs' hospitality. Philip's great grandson, Bernie Krebs, recalls: "There was fish in Astotin Creek. … These people would stop there and they would fish and camp at the end of the driveway, and the next morning they would leave. … They were mostly native people who came. This is why my granddad John had a working knowledge of the Cree language." Bernie remembers his grandmother, Catherine, delivering a baby in one of their covered wagons.

Today with our booming economy, the reasons for such generosity have disappeared. However, harkening back to a time when travellers were grateful for a bite to eat and bed on which to lay their head, is a one-mile stretch of road, the only surviving remnant of the South Victoria Trail, that runs in front of the Krebs' home between Range Roads 214 and 213.

The Krebs' home was a welcoming one to neighbours as well. "We had some birthday parties in that house when I was a kid. Everybody celebrated their birthdays in the community because everybody knew all the neighbours. So they'd gather if it were my dad's birthday. … If it was my mother's birthday, they'd gather for her birthday, or if the neighbours had a birthday we would gather at their homes. …We would have upwards of 75 people in the house for a birthday party.

Being they were all good German cooks, there was always lots of poppy seed cake and all the rest that went along with it. The booze, that went by the wayside … although we did have an incident where an aunt made some dandelion wine for a birthday party and some of the fellows indulged a little more than they should have. There was an old-fashioned hand wringer, and they were running donuts through the wringer to make them bigger. Finally one fellow said, "You know, I need a bigger hat." So, they ran the hat through the wringer. The fellow who was turning the hand wringer said, "That's my hat!" Needless to say, the next year, the handle was off the hand wringer and there was no dandelion wine. And the donuts were small and fat and round."

The Krebs kept their German traditions alive. Only the German language was spoken at home; it was when he began school in 1938 that Bernie learned English. The church, too, played an important role in preserving the German community's sense of identity. Now the Josephburg Community Church, it was originally the Evangelical Reform Church where services were conducted in German until 1948 when their German pastor, John Krieger, died. During the Second World War, some families did not attend church due to their discomfiture with the German language. But there was no cause for alarm; harassment was almost unknown, probably because the Josephburg community was well established and their contribution to the province proven. The church's alliances have changed over the years, but it has remained "the glue that holds the community together," opines Bernie.

If the church is the glue of the community, it has been German food that has given it its unique flavour. The Krebs family has long tucked in to German cabbage rolls, German baking such rich tortes, cheesecakes and poppy seed cakes, and schmierkase, a type of spreadable cheese. (Schmier means to spread.) "You put it in the warming oven and then you fry it and it would stretch from here to the trail. I remember Mom using baking soda to make it ferment faster." The 1930s, though, were tougher. "Sunday was a treat; it was chicken. It was cheese and potatoes the rest of the week."

Over the decades, the Krebs farm has evolved from a mixed enterprise to one that Bernie now crop shares. The old Krebs' stopping house is no longer. The original log house was closed off by Bernie's parents when they took over the farm in the early 1930s. The frame house survived until 1958 to 1960 when Bernie took it down. "When we demolished it, there was some writing on a couple of the two-by-fours, and the date I think was 1898. We didn't save any of that. I wish we had saved it. Hindsight, hindsight," he sighs.

Philip Krebs' homestead has remained in the Krebs family now for more than 100 years. It was in 1996 that Bernie applied for and received the provincial Alberta Century Farm and Ranch Award. Strathcona County, too, is recognizing the Krebs' family through its Century Families project that promotes the County's history.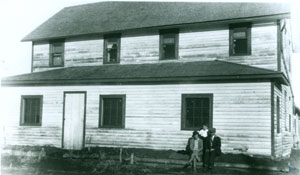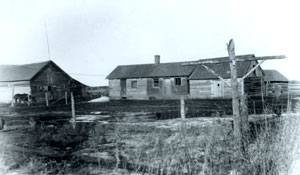 John Krebs' stopping place, circa 1935
John Krebs' farmstead, circa 1925