Gabert family
"I'm not having my son go into the Russian army!" declared Frederick Gabert, sitting in his home in the province of Volhynia in what is now Ukraine, holding his son's Russian army call-up notice in his hand. So it was that one fine day in 1896, a group of 35 German immigrants disembarked from the CPR's Edmonton-Calgary rail line at Strathcona. Among the group was Frederick Gabert, his wife and their five children, the eldest of who was William. There were a number of German settlements that they might have considered for their new home, but Frederick's wife was a Prochnau. Her father was Sam Prochnau who had come out a few years earlier and had taken land in the Bruderheim area. Despite the fact that Bruderheim colonists were largely of the Moravian faith and the Gaberts were practicing Lutherans, family connections compelled Frederick and his family to move near the village of Bruderheim. Family ties and the German language and customs must have helped to dull the cultural shock that they most certainly encountered.

Of the many thousands of immigrants who settled in Alberta in the late nineteen and early twentieth centuries, the Germans were among the first to take advantage of Canada's offer of free land, and religious and linguistic freedom. Surprisingly, most of these German-speaking immigrants did not hail from Germany, but were from German settlements in either the Austro-Hungarian empire or, like the Gaberts, imperial Russia where they had been under increasing pressure to assimilate. It was in the early 1880s that the first Germans arrived to take up land in the Pincher Creek area. A few years later, another large contingent settled in the Medicine Hat area. This settlement was short lived, though, as drought forced the colonists to seek land further north, closer to Edmonton. Here, they spread west of town to Stony Plain and northeastwards to establish Josephburg. These early influxes were the beginning of a number of subsequent migrations that saw 13 German-speaking communities established within a 50-kilometre radius of Edmonton by 1900. Germans were destined to become the second largest ethnic group to settle in Alberta.

Frederick filed for a homestead on SW18-55-20-W4. His foray into homesteading was aided in no small measure by the Mennonite community in Winnipeg that donated a herd of dairy cattle that the new settlers divided amongst themselves. Someone else gave the Gaberts a hog or two; someone else, some chickens. "Life was rich!"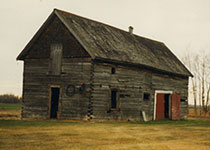 The rustic appeal of Frederick Gabert's well built log house, later a chicken house, was a favourite subject for local photographers, prior to its demolition in 2010.
Tragedy, never far away among early homesteaders, struck just after the turn of the twentieth century when Frederick died. His eldest son, 18-year-old William, suddenly found himself the head of the Gabert household, and of a farm. For the rest of his life, until he handed the farm over to his son, Walter, in 1942, William kept a mixed farm that he enlarged to three quarter sections.

William had had only a rudimentary education while living in Volhynia. This, though, had not prevented him from learning five languages, Ukrainian, Russian, Czech, German, and Polish, perhaps one of the benefits of living in a multi-ethnic part of the Tsarist regime. He added English as a sixth language after his immigration to Canada and Alberta. "He had the languages down pat. For heaven's sakes, he'd go to town and talk Ukrainian to everybody. They would think he was a Ukrainian. He could read and write and everything," says his son, Walter.

Walter, too, had a bare education that saw him take a mere six years of readin', writin' and 'rthmetic' at the Deep Creek school. Ironically, one of the reasons for his family's immigration to Canada, linguistic freedom, was severely curtailed in the Canadian educational system. Having grown up with the German language at home and within the Bruderheim community, Walter knew no English when he first attended school in 1928. To this day, he remembers receiving the strap on his first day at school for speaking German in the schoolyard.

A lack of formal education did not prevent Walter from succeeding as a farmer. He began with two quarter sections, one of which had been his grandfather's original land. Over the next number of years, he leased another two quarter sections from a neighbour, Eddy Schneider. "Never had anything on paper, just shook hands," Walter remembers. He and his wife, Ethel Mohr, who he married in 1944, had a mixed farm at first that included hogs. "When we got married, we didn't have a 'phone and my parents did. So my Dad gave us a pig, a sow, and she had little piglets that we sold and got money for the 'phone," remembers Ethel. "We raised Yorkshires for a while until we had the 'phone paid for." For some 10 or 15 years, the Gaberts also raised 300 turkeys for the Christmas market. "Some of our neighbours also raised turkeys and we'd have butchering bees. Walter was the main butcher."

The best "mortgage lifters" for the Gaberts were their 5000 purebred chickens that they kept for at least 40 years. This was Ethel's interest, having grown up with them. "She was a good handler of chickens, so we had to make use of her talents," chuckles Walter. When they first began raising chickens for their hatching eggs, they converted Walter's grandfather's log house into a poultry pen. Business was so brisk that they added onto the log house so they could increase the number of chickens.

They raised six different breeds of chickens, Plymouth Rocks, New Hampshires and Leghorns, among others. Because their flocks were all purebred, the Gaberts went on the government's R.O.P. (Record of Production) programme. Government regulations were strict. Only hatching eggs from Alberta Approved Flocks, such as those of the Gaberts, could be sold to hatcheries. Every bird in a flock had to be blood tested for disease by government fieldmen and every poultry premise and individual bird had to meet the set standard of quality. The Gaberts raised so many different breeds because the government was interested in which breeds produced the most number of eggs, and for how many years. That meant that each of the 5000 eggs had to be "candled", and the number of eggs laid by each hen had to be recorded. "Boy, that was a time. We were busy!" And which breed produced the most eggs? "Leghorns always beat out the rest." The Gaberts stayed on the R.O.P. for 10 years, but eventually quit as it meant so much extra work.

If the hatching egg business was demanding of their time, raising and showing purebred Aberdeen Angus cattle was less so, and perhaps more rewarding. Being on the R.O.P. with their herd of cattle meant that the Gaberts could show and sell their cattle at various cattle sales in Red Deer, Vermilion, Lloydminster, Calgary and Edmonton. They quite enjoyed showing their cattle, and a box of ribbons attest to the quality of their herd. "We even won a trophy one time at Lloydminster." Buyers from Missouri and as far away as Argentina attended the sales and bought from the Gaberts. While they only had to deliver their Argentina-bound cattle as far as Lethbridge, they drove eight head of cattle to Missouri themselves. It was a trip they still remember. "I don't remember what year, but I remember the day, April the 8th, and boy, oh boy, did it storm. We followed a snow plow through Saskatchewan for I don't know how many miles. In southern Saskatchewan, we stopped at a farmer's place and he said: 'We'll take it all in and look after them', as the cattle needed watering. People are good."

Walter and Ethel had their share of adventures before selling their century farm in 2010. In 1982 Walter spent two months in an Edmonton hospital with a broken back and blood clots on the brain after a tree hit him from behind while felling trees for wood. One finger was lost in a threshing machine. Another finger tip was lost when a jack fell on his hand. When the doctor at the Royal Alex removed the damaged tip of the finger, Walter almost said: "I'll take it home for the kitty," but thought better of it. On another occasion during harvest, Ethel was stranded on top of a grain bin, the ladder having fallen to the ground. She waved frantically at passers-by but they, thinking how friendly she was, kept on driving. It was only when Walter, who was wondering where she and the grain truck were, walked all the way back to the yard from the field was she finally rescued.

The Gaberts were rightfully proud of their yard. They planted fruit trees, plums, cherries, apples, and pears. They grew so many melons that they piled them into the back of their truck and told the schoolchildren at Fort Saskatchewan, where their children attended, to take what they wanted. Perhaps their pride and joy were the 5000 gladiolas that splashed their yard in pinks, reds, whites, yellows and oranges. Life was indeed rich for them.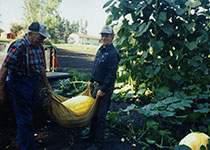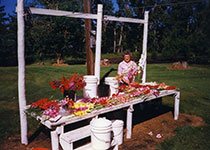 "I loved glads. it must have been the soil; the flowers we had, they were huge."
The Gaberts are among a small and select group of County farmers who have been on the same land for at least 100 years, making them eligible for the government's Alberta Century Farm and Ranch Award. Strathcona County, too, wishes to honour their contribution to the County's history through its Century Families Project.