Detours and delays
Starting April 1, 2022, delays and detours can be expected in the area until fall 2023. Watch for signs.
Last modified: Feb. 17, 2023, 3:57 p.m.
The North of Yellowhead Range Road 231 Upgrades project extends on Range Road 231 from Emerald Drive (south of Highway 16), to approximately 2 km north of Highway 16.
The overall North of Yellowhead Upgrades project includes a combination of County-led and private developer-led construction. 
Strathcona County is currently undertaking the first phase of the road project (Orange section on the project map) Range Road 231 upgrades from Emerald Drive to north of the CN railroad, including the overpass. 
Private development will be constructing Phase 2 of the project (Yellow section on the map) starting summer 2022.
The overall project completion is anticipated to be in fall 2023.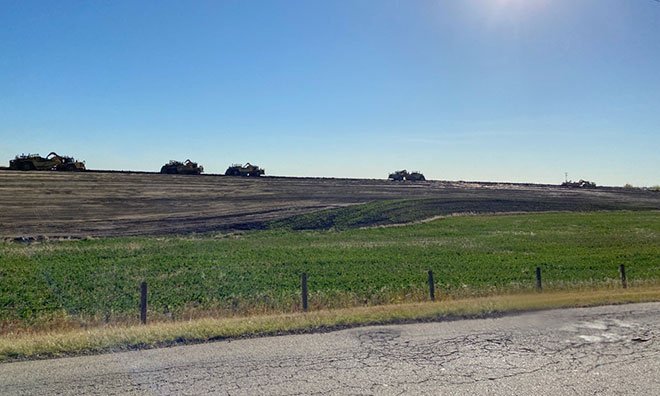 This area is being upgraded to support future residential, commercial and industrial growth of the Sherwood Park urban service area. This will include the addition of underground services (water, wastewater and stormwater facilities). 
Strathcona County's Utilities department is currently constructing the water and wastewater improvements along Township Road 534 and Range Road 231. This work includes a directionally drilled crossing under Highway 16.
Construction within the overall upgrades will include:
Intersection upgrades at Emerald Drive and Clover Bar Road, including a new concrete island and traffic signal relocation. 

Upgrades to the interchange of Highway 16 and Clover Bar Road, both the north and south ramps. This will include reconfiguring a third lane under Highway 16, pier protection, trail connections north of Highway 16, and road widening around the north ramp intersection.

Construction of a rail overpass over the CN Tracks, north of Highway 16. Range Road 231 will be re-aligned and an overpass built over CN Rail. Initial construction will include a three-lane overpass, with long-term design plans for a six-lane overpass. 

Upgrades to Range Road 231 (from Highway 16 to about 2 km north) from a two-lane rural road into a two-lane urban road with concrete curb and gutter, street lighting, and general urbanization improvements.
Traffic impacts
Construction in the area will cause major delays. Area businesses will still be accessible, but some detours will be in place. Please watch for signs and slow down in construction zones, even when workers are not present.
Project timeline
This project is currently in the Construction phase.

Project history
2022 – Construction of overpass starts
2021 – North side CN Rail overpass fills were completed.  
2020 – Project planning resumed.
2015 – Project was put on hold while an adjacent Alberta Transportation Functional Planning Study took place. 
2012 – Detailed design work began, along with land acquisition planning and discussions.
2009 – Functional Planning Study to determine the overall alignment of the new road network.
Project contacts:
County Construction Portion
Prime Contractor: PCL Construction Management Inc.
24 Hour Contact: 780-733-6000
County Connect
Ask a question, provide feedback or report an issue.
Strathcona County Yellowhead North Arterial Road Functional Design Study – Final Report – December 2009