Highway 630/Wye Road inquiries
Wye Road/Highway 630 east of Highway 21 is the responsibility of Alberta Transportation. Construction inquiries or road condition concerns can be directed to 780-963-5711.  
Last modified: Nov. 10, 2022, 9:22 a.m.
Wye Road construction update
The majority of construction on this project is now complete. The remaining deficiency work is planned to be completed in spring 2022, which may involve temporary lane closures and some delays in the area. 
Last modified: Nov. 10, 2022, 9:22 a.m.
Strathcona County is completing construction of the final phase of five kilometres of improvements on Wye Road. This important, high-volume connection to the region will have six lanes, similar to Baseline Road.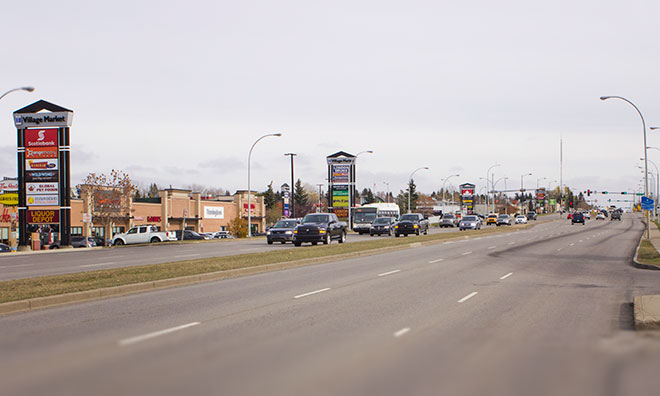 Road work completed in 2021 includes:
Base repairs and asphalt overlay in both the eastbound and westbound lanes between Brentwood Blvd and Clover Bar Road 
Trail construction on the south side of Wye Road, connecting to Nottingham Way and Clover Bar Road. 
Concrete island removal and replacement at Clover Bar Road, in the northwest corner near Sobey's  
Curb and gutter construction along north side of Wye Road, between Clover Bar Road and Nottingham Way  
Landscaping along all disturbed areas 
Overall improvements include:
Increase road from four to six lanes 
Completion of a walking and cycling trail 
additional turn lanes into Hillshire, Estate Drive and Nottingham Way 
New traffic signals at Nottingham Way and Estate Drive  
adding crosswalks for safety and comfort at Nottingham Way 
A more walkable and accessible community, with a three-metre paved walking and cycling trail complete to Clover Bar Road 
A more inviting area with green space, landscaping and lighting 
Ensuring other major infrastructure meets current and future growth needs, including storm-water pipes, power cables, curbs, gutters and drainage 
Additional turn lane and turn lane improvement at Sherwood Drive and Wye Road 
About Wye Road improvements
Wye Road is a high-volume traffic road providing an important connection to the region, and a significant entrance to Strathcona County. The design and recommendations for this project were developed with input from stakeholders through significant public engagement.
County Connect
Ask a question, provide feedback or report an issue.