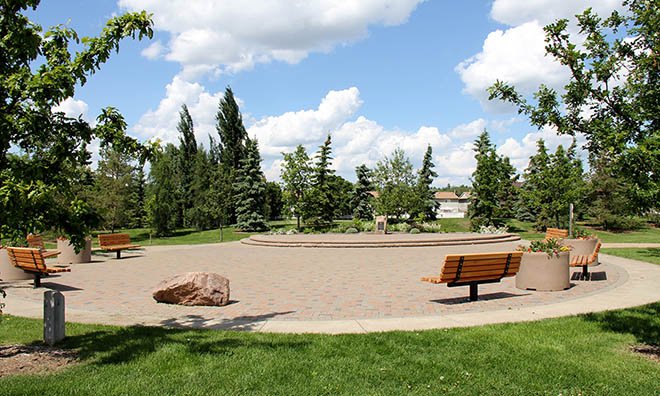 The Peace Park is located in Broadmoor Lake Park, on the north side of Festival Place.

In 1992, Strathcona County was one of the 400 municipalities across Canada that dedicated a park to peace, as the National Peacekeeping Monument was being unveiled in Ottawa. Each park incorporated a 'Bosco Sacro' (Peace Grove) of 12 trees as a symbolic link with one another, and with nature, and as a symbol of hope for the future. The 12 trees were also symbolic of Canada's 10 provinces and two territories at the time. To celebrate the Peace Parks' anniversary in 2007, participating communities were invited to re-dedicate their Peace Park by planting a thirteenth tree to bring attention to the aspiration for peace and recognize Canada's added territory.
Peace Parks Across Canada was initiated by the International Institute for Peace through Tourism (IIPT) in collaboration with Canada 125 and the National Capital Commission (NCC). The Global Peace Parks Program's goal is to have 2,010 Peace Parks circling the earth by 2010, commemorating the final year of the U.N. Decade of Peace and Non-Violence for the Children of the World.
More information on the Global Peace Parks Program can be found at http://www.iipt.org/
Did you know that you can book the Peace Park for weddings!
Available to rent daily from 9 a.m. - 9 p.m. (May 31 - Oct 31) call 780-467-2211 to book.
Additional information
780-467-2211
recreation@strathcona.ca