Strathcona Wilderness Centre event and facility bookings
Campsites and picnic sites
Please note the Strathcona Wilderness Centre is now booking campsites and picnic sites rentals for April 6, 2021 onward.
Last Modified: July 2, 2021, 3:55 p.m.
Interested in a change of scenery or want a unique meeting environment?
The Strathcona Wilderness Centre, located just 20 minutes east of Edmonton, offers many unique rental opportunities in a scenic, natural setting.
Take a video tour of the Centre
Need space for a...
school meeting, retreat or getaway
group overnight stay
family get together, birthday party, reunion or wedding
business meeting or retreat
Is your social function having alcohol service?

If you are booking space in Strathcona County's community halls, recreation centres or senior centres you are required to purchase Host Liquor Liability insurance in the amount of $2 million.
SWC Rental Fee Brochure 2019 (2.4 MB)
The Strathcona Wilderness Centre lodge has:
Olsen Dining Room and Kitchen (Upper Lodge)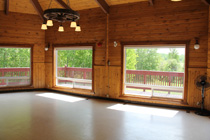 meeting/dining space for 50 people
fully equipped kitchen
commercial cooking grill
barbecue
fireplace
deck
Dormitories (Upper Lodge)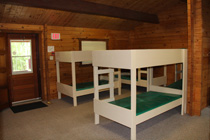 overnight accommodation for 41 people in bunkbeds
4-bed and 12-bed sleeping rooms
washrooms and showers
Morrow Meeting Room (Lower Lodge)
meeting space for up to 25 people
a kitchenette
fireplace

barbeque
lounge seating
The Upper and Lower Lodge can be booked separately or together (as the Whole Lodge, with a maximum group size of 50 for day use, and 41 for overnight) depending on your space requirements.
Overnight rentals are from 4 p.m. to 3 p.m. Minimum rental charge of 25 people per night.
Equipment rentals available for snowshoeing and cross country skiing in the winter

Strathcona Wilderness Centre Lodge Floor Plan