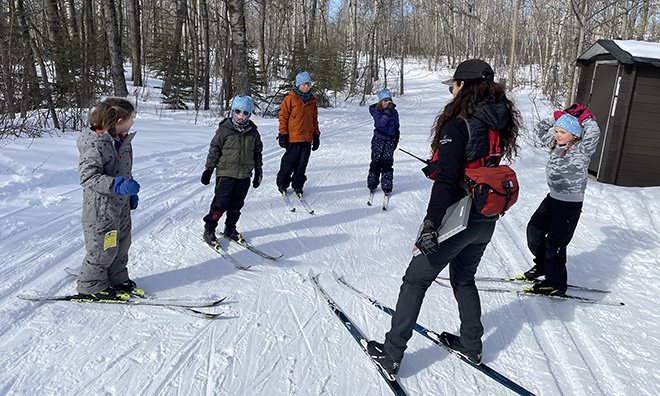 World class groomed trails, equipment rentals and lessons (SWC only).
Trails are closed for the 2022/23 ski season at the Strathcona Wilderness Centre. Come out to walk the trails this summer, tent camp, geocache and more! We're looking forward to seeing you during the 2023/24 ski season. Gift cards are available and can be used to purchase 2023-2024 season passes and programs.
Trails are closed for the 2022/23 season at The Broadmoor. Please check with The Broadmoor for any other changes.
Cross-country ski bulletin
Read the latest cross-country ski bulletin for updates on trail conditions and news from the Strathcona Wilderness Centre and The Broadmoor. For trail condition updates throughout the week, please check the Nordic Pulse grooming report.
Strathcona Wilderness Centre
Cross-country skiing trails are open for the 2022/23 season.

Check out the live trail conditions before you head out
Explore world class groomed trails for classic and skate skiing. 
Rent classic touring and skin skis, and skate skis
Try out sit-skis and lessons for Para-Nordic skiers

Pricing

We also offer seasonal cross-country skiing registered programs.

Rent snowshoes for children and adults
Explore snowshoe and multipurpose trails
There is no charge to use trails to snowshoe, just the equipment rentals.

Check out some free snowshoeing opportunities at the Broadmoor Public Golf Course. Includes snowshoe rentals.

Parking

Designated accessible parking stalls available at the Information Centre; parking also available at the overflow parking lo

Entrances

Information Centre: accessible entrances

Facility

Information Centre: Accessible toilets

Rentals

ParaNordic skiing equipment (see below under "skiing and snowshoeing rates and rentals" for pricing) and lessons available

Firepit

Lodge firepit is accessible

Trails

Accessible ParaNordic xc ski trails: 12 km
Year-round trails are wide and accessible for visually impaired, benches for mobility challenged

 

Looking for fun and interesting ways to stay active and get outside over the winter months? Cross-country skiing offers a great alternative for active enthusiasts of every age and skill level to get out and explore winter. Take a lesson or play on the trails! Whether you're focused on hanging out with friends, a workout, enjoying nature or simply getting some fresh air, the Wilderness Centre wanders outside with you.

Registrations for beginners to advanced skiers, children and adults begins in September 2022.
Skiing and snowshoeing rates and rentals
Enjoy FREE Cross-country skiing at the Broadmoor!

Classic and skate ski tracks are groomed Mondays, Wednesdays and Fridays each week, weather conditions permitting.

View the current trail conditions

Bring your own equipment, rentals are not available.

 

Bring your snowshoes and enjoy a beautiful setting. Snowshoeing is available anywhere around the course except on the ski trails.

Enjoy a wonderful walk at the Broadmoor!

Please avoid the groomed ski trails.
If walking the multi-use trails with your dog, they must be on a leash, pick-up after them and keep dogs off the groomed trails.

There are 2 toboggan hills available to use.

Check out the Broadmoor website for more information and to view the trail map.

 
Snowshoeing opportunities
Contact
Strathcona Wilderness Centre 780-922-3939
The Broadmoor 780-467-2211
Last updated: Tuesday, May 23, 2023
Page ID: 50030