Sherwood Park 50 years
This article is one of several commissioned by Strathcona County as part of a project to celebrate the 50th anniversary of Sherwood Park. These stories were published in the Sherwood Park News in 2006 and 2007​​​​​​​.
Last modified: July 6, 2021, 11:28 a.m.
March 29, 2006
In the fall of 1955, when future residents toured the showhomes of what was to become Sherwood Park, that's all there was - just four showhomes - no amenities, no shopping, no parks, no recreation centres, not even any trees! What was the attraction for these families?
"I have always liked the country," states Eileen Johnson, when asked why she and her husband chose to move from Edmonton to Sherwood Park in February 1956. Eileen grew up in a small town, taught school in the country and was never fond of living in the city. The Johnsons came out when the project was first developed and liked the homes and the setting. They decided on that very first visit to purchase their lot on the corner of Birch and Conifer.
Venice Harris, who moved in March 1956, recalls that her husband always wanted to be out of town, so they came out and had a look when it was first being promoted and were pleased with what they saw. "It was so fresh and clean. It was just like being out in the country. The meadowlarks sang. The bluebirds were around. Robins were all over the place and very few magpies."
Oleh and Olga Cherkawsky were renting a home in Edmonton and were looking to buy a home of their own when they traveled east of Edmonton to see the model homes. They liked the homes and the location and the prices were very reasonable at the time.
Kay and Walter Saunders' 13 year-old son wanted a horse. When looking for an acreage, they stopped in to see the new development. On their first visit, there were four holes in the ground and on their second visit, basements. They gave up the idea of an acreage and chose what has become their home for 50 years.
Henry and Lois Unrau visited the Sherwood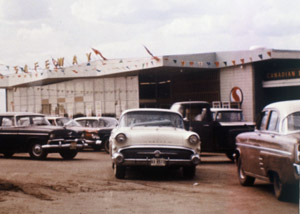 Park showhomes after seeing an ad in the Edmonton paper. The four-bedroom home was perfect for their family and it boasted hardwood floors, a wall oven, countertop range, and coloured bathroom fixtures!
In the 1970s, Gary Gahr surveyed Sherwood Park residents and found the primary reason families moved to Sherwood Park was to have ownership of a home that they could afford (houses and lots were less expensive compared to Edmonton). Other reasons included less noise, less traffic, and more greenspace.
Realtor Ken Huzil's clients in 2006 choose Sherwood Park due it its smaller size and quality of living factors such as the school system, Heritage Parkway system, and Millennium Place. They also like that fact that there is easy access to "big city" amenities that are available in Edmonton.
From its start as a community of four model homes to an urban centre of over 55,000 people, there have been many changes in Sherwood Park over 50 years! It has grown from a community with few amenities to a community with much to offer its residents.