Smeltzer historical photo album
Built for Maurice (pronounced Morris) and Eliza Smeltzer, among Salisbury district's first homesteaders, this handsome Foursquare has stood steadfast since 1920, even as surrounding rural farmland shifted to urban streets. Having served as the family home for more than a half century, "Smeltzer House" today lives on as a visual reminder of Strathcona County's pioneering past.
Click the pictures to view them in full screen and read about their history.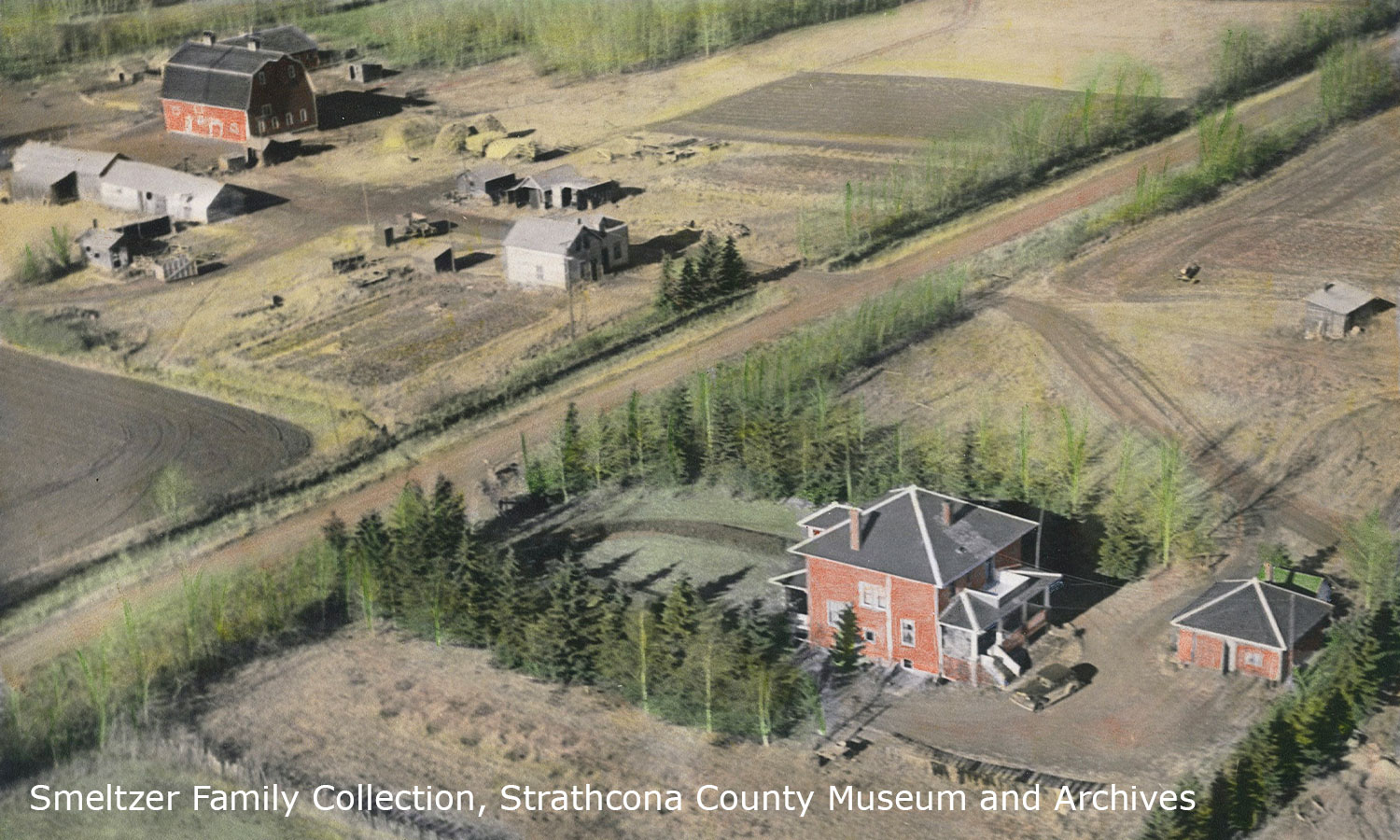 Aerial of homestead and brick house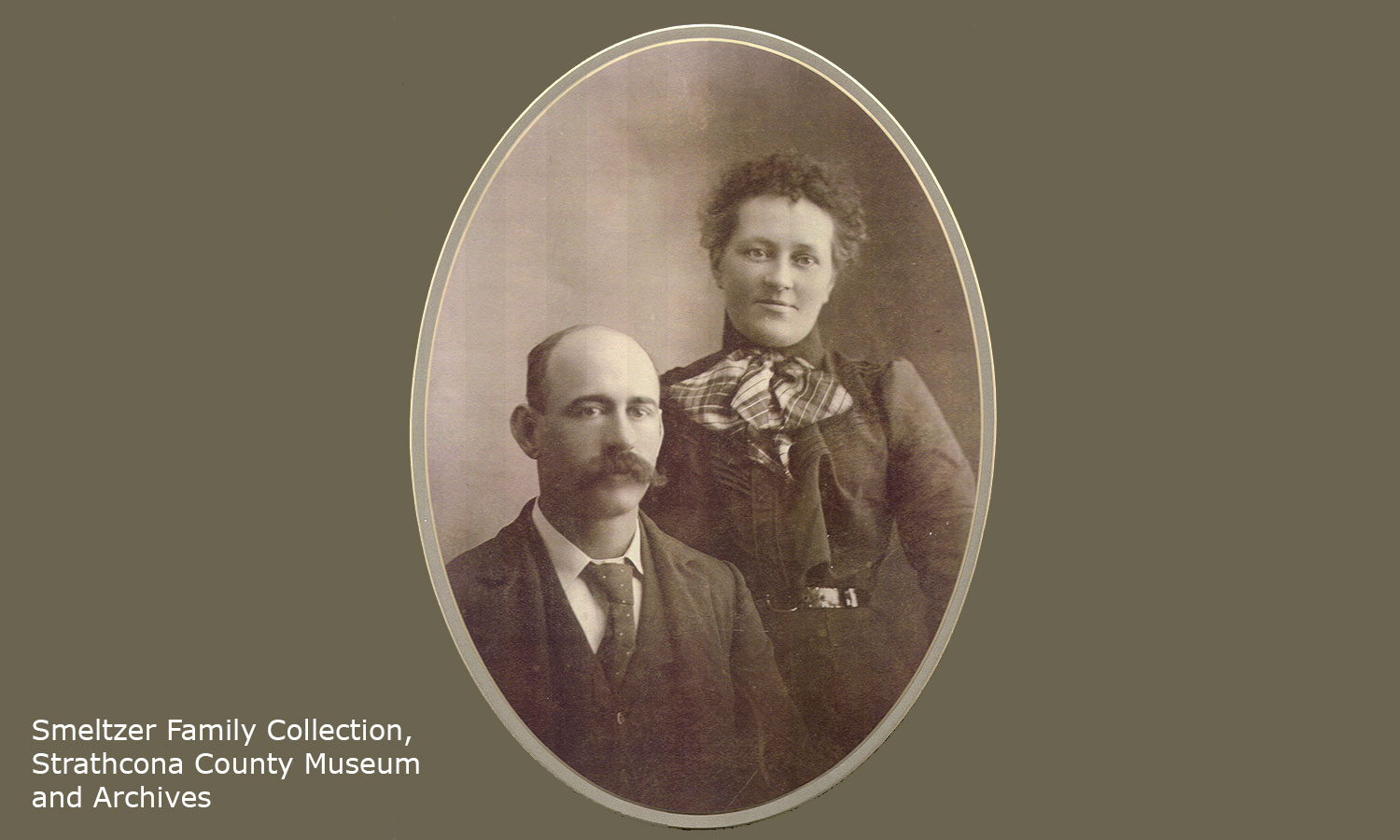 Portrait of Maurice and Eliza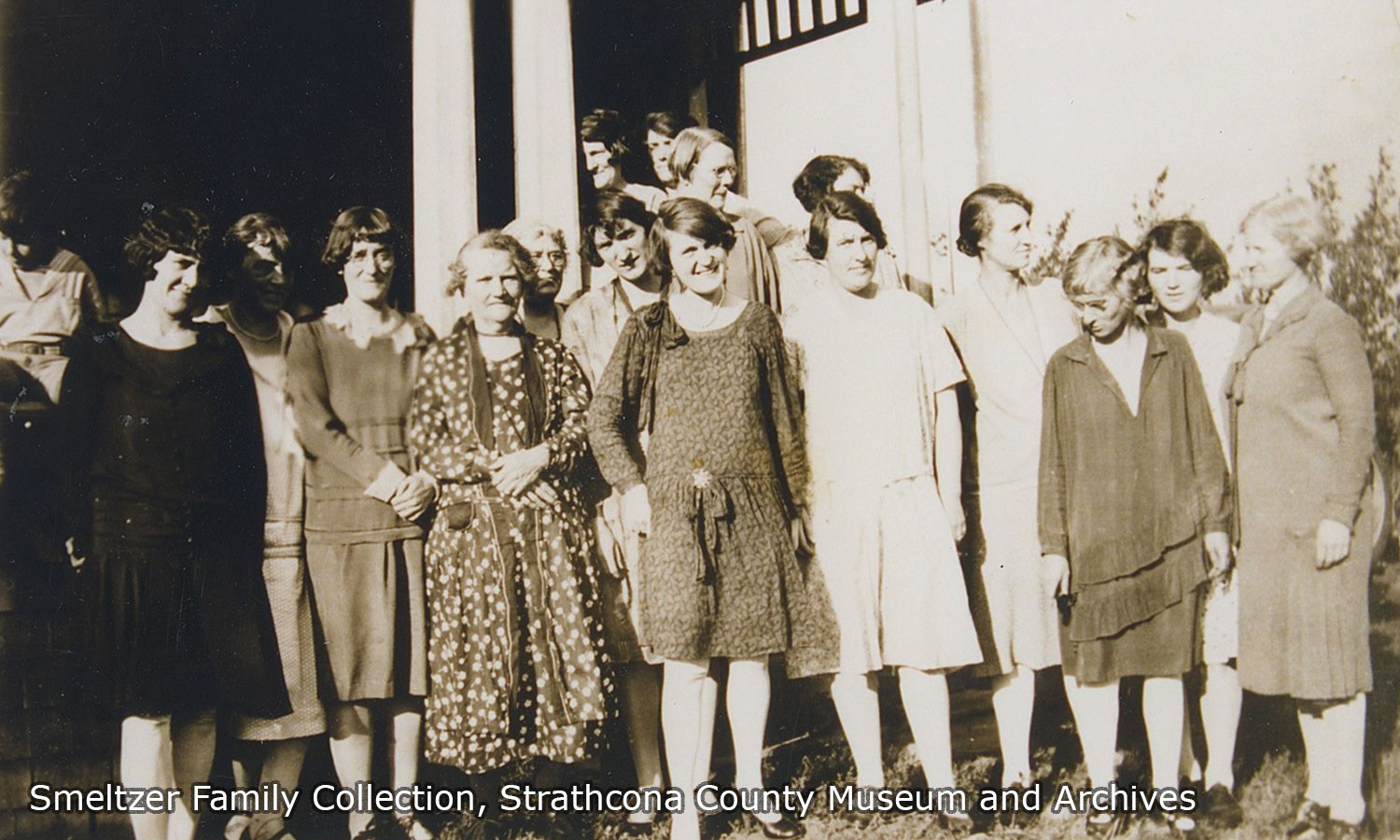 West Salisbury Ladies Aid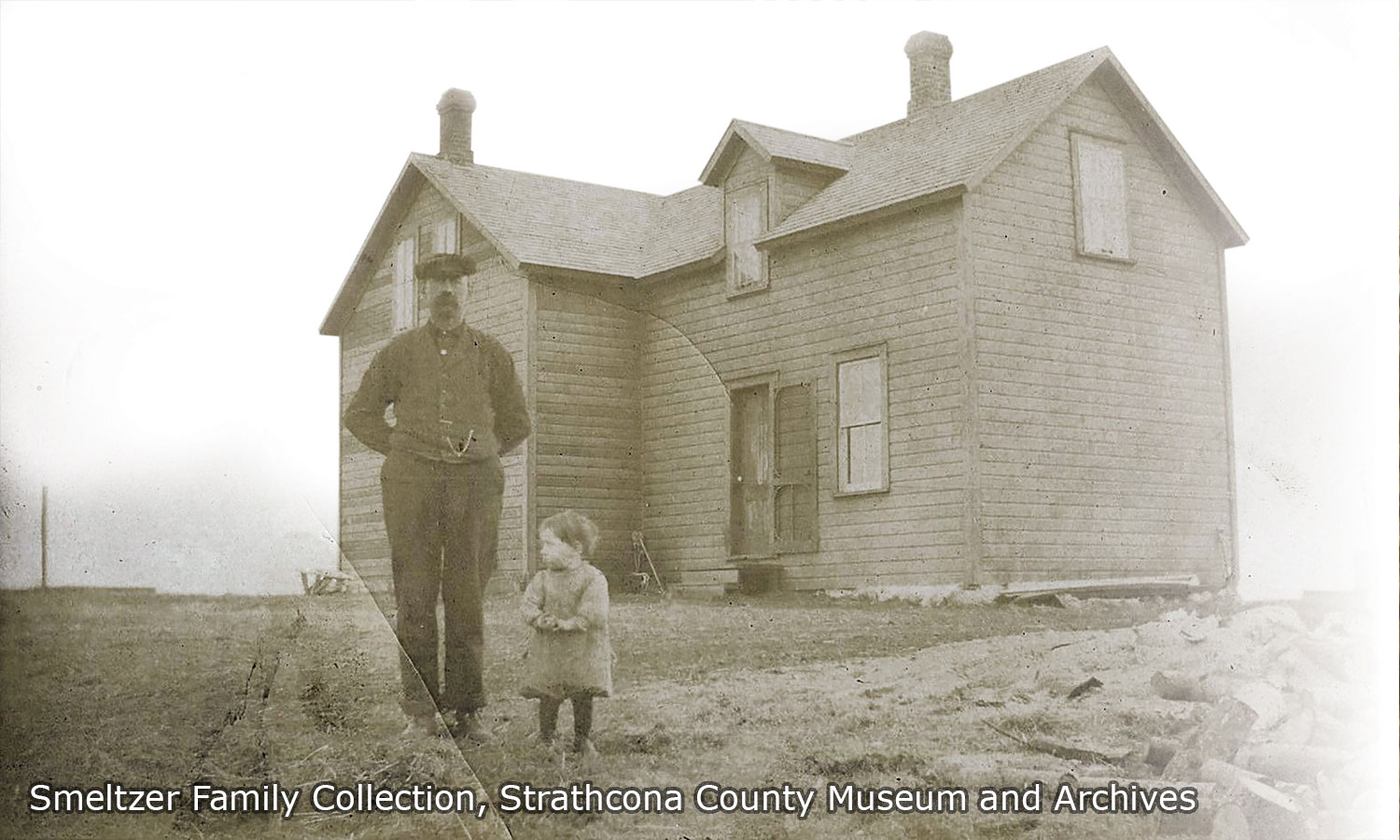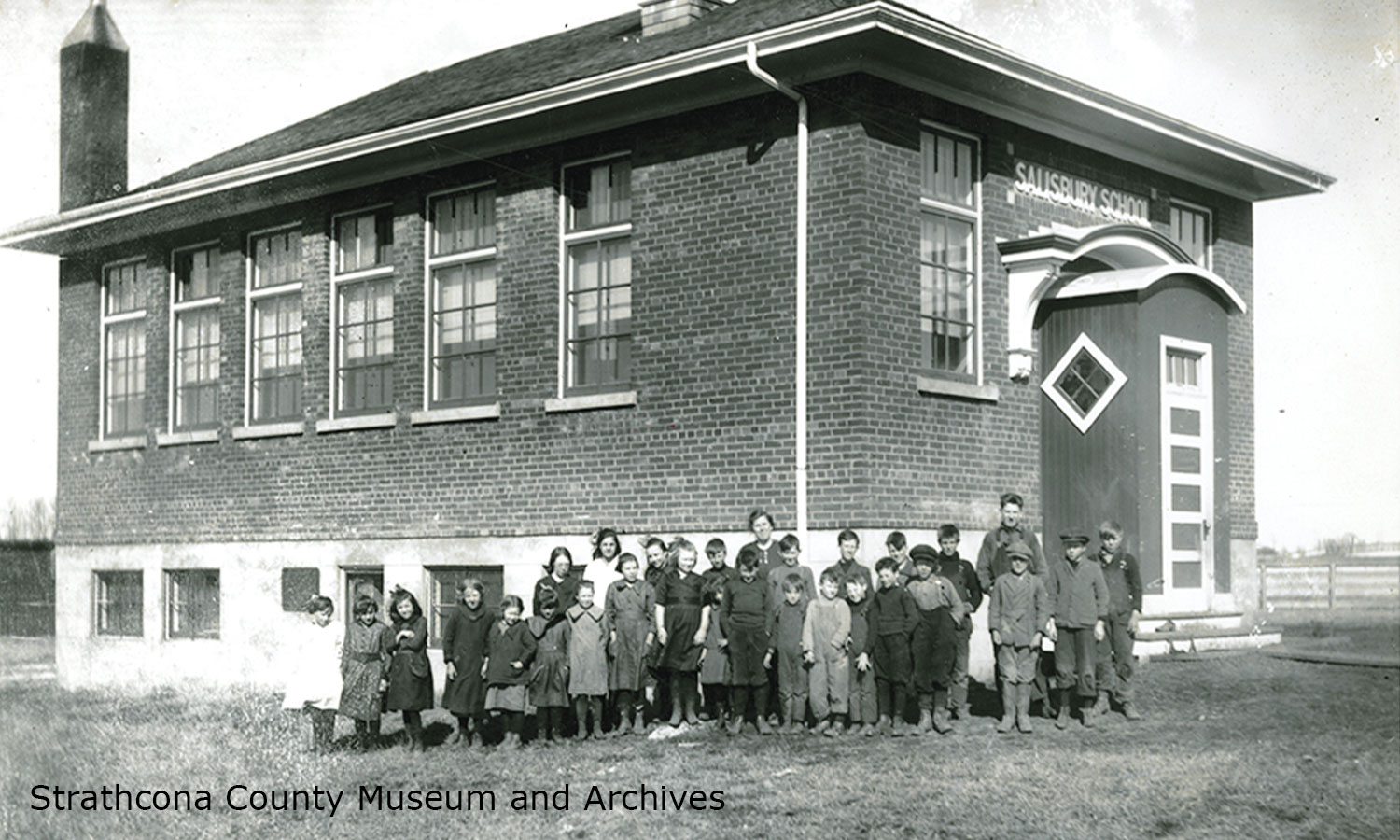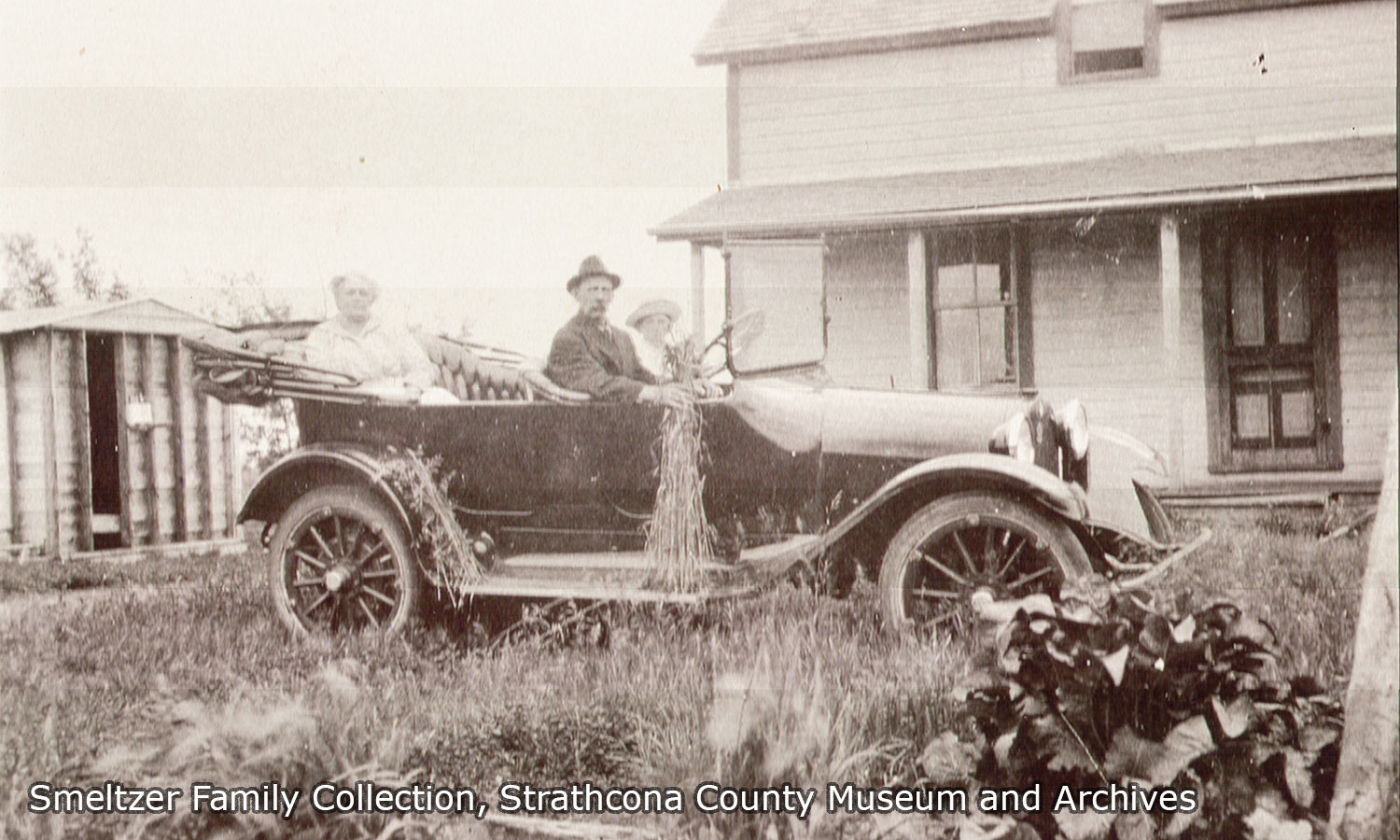 Smeltzer family in their car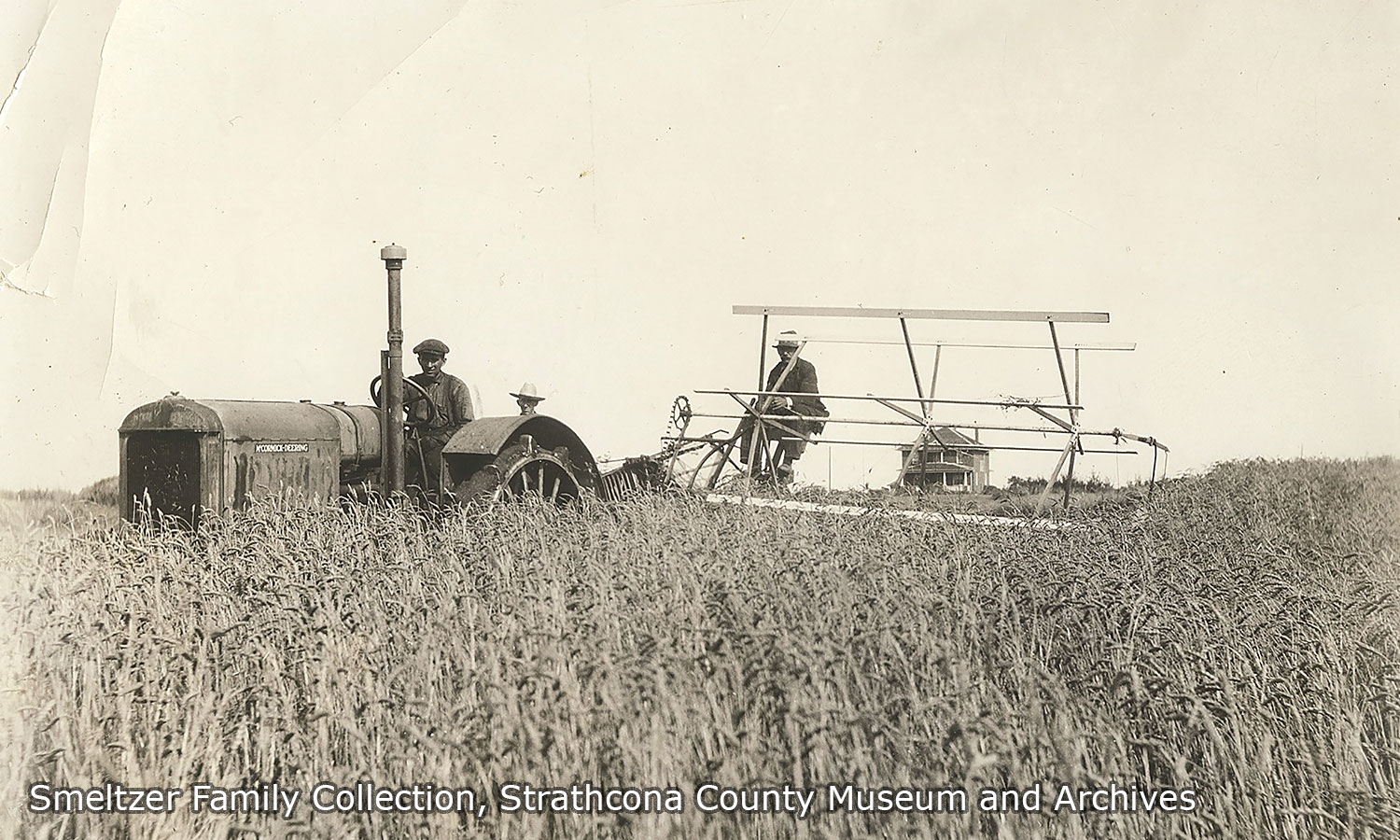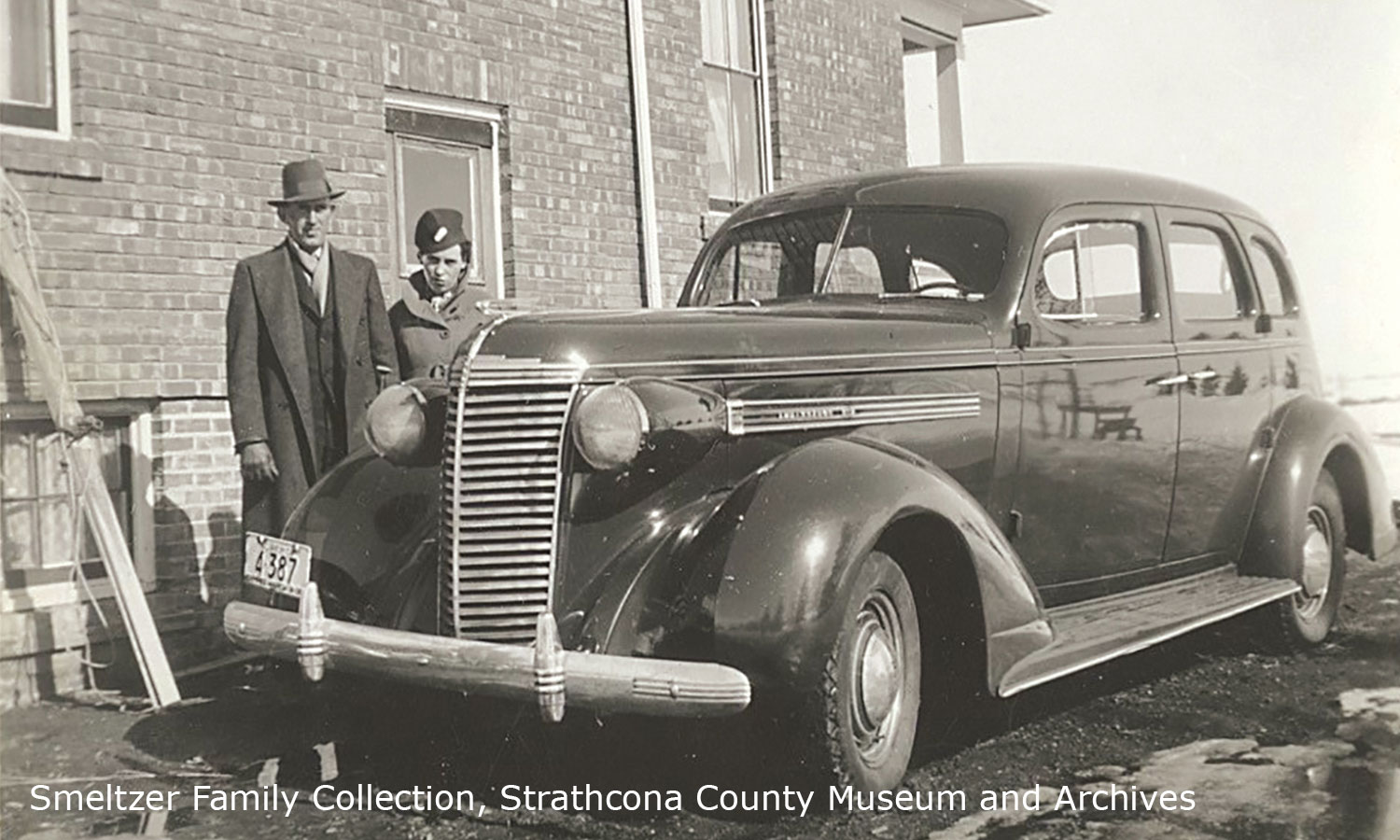 Frank and Agnes beside car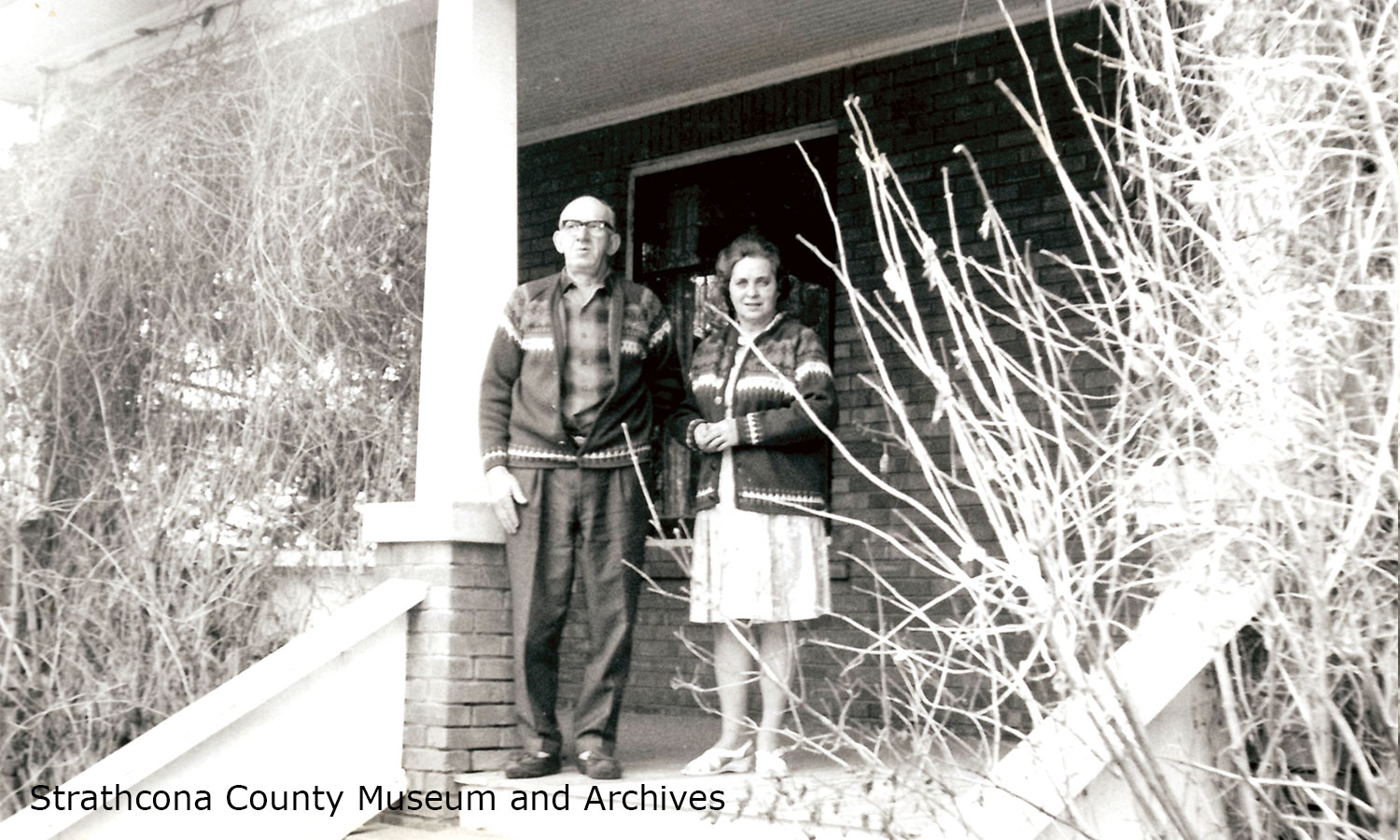 Frank and Agnes on front porch
Aerial of homestead and brick house

Aerial of Smeltzers' 1920 brick house and garage, with the home quarter in the background; date unknown
(Smeltzer Family Collection, Strathcona County Museum and Archives)

In 1920, the Smeltzers—Maurice, Eliza and their son, Frank—moved across the road from their homestead into their new home—what we now know as Smeltzer House. Designed by Eliza's brother-in-law, Cyril Fry, and built by a family friend, the 1,860-square-foot home has the square profile and pyramidal roof characteristic of the Foursquare style. The main walls are two bricks thick and the basement walls are seven bricks thick. A large coal furnace heated the house, supplemented by a coal-burning fireplace and the kitchen cook stove. A gasoline-powered Delco generator charged batteries that provided electricity as well as water pressure for indoor plumbing.

Among the fine features in this "modern" home are:

hardwood flooring (maple on main floor, fir upstairs)
10-inch moldings
leaded glass windows
a dumbwaiter
a laundry chute from the second floor
a full basement that provided additional space to store coal, wood and vegetables, as well as a cold room, a laundry area and a small shower

Portrait of Maurice and Eliza

Maurice and Eliza, circa 1900
(Strathcona County Museum and Archives)

Maurice Smeltzer was born in Huron County, Ontario in 1867. As a young man, he worked as a lumberjack in the lumber woods of Michigan and Ontario, and also in a livery stable as a horse trainer. He first ventured west in 1891 delivering a railcar of work horses for an employer. He transported the horses via train on the Canadian Pacific Railway (CPR) line to Calgary, then on one of the first trains to reach South Edmonton (Strathcona) on the new Calgary and Edmonton (C&E) Railway line. While here, Maurice scouted around for good farmland. The following year, joined by friend Jim McConnell, Maurice brought more horses west—and decided to stay. He chose a quarter section just across the road to the west from where Smeltzer House now stands, what is now the neighbourhood of Westboro in Sherwood Park. He paid the $10 homestead application fee to lay claim to NE 28-52-23-W4 on 14 November 1892. The application was proven 10 November 1898.

In his early years here, Maurice took employment off the homestead, working at a coal mine below where the Fairmont Hotel Macdonald now stands. He also worked in the lumber trade, supplying logs to Edmonton mills. He rafted logs down the North Saskatchewan River in early spring from winter cutting grounds in the Buck Creek area. As demand for agricultural products rose, particularly after the 1897 discovery of gold in the Yukon, he turned to full-time farming.
 

In 1899, Maurice married Eliza Pithie, daughter of James Pithie and Eliza Burness. The Pithie family had emigrated from Scotland and, like Maurice, spent time in Ontario before coming west. Given that Eliza's father and Maurice were both involved in the lumber industry, that is likely how the two met. Maurice and Eliza were active in school, church and also the Northern Alberta Pioneers and Old-timers Association.

West Salisbury Ladies Aid

West Salisbury Ladies Aid: Eliza Smeltzer in print dress; 1924
(Smeltzer Family Collection, Strathcona County Museum and Archives)

West Salisbury Methodist Church was built in 1915 at Salisbury Corner across from the West Salisbury General Store and Post Office, which had opened in 1911. The church and store were a mile west of the Rural Salisbury School on Wye Road. Mail was addressed "West Salisbury" because New Brunswick already had a Salisbury post office. The store served as a community hub for decades until it was moved a mile south in 1964 to make way for a new cloverleaf in a highway expansion.

In 1925 the West Salisbury Methodist Church became a congregation of the United Church of Canada through a union of Methodist, Presbyterian and Congregationalist churches; it took on the name Salisbury United Church. Maurice and Eliza joined this congregation in 1923 after the closing of Homewood Presbyterian Church, where Maurice had served as an elder. Women in the West Salisbury Ladies Aid were a force for good in the community, active with organizing events, raising funds and improving the church's furnishings.

Maurice and son Frank

Maurice with Frank as a toddler in front of their house on the home quarter, 1909
(Smeltzer Family Collection, Strathcona County Museum and Archives)

As a newly married couple, Maurice and Eliza lived on the homestead in the house that Maurice built with the help of his friend Jim McConnell. The two had built the two-storey log house in 1894. When the addition was added to the north side of the house in 1904-05, the entire house was given new siding that also provided insulation. There was a common living room and a kitchen, and stairs to the upper level from each room. However, the two upper level rooms were not connected.

Maurice and Eliza had two sons. James, born in March 1905, died in September that same year. Francis John (Frank) was born in 1907. Hired hands also lived for a time in the Smeltzer home.

Salisbury Rural School

Frank Smeltzer and classmates outside the Salisbury Rural School in 1921.
(Strathcona County Museum and Archives)

As the number of families in the area grew, settlers came together in about 1900 to establish a school for their children. They chose the name Salisbury for the school district, named for Lord Salisbury, then premier of Great Britain. The school district comprised an area totalling 16 sections of land, within a good portion of Township 52, Range 23, West of the 4th Meridian; the school district boundaries also defined the community. The Salisbury Rural School first opened in 1901 and Maurice served as chairman of the school board for a period of time.

As a youngster, Frank attended that white clapboard building, walking or biking the three-quarter miles from home with friends including neighbour Edith Ottewell. During his second year of school, in 1916, a larger brick school opened. In his spare time, Frank trapped weasel and muskrat on nearby sloughs, earning enough bounty money to purchase a bike. 

Smeltzer family in their car

Smeltzer family in their car; circa 1918
(Smeltzer Family Collection, Strathcona County Museum and Archives)

In 1918 Maurice buys a new touring car. At some point Maurice didn't drive any more; he would have Frank drive the car. Frank was about 12 in this photo. 

Frank Smeltzer remembers: 

"One of my distinct memories was when father bought a touring car and surprised my mother and I by driving it home. One day a couple of years later I asked father if I could drive the car. It was sitting by the house headed for the barnyard. He said 'All right.' So I got behind the wheel and father cranked the car. He directed me what to do and we rolled down the yard through the open barnyard gate, I made a circle and brought us back through the gate. The garage was halfway between the house and the barn with the doors facing to the yard, and he said, 'Drive it in the garage.' Now the floor of the garage was about a foot above the ground with planks sloped for easy entrance. I got the front end up on the floor and father thought we would not make it all the way so he said, 'Step on the gas.' Well, I did! And that old car charged into the building! There was a brand new tin bathtub about five feet long lying at the front end. We hit that and folded it up and broke two 2x4s out of the end of the building as well as a window. It was my mother's bathtub, never used; she was sure quite mad at father and I. That ended my driving for some time!" (Oral history interview with Frank Smeltzer, dated 1981, page 15, Strathcona County Museum and Archives)  

Farming

W.C. McDonald driving his tractor, Frank (centre), Maurice on 1928 model binder; date unknown
(Smeltzer Family Collection, Strathcona County Museum and Archives)

Land quality varies across the Salisbury district, moving from fine black soil in the northwest to coarser, less fertile land built up over glacial deposits left behind by the long-ago ice age. When Maurice was searching for good farmland, he chose a quarter section with high quality soil. Bit by bit, Maurice and his friend Jim cleared the land of timber, turned sod with horse-drawn equipment, and grew the first crops—mostly oats. In 1906, Maurice purchased a half section of land—CPR land put up for sale—just east of his homestead, tripling the size of the farm. Taking advantage of advances in machinery, Maurice bought a Cockshutt tractor and in 1918 purchased the farm's first threshing machine, which attracted local press as "a great labor saver."

From a young age, Frank helped his father with the farm work, especially at points when his father's health (Maurice suffered from asthma) was ailing. After graduating from Olds School of Agriculture in 1926 (completing the two-year program in one), Frank took on more of the farming responsibility and when his parents passed away in the 1930s he continued to operate the successful venture his father had established. Frank obtained purebred pork breeding stock and built a large hog barn in 1937 where he raised as many as 250 hogs. Over time, the farm encompassed 600 acres (including 120 acres of leased land), as well as a mix of livestock. Maurice received awards for his hogs, oats and barley, and Frank for prime hogs.

Frank and Agnes beside car

Frank and Agnes beside the family's 1938 Nash, circa mid-1940s
(Smeltzer Family Collection, Strathcona County Museum and Archives)

In 1933, Frank Smeltzer married Agnes Kirkwood and the couple lived with Frank's parents, a common practice in the day. Agnes and her family had emigrated from Ireland in 1912, and settled south of the North Saskatchewan River in Edmonton.

Frank and Agnes had two sons, Ian and William (Bill), as well as a daughter, Wyona Agnes, who died in infancy. Bill and Ian attended Salisbury Rural School, and Frank and Agnes were active in the Salisbury United Church. To feed the family, Frank hunted wild game and Agnes kept a large garden to the south of the house, where there were also a number of apple trees. Agnes also sold cream to the South Edmonton Creamery for use by Mello-Moor, a popular ice cream shop on Whyte Avenue.

Frank and Agnes on front porch

Frank and Agnes Smeltzer, 1973
(Strathcona County Museum and Archives)

With the discovery of oil at nearby Leduc in 1947 creating jobs and attracting new residents, the Municipal District of Strathcona approved a satellite community immediately south of the Smeltzer farm. First named Campbelltown, this hamlet came to be called Sherwood Park. With a new residential development literally on their doorstep, the Smeltzers began selling their land holdings to developers in 1952. In 1974, Frank and Agnes sold the brick house and final three acres. Wanting to retain the home's historic presence in the neighbourhood, the County of Strathcona purchased the three-acre property in 1976. In 1986 the Province of Alberta designated Smeltzer House a Registered Historic Resource, and in 2013 Strathcona County named the house a Municipal Historic Resource.

 

"Father had a forward approach to the area and one day said to me, 'You may not witness this, but one day this area will be connected to Edmonton by houses or industry.' Little did I think at that time it would happen, but it is no miracle now." – Frank Smeltzer