Community hall availability
Please contact the specific community hall association operator for details and availability.
Last modified: July 6, 2021, 11:29 a.m.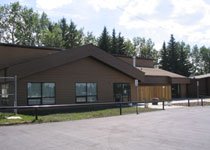 The Sherwood Park 55 Plus Club is operated by the Sherwood Park 55 Plus Club. The centre is located at 50A Spruce Avenue, Sherwood Park.
The mailing address is:
Box 79065
Sherwood Park, AB
T8A 5S3
Check out www.55plusclub.ca for more information and to keep up to date with the club.
Directions to Sherwood Park 55 Plus Club - "Google Maps":https://goo.gl/maps/kIS20
Some of the centre amenities include
wheelchair accessible washrooms
smoke free environment
fully equipped kitchen with stove, deep freeze and sterilizer
pool tables and floor curling
The centre is 6312 square feet with a paved parking lot.
Are you serving alcohol at this community hall for your function?
NO alcohol is permitted on the premises. 
For additional information please speak to the rental contact at the facility you are booking.
Programs and special events
The Sherwood Park 55 Plus Club plans, administers and offers a number of community-based programs and special events as well.
Weekly activity schedule can be found at: www.55plusclub.ca
If you would like additional information on these programs or events, or you would like to participate or help out, please call 780-467-8389. Current events and program information can also be found on the Event Calendar
Strathcona County publishes community hall and senior centre information using content provided by the local community and seniors' associations licensed to operate and administer these facilities. We cannot guarantee the accuracy and currency of the information provided.