Black knot
Black knot (Apiosporina morbosa) is a fungal disease that causes greenish brown to black swelling in the stems of trees. 
Spores are released following periods of warm, wet weather and are spread by heavy rainfalls, wind, birds and insects.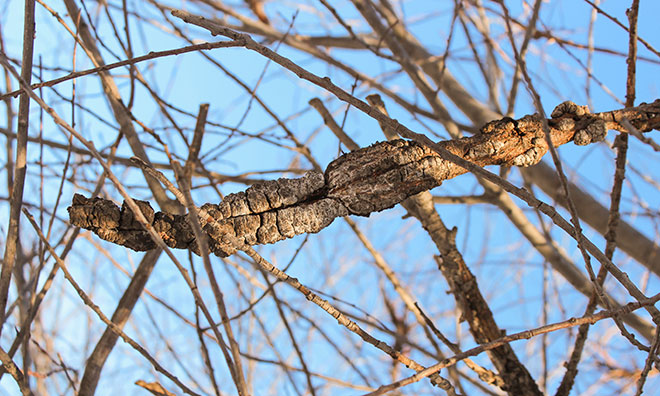 Black knot deforms branches and reduces their growth.  If a tree is heavily infected it can become stunted and may eventually die from the disease. The fungus also puts the tree under considerable stress which makes it vulnerable to pests and other diseases in its weakened state. 
A recent survey of the disease throughout Alberta revealed a significant and widespread distribution of black knot found on commercial, municipal, golf course, public and private lands and native stands. 
Identification
Residents should regularly monitor their trees for symptoms of black knot. The most effective way to slow the spread of black knot is to be vigilant about managing the disease in a timely manner.  Remove infected branches as soon as you can to reduce the spread of this fungus.
Signs:
In the early stages, the disease appears as a small light brown swelling usually found on the succulent green stems. 
As the knots mature, the swelling will appear olive green with a velvet texture. The growth will then look like an elongated black knot on the tree. 
Common types of trees affected by black knot are:
Flowering Almond
Mayday
Wild Plum
Apricot
Flowering Plum
Mongolian Cherry
Japanese Plum
Nanking Cherry
Korean Cherry
Choke Cherry
Sour Cherry
Pin Cherry
Prunus hybrids
Management
Follow these guidelines for pruning and disposal if you detect black knot on your trees.
Prune out the infected branches between late fall and early spring when the plants are dormant and the knots are easier to see. 
Remove the infected branches to at least 15 to 20 centimetres (6 to 8 inches) below the knot.
Sterilize your cutting tools between each cut using warm soapy water or a bleach solution (one part bleach and three parts water) to prevent further spread of the disease. 
Diseased wood must be bagged and placed in your black bin.
Larger branches must be taken to Edmonton Waste Management Centre(780-496-6879) located at 250 Aurum Road NE.
Alternatively, diseased wood can be buried or burned. 
Further information:
Trees in Sherwood Park and Hamlets
Recreation, Parks and Culture
Phone: 780-416-PARK (7275)
Email: recreation@strathcona.ca
County Connect
Ask it, report it or suggest it using County Connect