Winter Roads
The County follows a priority system to manage snow and ice on winter roads. High-volume and high-speed roads in rural and urban areas are the first priority. Winter Roads 101 (794.8 KB)  explains which roads are plowed and when.
Stay in the know
When snow clearing is required in Sherwood Park neighbourhoods, temporary parking bans are required. Stay in the know and avoid a tow. 
Snow route parking ban
Snow Route parking bans affect collector roads (priority 3) marked with snow route when declared signs. A parking ban will be declared on these streets a minimum of 24 hours before parking restrictions are enforced. Sign up for the Strathcona County Alert system to receive snow route parking ban notifications by email, text and/or phone call.
Residential street parking restrictions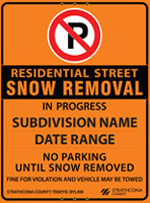 Residential street parking restrictions go into effect when the County needs to clear residential streets (priority 4) in Sherwood Park. Temporary orange Residential Street Snow Removal in progress signs are posted with the clearing dates for your neighbourhood. These parking restrictions do not apply to residents living on streets marked with snow route when declared signs.

Keeping you moving safely
Strathcona County is committed to providing a high level of snow removal service throughout the winter season.
How you can help
Here are a few things residents can do to help ensure snow clearing efforts run smoothly.
Winter Maintenance Maps
These interactive web maps are best viewed with Google Chrome. To download a free copy of this web browser visit Chrome Browser.