South of Wye ARP Project
Strathcona County is currently in Phase 3 of the South of Wye ARP Project. The purpose of this project is to create a new Area Redevelopment Plan (ARP) for Campbelltown Heights, Wye Road Gardens and Ordze Park subdivisions. The project will also update the existing South of Wye Road ARP. 
South of Wye ARP Project area
Here are the areas we will be talking about: 
Map of the South of Wye ARP Project (68.9 KB)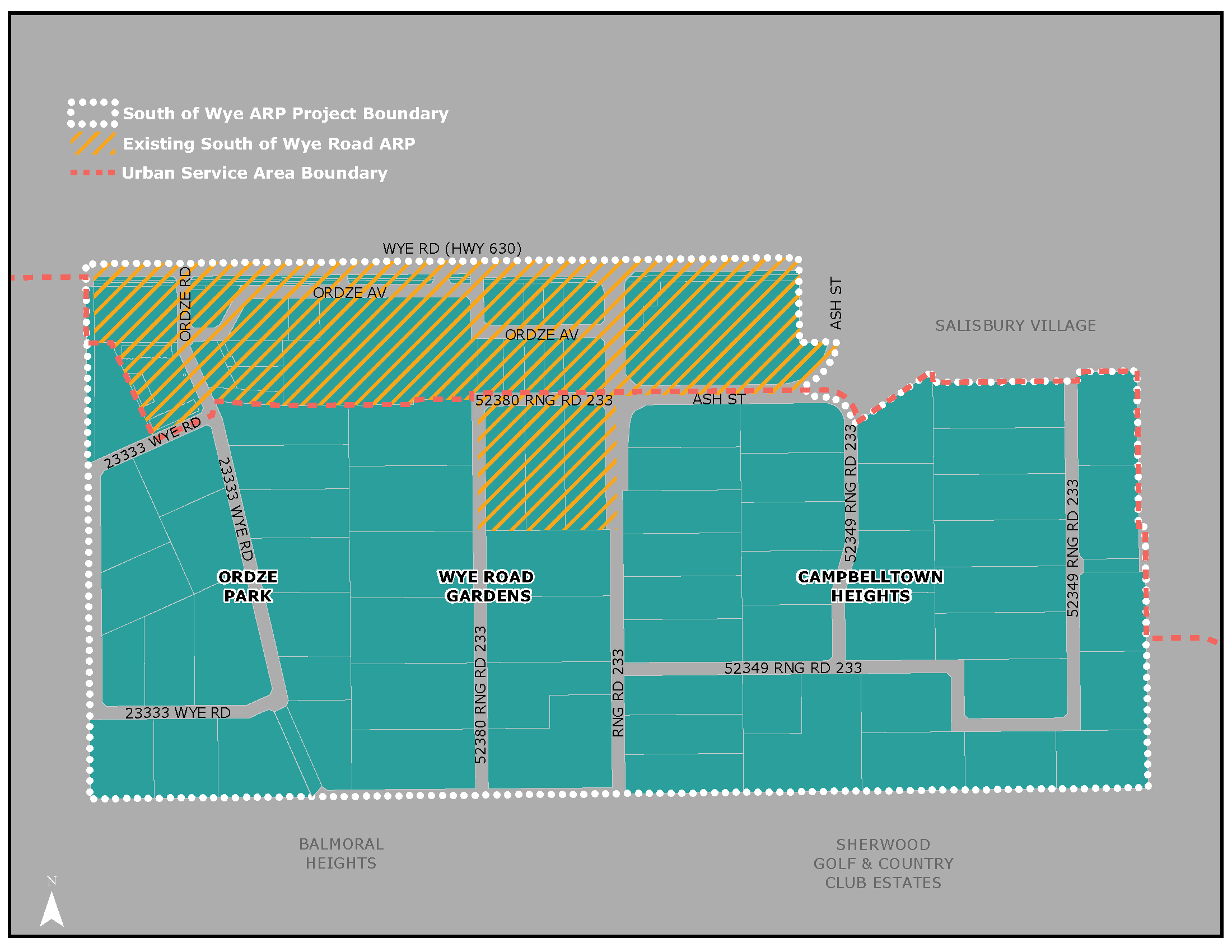 Public engagement
Your input is important as we determine the overall vision and future land use concept for the area. Extensive consultation and public engagement opportunities with area landowners, stakeholders and the community will enable input into the process. 
Keep up with the latest project news by signing up for our e-newsletter below. 
Area Redevelopment Plans take time. Here's what you can expect:
South of Wye ARP Project phases (95.7 KB)
South of Wye ARP Project FAQs:
An Area Redevelopment Plan is a statutory plan that provides guidance to landowners who may wish to redevelop their properties in the future. An Area Redevelopment Plan generally outlines acceptable land uses, building forms and densities of development in different areas and the infrastructure required to facilitate such development.

Statutory plans are those plans that must go through public hearing and three readings to be adopted as a bylaw by Council. They include Intermunicipal Development Plans, the Municipal Development Plan, Area Concept Plans, Area Structure Plans, and Area Redevelopment Plans. More information on the planning process.

Residents and stakeholders have had questions regarding the future of Campbelltown Heights, Wye Road Gardens and Ordze Park subdivisions, given their proximity to Sherwood Park and recent development occurring on lands adjacent to the area. Council has directed Administration to undertake this project in order to provide residents and stakeholders an overall plan for the future.

The existing South of Wye Road Area Redevelopment Plan was originally completed in 1986 and has since been amended. It will require an update in order to ensure coordination of land use and servicing in the area.

To ensure the plan is both comprehensive and long lasting, the project will include supporting technical reports for the project area including a utilities master plan and a transportation study.

Professional services firm, WSP in Canada, has been retained to work with the County on the project. WSP has partnered with Dialogue Partners who will conduct the public engagement and consultation events.

Redevelopment is driven by landowners and developers over time as landowners choose to undertake potential projects. An ARP will provide a framework for any potential future redevelopment. Public engagement ensures residents and stakeholders have the opportunity to contribute to the creation of that framework.

Property taxes would not directly increase as a result of a new Area Redevelopment Plan for the South of Wye ARP Project area, even if the Area Redevelopment Plan allowed for additional land use opportunities in the Plan area. The assessment and taxation of parcels does not change as long as the landowner does not change the land use or zoning of the parcel.

Further, if a neighbouring property decided to change their land use, this would also not result in an increase in property taxes to any adjacent properties that decide to keep their existing land use.

Increases in property taxes could occur where landowners decide to change the land use of their property. Another potential factor of increasing property taxes could be a result of increasing property values over time within the area. If market values within the area increase more than the average, higher property taxes may result.

Rezoning is not a part of the South of Wye ARP Project. If the ARP is adopted by Council, and if rezoning is needed for future redevelopment, then rezoning applications would need to be submitted to the County by individual landowners. Any proposal to rezone a parcel in accordance with the ARP would be up to the individual landowner of that subject parcel.
Be the first to know
Get involved and stay informed on all project updates. Join our e-newsletter. 
E-newsletter
Subscribe to the South of Wye ARP Project e-newsletter
If you would like further information:
Janna Widmer
Coordinator, Long Range Planning
Planning and Development Services
Phone: 780-464-8127
Email: janna.widmer@strathcona.ca