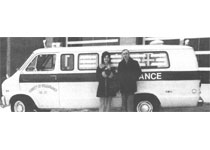 In early 1972, local resident Jean Bilan organized 150 volunteers to canvas Sherwood Park to collect signatures in support of local ambulance service. Prior to this, if an ambulance was required, it had to travel from Edmonton which was considered too far away for effective service.
A total of 6,000 signatures were collected and presented to County Council in April 1972. Ambulance service was established in Strathcona County with the creation of Bylaw 200.
In 1973, ambulance calls accounted for 398 of the 702 emergency calls received. Today (2011), emergency medical service calls account for 77.63 per cent of the total emergency calls received by Strathcona County Emergency Services.
Information and photos courtesy of the Strathcona County Museum and Archives.