Schedules & Routes
Summer Construction Detours
We recognize commuter routes are delayed due to construction on 98 Ave. and Walterdale Hill. We have been detouring our route in order to best minimize these delays. However, delays of 5 to 7 minutes are unfortunately unavoidable during peak travel times. Detours are in effect. No stops will be missed.
Routes 401 & 411 – Due to construction on 104 Avenue, Route 401 & 411 are on detour.
Some stops may be affected. Please speak with your driver for details.
More information
Questions? Call 780-464-7433.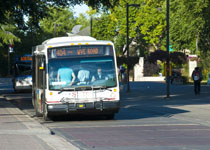 Strathcona County Transit provides local service within Sherwood Park, as well as service into the City of Edmonton.
Google maps is now using Strathcona County Transit information!
To use Google transit :
Select the "Get Directions" bent arrow at the top if the screen
Then select the bus icon from the top of the menu
Enter you starting and finishing destinations and select "Route Options"
Plan your trip
How do I figure out what time I need to start my journey to get to my destination on time?
Whether you are traveling within Sherwood Park or to a destination in Edmonton, taking transit for your entire journey is easy and efficient. How do you do it? Planning your trip is easy. Simply work backwards from the time you want to arrive. In combination with the commuter and local schedules, you'll be able to plan your trip.
Here's an example of how it works:
I need to be at work at Government Centre at 8:30 a.m. 
Looking at the commuter schedules, I see that the 413 travels to Government Centre (stop #1301). 
It arrives there in the morning at, 7:12, 7:27, 7:42, 7:57, 8:12, 8:27, 8:42, 9:12, and 11:42 a.m. 
I need to be at my desk by 8:30, so I'll need to arrive there at 8:12 a.m. 
By following across the row where the trip ends at 8:12, I can see that this trip leaves the Terminal at 7:45 a.m. 
I live in Lakeland Ridge; nearest stop # 7707, so I need to catch a 433 route bus that will get me to the terminal before 7:45 a.m. 
Looking at my timing point (stop #8138), I see that I need to catch my bus at 7:33 a.m. (giving myself 5 minutes cushion as not to miss my local bus) to arrive at the Bethel Transit Terminal for 7:40 a.m. Ample time to get on the 7:45 a.m. Route 413. 
My complete trip will take me approximately 50 minutes. 
Information about our services is also available through our automated phone line.
Transit Link 780-464-RIDE (7433)
Strathcona County Transit's mission: 
To provide local, intermunicipal and specialized public transit services for the community that are Customer-focused, Accessible, Reliable, Efficient and Safe (CARES).