Residential permitting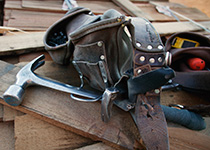 Planning to sell your home? Want to hold a garage sale or build a new shed?
When do you need a permit?
How do you apply for a permit?
Electrical, plumbing and gas permits are available online and are issued over the counter.
Permit application forms - print and fill safety code permit applications

Permit fees - printable fee schedules

Apply in person at :
Planning and Development Services
County Hall
2001 Sherwood Drive
Sherwood Park, AB, T8A 3W7
Tel: 780-464-8080
Fax: 780-464-8142
Hours: 8:30am - 4:30pm
Do you need permission to have a business in your home?
Yes, permits are required to operate a home business.
When can you finish your landscaping?
As soon as you receive your final lot grading certificate.
more...
Did you know?
Additional information
780-464-8080
PlanningandDevelopment@strathcona.ab.ca