Recycling stations
Recycle Stations have moved
The Bethel Recycle Station has moved just around the corner to a new home. The new location is on Broadview Road. Google maps
Ardrossan Recycle Station has moved just east of the Ardrossan Recreation Complex on 3rd Ave.
Strathcona County has three recycling stations, which are open seven days a week, 24 hours a day.
Locations include:
Recycling at the recycle stations is different than curbside collection. Items must be separated into the correct bins for recycling. Placing items in the wrong bin increases costs because contents have to be sorted and processed before it can be recycled. Recycling collected at stations are sent to a different location for processing than our curbside program.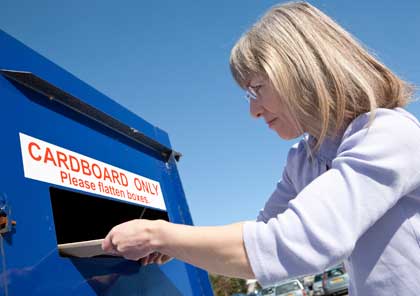 Items must be separated into proper bins for recycling at the recycle station.
All locations, other than at Streambank Avenue, will accept the following materials:
Corrugated cardboard (flattened, clean, dry and unsoiled)
Glass jars (food and beverage glass containers, lids removed)
Metal cans (aluminium cans and containers such as pie plates and take out containers)
Mixed paper

cereal and tissue boxes
envelopes
magazines
catalogues
coloured, computer, glossy writing paper
flyer inserts
greeting cards
junk mail
paper bags
paper egg cartons
paper milk containers
paper products
tissue paper
wrapping paper with no foil and paper drink cups)

Newspaper (no inserts, flyers, phone books, mixed paper or junk mail)
Plastic containers and styrofoam

beverage containers
bread, shopping and dry cleaner bags
baby bottle liners
lids from plastic milk jugs
plastic bottles - ketchup, mustard, bbq sauce, laundry detergent, fabric softener, shampoo, dish detergent
ice cream pails
Milk jugs (capless, cleaned and crushed)
plastics #1 to #7 grade
plastic containers such as yogurt
plastic flower pots
plastic lids from drink cups
straws
plastic film
plastic utensils
plastic wine corks
styrofoam egg cartons, clean and dry meat trays, packaging, plates and cups, take out containers)

Tires, rims removed (accepted at the Baseline location only)
Streambank Avenue - Brush Yard
Streambank Avenue Recycling Centre is the only location that collects grass clippings, leaves and yard waste. Sod and tree stumps are not accepted at Streambank Avenue and must be taken to the landfill. Sod in the bins is too heavy, and they cannot be transported to be emptied.
Located at 420 Streambank Avenue, Sherwood Park Google maps
Josephburg recycle station has closed 
The decision to close this station was driven by the on-going abuse of the recycle station and resident concerns about the unsightliness of the site.
Residents of Josephburg have curbside recycling and access to The Recycle Station at 8609 111 street in Fort Saskatchewan. Curbside recycling customers are permitted to leave an unlimited amount of recycling out for collection each week.
The South Cooking Lake permanent recycling station has been closed however, temporary recycle events will be held monthly. Monthly recycle events are held at the South Cooking Lake Contact Office 22142 South Cooking Lake Road.
During the last weeked of every month recycling bins will be set up at the South Cooking Lake South Contact office / Fire Stations #2. Google maps
2013 dates
| | |
| --- | --- |
| January 26, 27  |  July 27, 28 |
| February 23, 24 |  August 31, September 1 |
|  March 30, 31 |  September 28, 29 |
|  April 27, 28 |  October 26, 27 |
|  May 25, 26 |  November 30, December 1 |
|  June 29, 30 |  December 28, 29 |
Two bins will be set up, one to collect paper products and the other for container recycling.
Acceptable paper items include:
Mixed paper
Newspaper
Cardboard
Magazines
Acceptable clean and dry container recycling includes:
Plastics
Glass
Aluminium cans
Tin cans
Please put items in the correct bins. When items are placed in the incorrect bin, processing costs increase.
We appreciate that residents respect these events and will keep the area clean. 
Rural Enviroservice events
In order to provide a new type of service in the rural area, we will begin offering more Enviroservice events in Ardrossan to assist rural residents in diverting electronics, paint, batteries, household hazardous waste and other materials. Our intention is, as always, to provide quality services to our residents and increase diversion of materials from landfill. To subscribe to weekly waste, organics and recycling collection please call 780-449-5514.
Additional information
780-449-5514
greenroutine@strathcona.ca