Where to park when using Park and Ride facilities
Many transit passengers are curious about where they can park if they choose to use Strathcona County Transit's Park and Ride service. Park and ride lots are available for use during Transit service hours at both Strathcona Station on Broadview Road and the Transit Centre on Ordze Road in Sherwood Park.
Strathcona Station - Broadview Road
Strathcona Station has moved to its new location on Broadview Road. What this means is:
Stop 8000, Strathcona Station, has moved from Bethel Drive to Broadview Road.
All schedules remain the same, just the location has changed.
The entrance to the new park and ride area is via Broadview Road.
There are 380 parking stalls available in the new parking lot.
Parking is available on Broadview Road and Broadview Drive. Please obey all signs.
Parking at the old Bethel Drive parking lot and at Bethel Lutheran Church is no longer available for use by transit customers.
Please park only in our new parking lot and designated street parking. If you are having a hard time finding parking at Strathcona Station, consider parking at the Transit Centre off Wye Road or at one of our satellite lots (information below). Other options also include using local service or carpooling. 
Good news!Strathcona Station is the future site of the Bethel Transit Terminal. It is expected to open in the winter of 2013. For more information on the new terminal, click here.
Transit Centre - Ordze Road
The Transit Centre has approximately 200 spots in the two-story parkade, with an addition 150 (approximately) spots on Fir Street. Lots tend to fill up early in the morning. Our average passenger boards their commuter buses between 7 - 8 a.m. The earlier you arrive, the more likely you are to get a spot. The upper parking lot is accessible weekdays from 6 a.m. to 8 p.m., vehicles may be removed from the upper lot after 8 p.m. until 11 p.m. when the Transit Centre building is locked. There is no access after 11 p.m., nor is there access to the upper lot on weekends unless Transit is hosting a special event shuttle.
Customers are asked to respect all parking signage both on Fir Street and in the Village on the Lake neighbourhood. Failure to do so may result in a parking ticket from Enforcement Services.
Satellite parking lots
While using local service is still your best option to reduce parking stress, Transit has found satellite parking lots where commuters who must use their cars can still park. When using the shuttle service, please be prepared to show your passes and tickets to ride. Shuttles are designed to connect with the commuter bus service at the Transit Centre on Ordze Road. For example, if you generally catch the 7:30 a.m. commuter, you need to be on the 7:15 a.m. shuttle. 
Shuttle schedule (68.9 KB) - Log Cabin and Kinsmen Leisure Centre (KLC) only
Glen Allan Recreational Complex (GARC) - 25 parking stalls
Lot users will take the Route425

(68.8 KB)

at stop #1018 to arrive at the Transit Centre, adding 15 minutes to their commute.
Kinsmen Leisure Centre (KLC) - 50 parking stalls
Lot users will take the Transit Centre shuttle, adding 10 minutes to their commute.
During non-peak hours, use Route427

(101.2 KB)

at stop #6029.
Sherwood Park Log Cabin - 60 parking stalls
Lot users will take the Transit Centre shuttle, adding 5 minutes to their commute.
During non-peak hours, use Route425

(68.8 KB)

at stop #6047.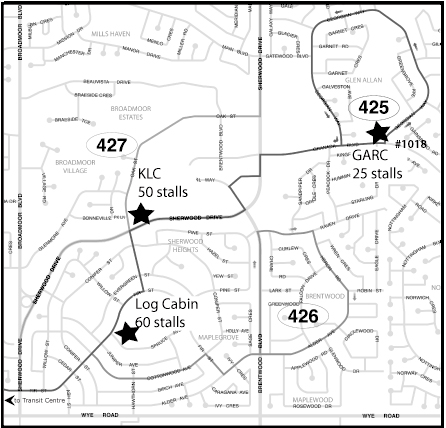 Strathcona County Transit's mission: To provide local, intermunicipal and specialized public transit services for the community that are Customer-focused, Accessible, Reliable, Efficient and Safe (CARES).
Further information 
780-464-RIDE (7433)
transit@strathcona.ca