Bethel Transit Terminal

The new Bethel Transit Terminal is located on 650 Bethel Drive, Sherwood Park. 
The $23 million Bethel Transit Terminal and Park and Ride anchors intermunicipal transit service between Strathcona County and Edmonton, while serving as a base for local bus service within Sherwood Park. It is the Capital region's largest bus terminal, and launches Strathcona County's new route structure , making this an exciting time for Strathcona County Transit and its customers.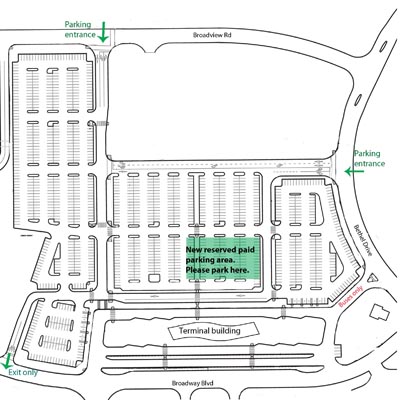 A closer look shows you where each of our buses are located at the terminal.
Bus bay assignments
The terminal features:
an off-street bus-only terminal for more than 20 buses (including double-decker buses)
single large passenger-loading platform  with a climate-controlled and staffed building
more than 1,200 parking stalls - 100 stalls are Advantage Parking. Find out more here.
curbside drop-off/taxi staging area and off-street Kiss and Ride facility
improved pedestrian and cyclist access and bike lockers
The terminal quadruples Transit's former site's parking capacity with over 1,200 stalls while offering an enclosed, climate-controlled passenger platform that provides access to an off-street bus terminal that can accommodate more than 20 buses at a time. Environmentally conscious riders will enjoy improved pedestrian and bicycle access, while the larger Kiss and Ride area will facilitate safe and easy drop-off points.
In addition to improving service and removing cars from the road, the new transit facility is barrier-free and constructed according to the LEED standard of environmental construction, demonstrating the County's commitment to environmental and social sustainability.
Currently, there are approximately 5,000 commuter trips daily on the County transit system. Through the County's partnership with the federal and provincial governments, the new transit terminal will further bolster transit service, enhance rider experience and promote overall sustainability. Strathcona County invested $4,684,330 from its federal Gas Tax Fund transfer and Government of Alberta has invested $13,524,414 from the provincial GreenTRIP program towards this project. Strathcona County is providing the balance of funding towards the total project cost of $23,023,744.
Mission:
Strathcona County Transit provides local, intermunicipal and specialized public transit services for the community that are Customer-focused, Accessible, Reliable, Efficient and Safe (CARES).