Preschool Programs
Registered preschool programs
Looking for registered preschool programs? Check out the latest Recreation Guide here for a full listing.
Preschool Philosophy - Learning Through Play
Our preschool recreation programs ensure that children have the opportunity to participate in activities which encourage the development of fundamental movement skills like running, jumping and balancing. Physical literacy is an important component in our philosophy of Learning Through Play.
Creativity is meshed with physical activity to improve children's coordination and body awareness. In addition to promoting physical literacy, our preschool programs enhance each child's personal and social development.
We offer preschool programs in a variety of locations.
Preschool Program Locations - map of facilities
Kinsmen Leisure Centre
2001 Oak Street
Sherwood Park Arena
2015 Oak Street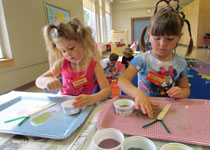 Glen Allan Recreation Complex
199 Georgian Way
Millennium Place
2000 Premier Way
Capital Care Centre Strathcona
12 Brower Drive
Ardrossan Recreation Complex 
80-1 Avenue, Ardrossan 
Strathcona Olympiette Centre
52029 Range Road 224
Hastings Lake Community Hall
51080 Range Road 204
Preschool aged activities exist throughout the County. Children can also benefit from the Shell Edu-tainment Centre located at Millennium Place, or the Ardrossan Edu-tainment Centre at the Ardrossan Recreation Complex.