Rural Internet Access Program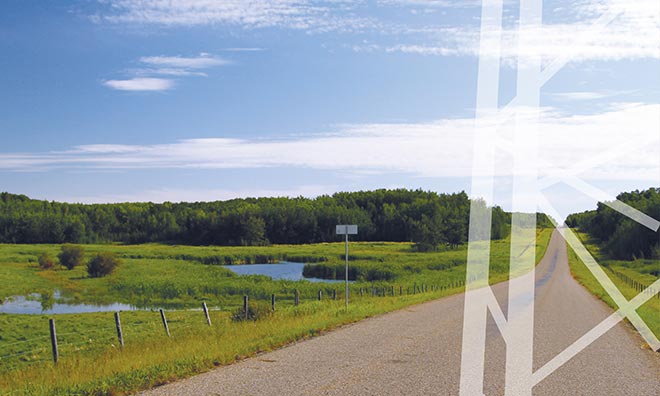 Take the high-speed test
To ensure gaps in internet service all across Strathcona County are recognized, residents and businesses are encouraged to complete an online internet speed test administered by the Canadian Internet Registration Authority (CIRA), a non-profit organization that develops and implements policies that support Canada's internet community.
For the most accurate results, a desktop or a laptop is the preferable test device and ideally it should be connected directly to your modem using a cable. Do multiple tests at different times of the day and on different days of the week, and be sure to run some during peak times (7pm to 11pm).
Shut down all programs on your device except the test. Running other applications or devices while executing tests will negatively affect test results. Only the person doing the test should be using the internet, so ask others to stop using the internet and/or streaming while running the test (it only takes about a minute!).
The data is anonymously collected and aggregated into a dataset, allowing us to better understand the "real" internet service speeds that our residents are experiencing. Individuals can compare their connection speed with those of other participants.
High-speed internet access is increasingly important in everyday life, whether it's required for school, business or even entertainment. Strathcona County recognized that many rural residents within the County had unsatisfactory access to this basic service.
With its innovative Rural Internet Access Program, the County enhanced internet access in hard-to-reach areas by adding 22 new local internet towers, and upgrading many more, to boost signal reach.
Through this three-year program, the County offered incentives to internet service providers (ISPs) to install smaller internet towers in areas where there were gaps in service. The new towers - owned and maintained by the ISPs - act as a bridge between households and larger infrastructure towers, bringing high-speed internet access to areas that are without. Local ISPs worked directly with landowners to install towers in areas designated by the County.
Information on this page
Map of internet tower locations (2.6 MB)
Tower locations
Thanks to the Rural Internet Access Program, internet towers have been installed and are operational, providing service to the following rural subdivisions and surrounding areas:
Antler Lake Community Hall - MCSNet
Antler Meadows - Syban
Belvedere Heights East - MCSNet
Belvedere Heights West - MCSNet
Best Estates - MCSNet
Birch Park Estates - MCSNet
Brecken Woods - MCSNet
Bristol Estates - Syban
Camelot Square - MCSNet
Casswallen Crescent Acres - MCSNet
Century Estates - Syban
Century Meadows - Syban
Colchester Lane -  MCSNet
Collingwood Cove - MCSNet
Colonial - MCSNet
Donaldson Park - MCSNet
Farrell Properties - Syban
Forest Hills Country Estates - MCSNet
Galloway Park - MCSNet
Glenwood Park Estates - MCSNet
Hansen Estates -  MCSNet
Hyland Hills – Syban
Jaymoor - Syban
Lina Country Estates - MCSNet
Los Villas – Syban
Lueders Ridge - Syban
Lynley Ridge - MCSNet
Mark IV Estates - Syban
Marvin Gardens - MCSNet
McConnell Estates - Syban
Meadowbrook Heights - MCSNet
North Cooking Lake / Deville Community Hall - MCSNet
Parklane Estates - MCSNet
Paso Valley Estates - MSCNet
Patricia Glen - Syban
Phoa Subdivision - MCSNet
Portas Gardens - MSCNet
Queensdale Place (North and South) - Syban
Richlyn Estates - Syban
Roman Estates – Syban
Royal Estates - MCSNet
Shady Lanes  - MCSNet
Trans Oak Estates - MCSNet
Trevethick Park - MCSNet
Twin Island Park – Syban
Verden Place - Syban
Wellington Estates - MCSNet
Wildwood Village - MCSNet
Willow Road - MCSNet
Woodland Downs - MCSNet
Wye Knott Village - MCSNet
Equipment upgrades and improvements to existing towers have enhanced internet service, as well as extended service to additional residents, in the following areas:
Artesian Estates - MCSNet
Baronwood - Syban
Calebo Estates - MCSNet
Croftland Subdivision - MCSNet
Deer Horn Estates - MCSNet
Dowling Estates - MCSNet
Gray Drive - MCSNet
Gunmanor Estates - MCSNet
Marler Subdivision - MCSNet
Parker Ridge - MCSNet
Parkwood Place - MCSNet
Partridge Hill area - MCSNet
Pine Grove Acres - MCSNet
Sierra Grande Estates - MCSNet
Springhill Park - MCSNet
Spruce Bend Acres - MCSNet
Tanglewood - Syban
Voyageur Estates - MCSNet
Westpark Estates - MCSNet
Project timeline
2015
Program research, plan and design
County works with local ISPs, and gathers feedback from residents, to identify areas where internet access is unsatisfactory
2016-2017
Information sessions throughout rural Strathcona County to share information about the program, and gather feedback from residents
Installation of internet towers, on a priority basis, throughout rural Strathcona County; all towers are expected to be installed by end of 2017
2018
Complete free public access installations at Community Halls
Develop program sustainment plan
Partnership with Strathcona County Library
The County has partnered with Strathcona County Library to install internet towers at rural community halls where internet access is unsatisfactory. This is made possible through the Library's Bookmobile sponsor, Shell Canada Ltd. Thanks to this initiative, visitors will be able to enjoy unlimited free internet access at these facilities.
Bookmobile Library patrons will gain access to the Library's entire suite of digital content and programming (such as eBooks, and downloadable music and movies), and be able to log into their accounts in real-time. 
View the status of community halls to see where free wi-fi access is currently available, or in progress:
Community Hall Wi-Fi Rollout Schedule (85.2 KB)
Frequently asked questions
Please contact the Internet service provider (ISP) directly to find out what plans and packages they offer. To determine which ISP is closest to your area, refer to the Internet Tower Location Map (PDF) at the top of this page.

ISP contact info:

MCSNet
www.mcsnet.ca
1-866-390-3928

Syban
www.syban.net
1-800-679-0345

The County recognized there are significant up-front costs for internet service providers (ISPs) to install new towers in order to provide internet service in hard-to-reach rural areas where population is not as dense as in urban settings. By partnering with ISPs, the County was able to identify those rural areas with unsatisfactory internet access. Incentives provided to ISPs through the Rural Internet Access Program encouraged local service providers to enhance and expand their internet service in rural areas where it was needed most.

Unfortunately, geographical features such as hilly and treed terrain may prevent a wireless signal from reaching your home. If you have confirmed with local Internet service providers (ISPs) that they are unable to provide internet access to your home, you may want to consider other options such as installing an antenna or a small tower on your property, or going with a cellular data plan. There are also additional service providers operating in Strathcona County that may be able to offer service to you:

Alberta Communications
www.albertacom.com
780-496-7658

CCI Wireless
www.cciwireless.ca
1-888-240-2224

Xplornet
www.xplornet.com
1-877-969-3152

The tower locations are identified on this map.
Further information
Kathi Day
Program Coordinator
Rural Internet Access Program
Information Technology Services