Do you know what the top two contaminants in the green organics carts are?
1. Plastic
2. Batteries
To decrease contamination in organics carts Strathcona County staff will be out all summer adding a reminder sticker to every green cart. When you get yours, please do not remove it from the cart. All carts will get a sticker - even if you are using your green cart properly.
During the summer months, Utilities will be conducting a waste audit that will provide information on how we can all do better to reduce landfill waste.
As part of this audit, Utilities staff will be in neighbourhoods to examine waste, organics and recycling participation. Staff and waste collectors will work with residents to provide stickers with feedback on their efforts, including reminders about cart placement, packaging requirements, etc. These stickers help educate on how to sort waste correctly and make sure that contamination does not occur in the various streams. Some residents may receive a blue or compostable bag to help get things on the right track. Thanks to Glad for donating the blue and compostable bags!
Do you have your gold star?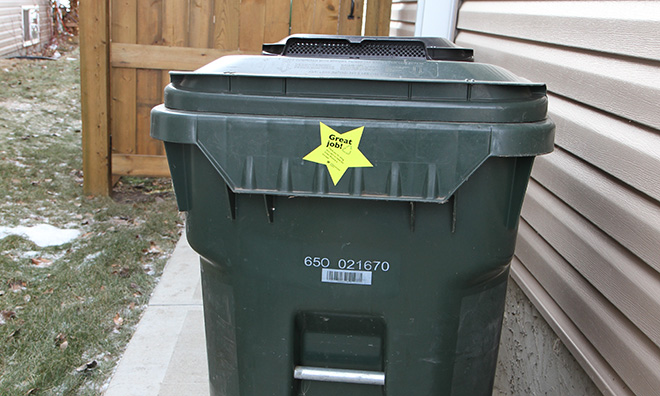 Residents that show they know how to get with the Green Routine will be rewarded with a shiny new gold sticker! Ok, well it's not that shiny and more of a yellow than a gold but you get the idea! We want to show your neighbours that you take pride in making sure organics and recycling does not end up in the landfill. Nominate someone you know that does a great job by contacting Utilities with the address and we will come out and give them a gold star!
Utilities
Phone: 780-449-5514
greenroutine@strathcona.ca