Ice control
Strathcona County uses a variety of methods to manage icy conditions. These include salt, sand, rock chips and anti-icing solution. Crews continuously monitor and address concerns on all roads, as required, based on weather conditions.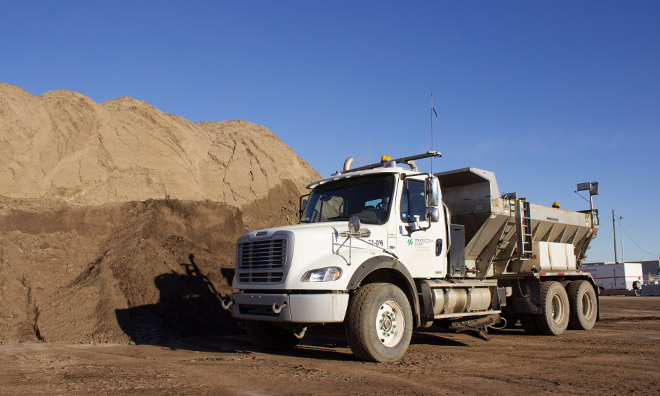 Ice control highlights:
Ice can be difficult to manage at cold temperatures. Always slow down and give yourself extra time and space between vehicles.
A sand/salt mixture is used on the majority of road types in urban and rural Strathcona County. Salt is not as effective at cold temperatures, so the amount of salt decreases as the temperature drops.
Rock chips are used to manage icy conditions on priority 4 residential roads in Sherwood Park, priority 3 and 4 rural roads, and in County-owned parking lots.
Anti-icing solution is used on select roads and intersections prior to a snowfall.
Always drive to the conditions
Depending on the temperature and wind conditions, ice control methods are not always effective. Please note that even when sand, salt, anti-icing products or rock chips are applied, drivers still need to take caution driving in winter conditions.
Always practice winter driving strategies such as:
Slow down – the posted speed limit is for ideal conditions
Leave extra space – give yourself extra space between the vehicle in front of you
Give yourself time – your daily commute could take twice as long to drive safely in winter conditions
Anti-Icing FAQ
The product is a calcium chloride solution with a corrosion inhibitor.

The product works like cooking spray on a baking sheet. When you apply the product before an expected snowfall, it can prevent snow and ice from sticking to the asphalt. If it's a light snowfall, the product could melt it altogether. Without using the product, snow and ice are more difficult to remove.

The product will be applied to 15 major intersections in Sherwood Park, focusing on the straight through lanes and starting 175m back from the intersection at:

Baseline Rd and Broadmoor Blvd
Baseline Rd and Sherwood Drive
Baseline Rd and Cloverbar Rd
Baseline Rd and Highway 21
Baseline Rd and 17th Street
Wye Rd and Sherwood Drive
Wye Rd and Brentwood Blvd
Wye Rd and Cloverbar Rd
Wye Rd and Ordze Ave
Wye Rd and Highway 21
Lakeland Blvd and Sherwood Drive
Lakeland Blvd and Cloverbar Rd
Lakeland Blvd and Broadmoor Blvd
Lakeland Blvd and Highway 21
Sherwood Drive Traffic Circle

It will also be applied to:

The hill on 17th Street just north of 92 Ave
The entrance coming out of Sherwood industrial on to 17th Street

In the rural area:

All Priority 1 and 2 intersections, starting 150 meters back from the start of the intersection

The County has three anti-icing trucks that apply the product minimally to select intersections using a drip technique about 12-24 hours before a snowfall. The material needs to get onto the bare asphalt before it is covered in snow.

Because our trucks need to move slowly through the intersection, we schedule this work to take place late at night or very early in the morning when traffic volume is lowest.

The product contains a corrosion inhibitor that prevents the product from sticking to vehicles, roads and sidewalks.

If you're commuting or traveling around the Edmonton region, you're vehicle will be exposed to a combination of sand, salt and anti-icing solution—any prolonged exposure to winter grime is not good for your vehicle. Best practice for vehicle maintenance recommends washing your vehicle regularly in the winter.

If you believe your property has been damaged as a result of any winter maintenance activity, you will need to submit a claim for property damage. The claim form is available on our website.

The anti-icing product has a bitter taste that does not attract animals. Both calcium chloride and sodium chloride are not harmful to animals in small amounts, but it is always recommended to clean your animals' paws after they come in from the outside, ideally before they lick them.

Calcium chloride (anti-icing solution) is considered more environmentally friendly than traditional sodium chloride (road salt). But salt is also an important tool in our winter maintenance tool box. The County adheres to Environment Canada's Code of Practice for Environmental Management of Road Salts to balance a responsibility to maintain safe roads for residents while improving environmental protection.
County Connect
Ask it, report it or suggest it using County Connect