Ice control
Strathcona County uses a variety of methods to manage icy conditions depending on the weather and temperature. These include salt, sand, rock chips and anti-icing solution.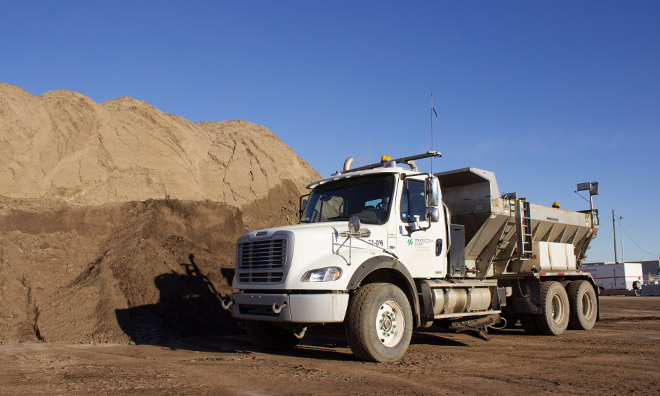 Strathcona County crews work 24/7 to maintain safe roads using a priority approach, with high-volume and high-speed roads as the first priority. Crews continuously monitor and address concerns on all roads, as required, based on weather conditions.
Ice control highlights:
Ice can be difficult to manage at cold temperatures. Always slow down and give yourself extra time and space between vehicles.
A sand/salt mixture is used on the majority of road types in urban and rural Strathcona County. Salt is not as effective at cold temperatures, so the amount of salt decreases as the temperature drops.
Rock chips are used to manage icy conditions on priority 4 residential roads in Sherwood Park and in County-owned parking lots throughout Strathcona County.
Anti-icing solution is used on select roads and intersections prior to a snowfall.
Always drive to the conditions
Depending on the temperature and wind conditions, ice control methods are not always effective. Please note that even when sand, salt, anti-icing products or rock chips are applied, drivers still need to take caution driving in winter conditions.
Always practice winter driving strategies such as:
Slow down – the posted speed limit is for ideal conditions
Leave extra space – give yourself extra space between the vehicle in front of you
Give yourself time – your daily commute could take twice as long to drive safely in winter conditions