Ice control
Winter roads update - January 18
Extreme weather continues to impact winter maintenance operations. Please note the following:
Residential snow clearing is delayed. Windrowing will continue, but some removal of windrows from the road continues to be delayed. The clearing order has been updated with new dates and completed areas.
Chip bins have run low and will not be restocked at this time. Central chip locations will remain fully stocked. Find a central location near you.
Crews continue to focus on managing icy conditions in rural and urban areas, with high-speed, high-volume roads as the first priority. Take extra care on all roadways, sidewalks, trails and parking lots.
Last modified: Jan. 19, 2022, 9:52 a.m.
Residential snow clearing starts Monday
Residential snow clearing is scheduled to begin on Monday, January 10 in Sherwood Park. Learn more
Last modified: Jan. 7, 2022, 1:25 p.m.
Strathcona County uses a variety of methods to manage icy conditions. These include salt, sand, rock chips and anti-icing solution. Crews continuously monitor and address concerns on all roads, as required, based on weather conditions.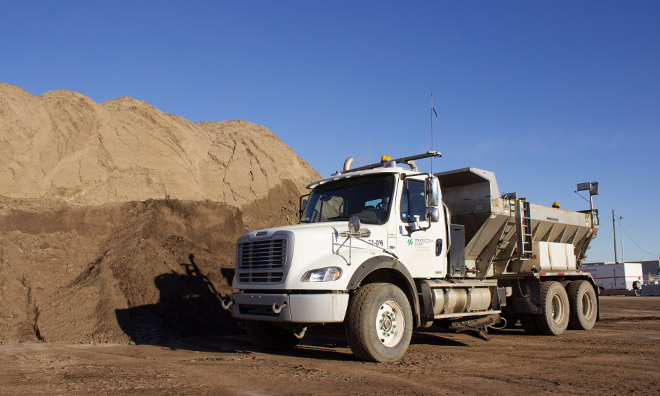 Ice control highlights:
Ice can be difficult to manage at cold temperatures. Always slow down and give yourself extra time and space between vehicles.
A sand/salt mixture is used on the majority of road types in urban and rural Strathcona County. Salt is not as effective at cold temperatures, so the amount of salt decreases as the temperature drops.
Rock chips are used to manage icy conditions on Priority 4 residential roads in Sherwood Park, Priority 3 and 4 rural roads, and in County-owned parking lots.
Anti-icing solution may be used on select roads and intersections prior to a snowfall.
Always drive to the conditions
Depending on the temperature and wind conditions, ice control methods are not always effective. Please note that even when sand, salt, anti-icing products or rock chips are applied, drivers still need to take caution driving in winter conditions.
Always practice winter driving strategies such as:
Slow down – the posted speed limit is for ideal conditions
Leave extra space – give yourself extra space between the vehicle in front of you
Give yourself time – your daily commute could take twice as long to drive safely in winter conditions
County Connect
Ask a question, provide feedback or report an issue.