Traffic safety initiatives
Driver feedback signs
Strathcona County uses driver feedback signs to educate drivers regarding their travel speed in our community. Built-in radar is used to determine the speed of an oncoming vehicle, which is then displayed on a lighted board. Only vehicle speeds between a specific minimum and maximum limit are displayed.
Granada Boulevard (Westbound)
Colwill Blvd (Westbound)
Cranberry Drive (Westbound)
Conifer St (Eastbound)
Main St (Westbound)
Colwill Boulevard (Eastbound)
Range Road 222 (Hwy 82) near Holy Redeemer Shcool (Northbound)
Range Road 222 (Hwy 82) at 3rd Ave (Northbound)
Range Road 222 (Hwy 82) (Southbound)

There are now two permanent driver feedback sign locations that run year round:

Davenport Drive (Eastbound)
Darlington Drive (East and Westbound)

In 2010, Strathcona County conducted a pilot project to determine if the signs were effective in reducing traffic speeds in residential areas. Analysis of the data collected during the pilot project found that the signs were effective in decreasing driver speeds for a limited period of time. On average, 72 per cent of motorists corrected their speed once they see the sign.

In the urban area, signs are placed mid-block on streets in areas of concern. Fortis Alberta has agreed to let the County use their light standards to mount the signs and accompanying solar panels. Transportation and Agriculture Services has acquired five mobile trailer units which will give us more flexibility in placement of the signs and will allow us to expand to the rural areas.

Since the pilot project showed that positive change in driver behaviour was only demonstrated for a short time, Strathcona County relocates the driver feedback signs approximately every three weeks from May to October.

Strathcona County places the signs based on a priority score determined by resident complaints, Councillor requests, RCMP requests, historical speed data and the presence of vulnerable road users.
Requests for Driver Feedback signs in your neighbourhood can be made through County Connect.
NEW intersection change
The Chippewa Road and Kaska Road (east) intersection was recently changed to an all-way stop in order to improve traffic flow and safety at the intersection.
The intersection was previously one-way stop controlled, with a stop sign on Kaska Road. Based on concerns raised by businesses and residents who use this intersection,  a recent traffic volume and delay study was undertaken and indicated that a three-way stop control at this location is warranted based upon nationally accepted best practices in transportation engineering.

Should you have any questions or concerns about traffic issues, please use the County Connect system.
The intersection of Kaska Road (east) and Chippewa Road was previously one-way stop controlled, with a stop sign on Kaska Road.

Long wait times on Kaska Road and insufficient gaps in traffic encouraged drivers to take risks.

The ten-year collision history shows reported collisions at this intersection and area, including right angle and rear-end collisions with injury and property damage. Stop sign violation and improper turns were cited as the cause for the right-angle collisions.

There are 12 reported collisions at and near the intersection over the past five years, and 28 over the past 10 years.

The most recent right-angle collision at this intersection occurred on May 9, 2019 when a westbound left turning vehicle on Kaska Road collided with a northbound vehicle on Chippewa Road. Two individuals sustained minor injuries.

Yes.

While there is now a minor delay for commuters on Chippewa, the purpose of the three-way stop is to address operational and safety concerns.
Ongoing site visits and video monitoring show the overall operation and safety of the intersection and area continues to improve as driver familiarity increases.
The County is monitoring the intersection and interaction with Baseline Road throughout the summer with a comprehensive study and analysis planned for the end of September. Should operational or safety issues be identified, additional traffic control management and engineering solutions will be implemented as required.

Not every intersection is a candidate for all-way stop control.

Based on ongoing complaints and concerns, traffic studies were conducted to assess engineering criteria for this intersection, during weekdays and weekends in May 2018.

The intersection at Kaska Road and Chippewa Road was evaluated through nationally accepted transportation engineering criteria and best practices. Based on the assessment, it met conditions for an all-way stop sign, to improve service levels and help prevent the likelihood of right and left turn collisions as well as right angle collisions.

Delays were recorded for each vehicle travelling westbound on Kaska Road to the stop sign entering Chippewa Road as they enter and leave the traffic queue.

Left turning vehicles experienced delays of up to 172 seconds (2 min, 52 seconds) when a vehicle was trying to make a left turn from Kaska Road onto Chippewa Road. The average delay during the peak hour period was 32 seconds.

Additional options were explored, including traffic signals and roundabouts. While roundabouts were analyzed, the lack of adequate space would require purchase of several properties to implement therefore, could not be considered a viable option due to the high cost and impact to private land.

The County acknowledges that Chippewa Road is a viable shortcut out of the Woodbridge Farms neighbourhood to bypass traffic lights on Broadmoor Boulevard. However, wherever possible, commuters are encouraged to use arterial roads for their commute to reduce congestion on local collector roads throughout Sherwood Park. The closest Arterial is Broadmoor Boulevard for the residents of Woodbridge Farms.
Flashing beacon pilot project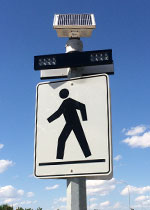 Rectangular Rapid Flash Beacons (RRFB) are solar powered pedestrian crossings LED lights that display intermittent rapid flashes when activated by a pedestrian.
The County has been installing flashing beacons at various high profile pedestrian crossing locations throughout Sherwood Park as an elevated level of traffic safety. The purpose of installing flashing beacons is to improve pedestrian safety and driver compliance at key marked crosswalks. Traffic safety for vulnerable road users is a priority for Strathcona County.
Transportation Planning and Engineering is monitoring existing locations and will consider new installations based upon an approved set of engineering warrant criteria.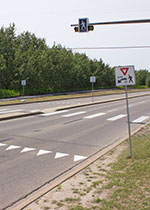 Shark's teeth yield lines
Strathcona County is introducing shark's teeth yield lines in our community at the crosswalk on Sherwood Drive, adjacent to Salisbury Composite High School. If they improve pedestrian safety, they will be implemented in other locations.
Yield lines in advance of crosswalks indicate the safest place to stop when yielding to a pedestrian to maximize pedestrian visibility for other drivers. A line of painted triangles, also referred to as "shark's teeth" yield markings, are used as the yield line at mid-block crossing locations. The advance stop or yield line is supplemented with a "Yield Here for Pedestrians" sign.

A multiple-threat collision occurs when pedestrians have to cross more than one lane in each direction. A motor vehicle in one lane stops and provides a visual screen to the motorist in the adjacent lane. The motorist in the adjacent lane continues to move and hits the pedestrian.

The Transportation Association of Canada recently approved shark's teeth yield lines as an effective method to reduce the chance of a multiple-threat collision.
More information:
County Connect
Ask it, report it or suggest it using County Connect