Share the road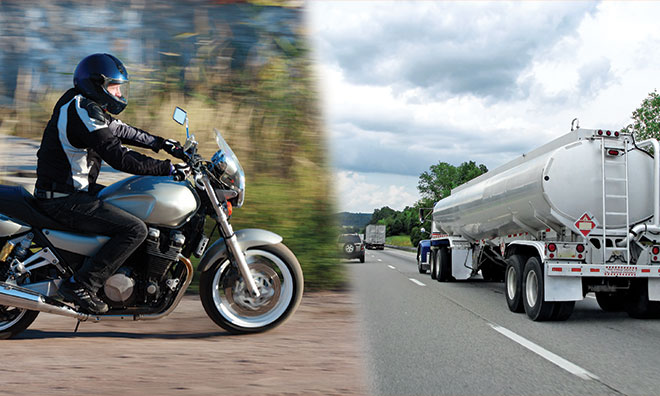 Motorcycles
While motorcycles can be a fun, fuel efficient way to travel, motorcyclists are very vulnerable road users. Between 2008 and 2012, 155 motorcyclists were killed and 3,703 were injured in Alberta.
Drivers play a large role in motorcycle safety. Look out for motorcyclists on the road and give them lots of space. It is the motorcyclists responsibility to concentrate on the road and make sure other drivers see them. With mutual respect, motorcycles can safety share the road.
Tips for motorcyclists:
Be particularly careful on roads before streets are swept.
Be visible! Wear brightly coloured clothing and stay out of blind spots.
Protect yourself with the right gear and an approved motorcycle helmet.
Ride at safe speeds—showing off and speeding does not pay.
Be alert at intersections. Make eye contact with other drivers before making your move.
Tips for drivers of other vehicles:
Share the road—look twice for motorcyclists at intersections or when changing lanes.
Never underestimate the speed of a motorcycle. Their size makes their speed deceptive.
Commercial vehicles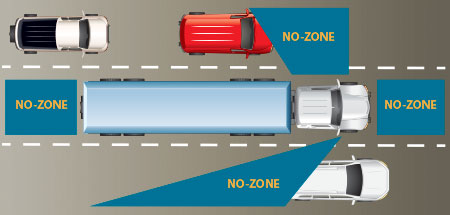 Trucks are not just large cars. Share the road and give commercial vehicles the room they need to operate safety.
Large commercial vehicles, including semi-trucks, ploughs and buses, all have large blind spots. Look out for your own safety and stay out of the "NO-ZONES".
Trucks make wide turns. They often need to move into adjacent lanes prior to, and after, a turning maneuver to avoid driving over a curb or sidewalk or hitting a car in an opposing travel lane.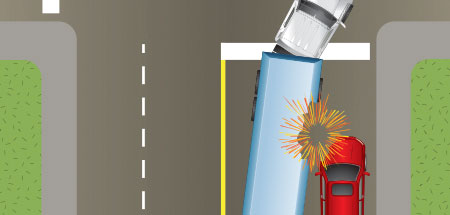 Watch for the truck's turn signal to see what the driver intends to do. Remember drivers may fail to signal or the trailer signal light may be inoperative. Never attempt to cut in along the right side as the driver maneuvers left or you may become sandwiched between the turning truck and the curb.
For commercial vehicle drivers
Ensure your vehicle is well-maintained.
Fatigue can play a role in large vehicle collisions. Truck drivers were more likely than all drivers in casualty collisions to be fatigued or asleep at the time of the crash.
Do not operate commercial vehicles when feeling tired – it could save your life or someone else's!
Further information:
In Alberta, wearing a helmet is the law! Head injury is the leading cause of death in motorcycle crashes. A rider with a helmet is 37% less likely to die in a crash than a rider without a helmet.