Glen Allan Traffic Calming Project
Construction update – November 4, 2019
Construction work in Glen Allan is finished for the year. The installation of some concrete features and the speed tables along Georgian Way has been postponed until 2020.
Thank you for your patience and cooperation with this project.
The Glen Allan Traffic Calming Project was initiated in 2015 to reduce traffic speed, improve pedestrian safety and decrease shortcutting through the neighbourhood.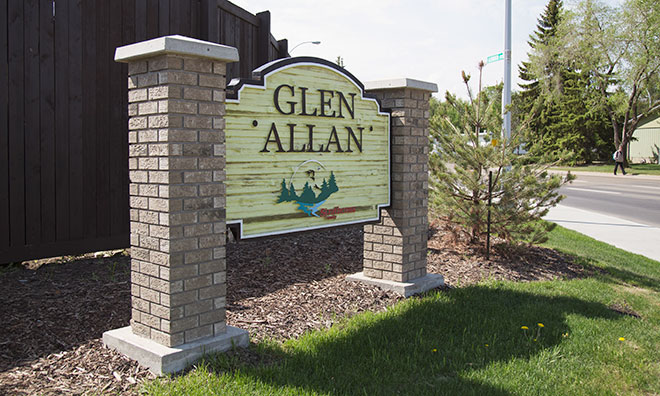 The Glen Allan Traffic Calming Plan was developed and approved following an extensive public engagement process that took place from March to September of 2015. Final recommendations were officially approved by Council at the October 20, 2015 Council Meeting.
Glen Allan Traffic Calming Study Final Report (12.8 MB)
An open house and online survey were undertaken in June 2018 to gather resident feedback about traffic calming installed to date, share traffic data collected in areas that have had traffic calming features constructed and to present potential amendments to plans for remaining traffic calming locations.  
Based on public feedback and 2018 traffic data collection results, the following updated traffic calming plan has been developed for remaining streets.
Glen Allan Traffic Calming 2018 Project Update Report (2.6 MB)
Frequently asked questions
Managing traffic concerns on Glenbrook Boulevard was a high priority for the traffic calming project. For this reason, raised intersections were constructed on Glenbrook Boulevard at Galloway Drive and Gilmore Avenue in 2016 ahead of scheduled rehabilitation. Unfortunately, the intersections were not constructed as designed, resulting in their reconstruction in 2016 and October 2017.

During public engagement held in 2018, the majority of residents told us they were very unhappy with the construction of the raised intersections on Glenbrook Boulevard. As a result, in conjunction with this year's rehabilitation of Glenbrook Boulevard, the raised intersections at Galloway Drive and Gilmore Avenue will be reconstructed. This time, the ramps will be reconstructed with concrete to improve the slope of each ramp and to prevent uneven wear.

The concrete barriers were placed in 2015 with the addition of the all-way stop to improve pedestrian safety. During scheduled rehabilitation of Georgian Way in 2019, this intersection will be reconstructed with proper curb extensions to achieve this outcome and the barriers will be removed.
---
Project history
Speed data collected in Glen Allan in 2014 showed that, at times, traffic was moving faster than the road had been designed to accommodate. In addition, many residents in Glen Allan expressed pedestrian safety concerns due to speed and high traffic volumes in the neighbourhood, particularly on Glenbrook Boulevard. To address these safety concerns, an engineering-driven traffic calming project began in March 2015 in north Glen Allan.
Because traffic calming on one street has the potential to affect surrounding streets, the traffic calming process considered other roads in the area in addition to Glenbrook Boulevard, including Galloway Drive, Graham Road, Georgian Way (from Glenbrook to Gatewood) and Gatewood Boulevard.
Frequently asked questions
With approximately half of the traffic calming plans in Glen Allan implemented to date, traffic data collection generally shows reduced traffic speeds at most locations in Glen Allan, both at completed locations and those still awaiting the addition of features. This observed speed reduction has allowed engineers to put forward revised traffic calming plans that are more economical and less aggressive to be more in line with resident feedback.

Traffic calming features throughout the neighbourhood have been designed to work together, so the full impact of the project cannot be truly evaluated until all features are in place. Ultimately, collision records will also be a significant component of the evaluation, but this will take a few years to evaluate as collision numbers in the neighbourhood are very low.

Details of the preliminary evaluation are available in the Glen Allan Traffic Calming Project Update Report Section 2.0

There are three reasons traffic calming plans were changed:

To create viable and more cost-effective alternatives to the raised intersections originally proposed.

At some locations, updated cost estimates to construct the approved plan turned out to be more than anticipated due to unforeseen underground infrastructure needs.

To incorporate feedback once residents had a chance to see some of the traffic calming features in place.

The proposed speed limit change to 40km/hr in Glen Allan was presented to Council, who have directed it back to administration for additional review. As a result no speed limit change is anticipated in 2019.

Traffic calming is being undertaken to address speed, not collisions. However, it is well established that a reduction in traffic speeds decreases the incidence and severity of collisions. This safety comes even with small speed reductions. For example, traffic safety research indicates a 10% reduction in average speed can decrease overall collision risk by 10-32%.

Speed is particularly lethal to pedestrians and cyclists. Even a small decrease in traffic speeds can have a big impact on pedestrian safety.

5% of pedestrians will be killed in a collision at 30 km/h
55% of pedestrians will be killed in a collision at 50 km/h
90% of pedestrians will be killed in a collision at 60 km/h