Pedestrian safety
At some point in your day, you will be a pedestrian or encounter one as a driver. On average, more than 40 pedestrians are killed and over 1,250 are injured each year in Alberta. We can all help reduce these numbers. Pay attention and follow these simple tips to keep our pedestrians safe.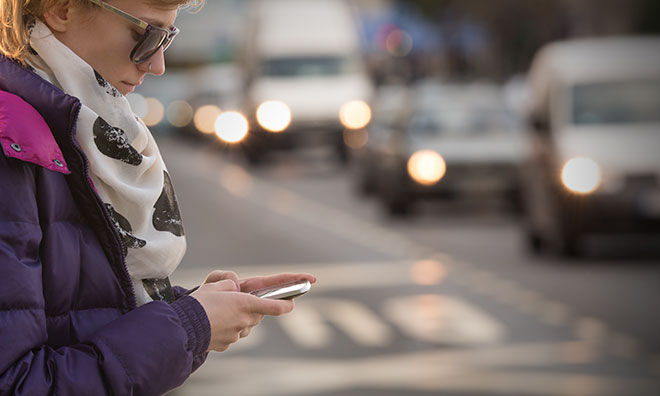 Tips for pedestrians
When you are a pedestrian, it is your job to make sure vehicles see you!
Point, pause, proceed:
Let the driver know your intention to cross the road.
Raise your arm at a right angle to your body and point in the direction you wish to walk.
TIP! Try out this cool new app PedSafe that flashes while you are crossing allowing vehicles to see you better in dim light. Visit http://pedsafe.net/ to learn more about it.
Pay attention:
Make eye contact with drivers.
Remove headphones and other distractions.
Follow the rules:
Cross at intersections and clearly marked mid-block locations.
Abide by traffic signs and signals.
Be visible:
It is more difficult for drivers to see you in low light. Pay more attention during these times.
Rural pedestrians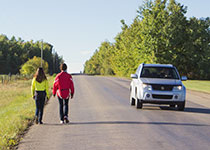 In areas without sidewalks, pedestrians should always walk on the left side of the road facing traffic. 
Tip! Always wear bright or reflective clothing, especially during dawn and dusk, so drivers can see you.
Tips for drivers
Stay alert:
Don't let other tasks distract you from driving.
Yield to pedestrians in crosswalks. Every intersection is a crosswalk whether marked or unmarked.
Watch other vehicles:
If another vehicle is stopped or slowing in the lane next to yours, do not pass without checking for a pedestrian.
Slow down:
Always follow posted speed limit signs.
Slow down on residential streets and through school and playground zones. A pedestrian struck by a car travelling at 50 km/hr is 8x more likely to be killed than a pedestrian struck at 30 km/hr.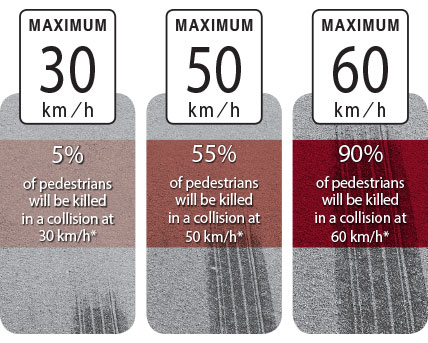 It's the law! It is illegal to:
park on a crosswalk or within five metres of a marked crosswalk ($78 fine)
park within five metres from an intersection ($78 fine)
fail to yield to a pedestrian who is indicating their intention to cross at a crosswalk ($155)
fail to yield to a pedestrian who is in a crosswalk ($776 fine plus 5 demerit points)
Frequently Asked Questions
Pedestrians have the right-of-way wherever a crosswalk is present. A crosswalk exists at every intersection (i.e. corner) whether marked or unmarked.

However, a driver cannot be charged with failing to yield to a pedestrian, if the pedestrian does not clearly indicate their intention to cross the road. Do this by raising an arm approximately at right angles to your body and pointing in the direction you wish to walk.

At signalized intersections, the pedestrian has the right-of-way when indicated by the signal.

Pedestrians can help protect themselves by:

crossing where and when it is safe.
obeying the law at signalized intersections.
crossing only when the "walk" signal is displayed. Wait for the next cycle if the red hand is flashing or the countdown has started. Check out this video to learn more.

It is important to let the pedestrian reach the other side of the road (single lane road) or the meridian (double lane road).

On a two lane road, give pedestrians plenty of time to fully complete the crossing before entering the crosswalk.

On a multi-lane, divided road, a vehicle may enter the crosswalk on the opposite side of the road from a pedestrian.

There is a common perception that a marked crosswalk is safer than an unmarked crosswalk. Research shows this is often not the case.

Pedestrians may be more vulnerable in a marked crosswalk because they have an increased sense of security.

More information is available in Pedestrian Safety: A Road Safety Manual for Decision-Makers and Practitioners (2013, World Health Organization).

Crosswalks are marked according to the number of pedestrians and traffic at a location, with some consideration to other factors (eg. traffic speed). Where volumes are low, crosswalks are unmarked. Where more traffic control is needed, crosswalks are marked.

Pedestrian crosswalk marking is a method of encouraging pedestrians to use a particular crossing. Such marked crossings may not be as safe as an unmarked crossing at the same location. Therefore, crosswalks should be marked only where necessary for the guidance and control of pedestrians, to direct them to the safest of several potential routes and to advise drivers that they can expect significant numbers of pedestrians to use the marked crosswalks.

If you would like to request a location be reviewed for a crosswalk installation, contact Transportation Planning and Engineering.

Audible pedestrian devices make the pedestrian indications into audible sounds. These devices are installed at selected traffic signals frequented by visually-impaired persons. To activate the audible signal, you must push and hold the pushbutton for 4.0 seconds. The audible signals in Strathcona County use an internationally-recognized standard of bird sounds:

a cuckoo sound when the north-south walk light is active, and
a chirp-chirp sound when the east-west walk light is active.

If you would like to request a location be considered for audible pedestrian signals, contact Transportation Planning and Engineering.

When walking in areas with no sidewalk, it is safest to walk at the edge of the road, facing traffic.

Pedestrian safety is for all ages.

Children less than 9 years of age should walk with a caregiver, as they do not yet have the ability required to cross the road safely.
Pedestrians between the ages of 15 and 24 have the highest rate of pedestrian collisions.
60 percent of pedestrians killed are 25 and older.
Seniors are over represented in pedestrian deaths.

On average, over 1/3 of pedestrians in fatal crashes and 15% in injury crashes had consumed alcohol prior to the collision.