Trains and railway crossings
An at-grade crossing, also referred to as street level crossing, is where a roadway passes across a rail line at the same elevation. Vehicles are required to stop and yield to the crossing train.
There are several at-grade crossings in Strathcona County. Both Canadian Pacific (CP) and Canadian National (CN) operate rail lines which run through Strathcona County.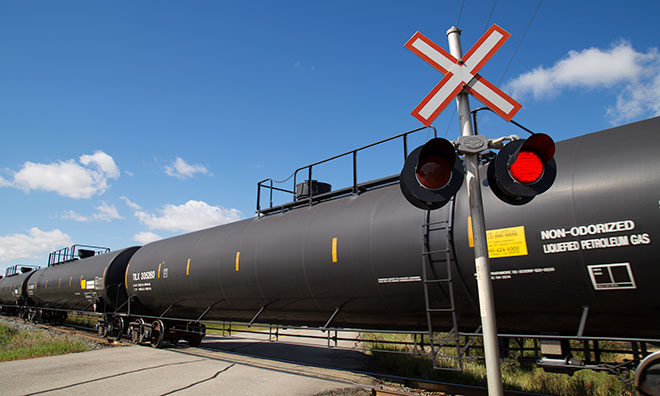 Questions about railways and crossings
Train whistle cessation
Update: On June 9, 2020, Strathcona County Council passed a resolution to enact whistle cessation:
Range Road 214; north of Highway 630 
Township Road 524; east of Highway 630 
Highway 830 (Range Road 215); north of Highway 630 
Prior to Council passing a resolution to enact whistle cessation, a detailed safety assessment has been done at each crossing and safety improvements have been installed. Now that the resolution for these crossings has passed, rail companies have 30 days (from June 9, 2020) to notify Transport Canada about whistle cessation for implementation.
You may still hear a train whistle from time to time.  Train operators always have the responsibility to sound the whistle at their discretion should they feel it is needed.
Please observe and obey all warning devices when approaching any railway crossing and look both directions before crossing.
Questions about train whistle cessation
The following CN Rail crossings along the Wainwright subdivision rail line have been completed:

Range Road 205
Range Road 210
Range Road 211A
Range Road 213
Range Road 214
Township Road 524
Highway 830 (Range Road 215)
Range Road 220
Range Road 222
Range Road 223
Range Road 231

In addition, Strathcona County coordinated with the City of Edmonton for whistle cessation at CP Rail's crossing at 34 Street south of Baseline Road, completed in 2019.

The City of Edmonton has also requested Strathcona County to start the whistle cessation process for the following CP Rail crossings located in the western part of Strathcona County:

Petroleum Way; east of 17 Street
17 Street; north of Baseline Road
Railway Street; west of 17 Street

Additional crossing evaluations are ongoing on Range Road 232 north of Highway 16, as well as six additional crossings within an ongoing functional planning study in the southwest quadrant of Strathcona County south of Highway 14, west of Highway 21 and east of the city of Edmonton boundary.

Yes, but at a price. Engine whistling requirements are controlled through the Canadian Rail Operating Rules (CROR). A municipality may work with rail companies to install alternate safety measures at at-grade crossings which meet Transport Canada guidelines to eliminate the need for train whistling. These alternative measures are designed uniquely for each intersection depending on the specific requirements deemed necessary to replace the safety function of the train whistle. Generally it takes 3-5 years to implement train whistle cessation.

See Transport Canada Procedure for Eliminating Whistling at Public Grade Crossings

Multiple steps are involved in creating whistle cessation, some of which are outlined below.

Whistle cessation must be managed by the railway company. Strathcona County's first step is to consult with the railway company to assess the whistle cessation request for each crossing.

The county must declare its intent to pass a resolution that it agrees whistles should not be used for each crossing along a railway corridor that whistle cessation is proposed. It must issue notifications to associations and organizations such as those representing rail employees and shippers, and also give public notice.

There are specific regulations and standards that must be met. Strathcona County and the railway company will assess each crossing to determine whether or not it meets the whistle cessation requirements specified in the Grade Crossings Regulations and Standards. They must ensure each crossing meets the requirements outlined for both the road and railway.

Once all requirements are met, Strathcona County council must pass a resolution declaring it agrees all requirements have been met to allow whistles to not be used at each crossing. A copy of the resolution is sent to the railway company and other organizations including Transport Canada.

Once the railway company has received the resolution, it notifies Transport Canada and the county that whistling will be ceased at the crossing within 30 days, and outlines special instructions as per Canadian Rail Operating Rules.

The county and railway company share the responsibility for monitoring and maintaining the conditions that support train whistle cessation at a crossing. A Transport Canada railway safety inspector may order the reinstatement of whistling should a crossing fail to meet these conditions.

It may seem like a simple thing – just stop blowing the horn! But when it comes to trains and crossings, safety is the top priority. The sounding of train whistles is mandated by Transport Canada, and municipalities must undertake a detailed train whistle cessation process to stop the whistling.

Due to the safety needs, and the need to work within the railway company's schedule, whistle cessation is not a fast process.

The process of whistle cessation involves a detailed safety assessment both by Strathcona County and the railway authority. Each crossing is unique and must be evaluated independently to meet the federal standards and requirements to achieve train whistle cessation.

A preliminary evaluation has been conducted for all crossings shown on the Train whistle cessation map; however, detailed evaluation by CN Rail is required to finalize all engineering measures that are required prior to whistle cessation approval.

The outcome of detailed evaluations identify required upgrades to be completed prior to whistle cessation implementation.

As Strathcona County moves forward with the process, the web page will be updated to inform residents as progress is made.
Train safety resources
Government of Alberta -Rail Safety
Information on teaching your children how to safely negotiate an at-grade crossing as a pedestrian
Operation Lifesaver is a partnership initiative of the Railway Association of Canada and Transport Canada and works in cooperation with the rail industry, government, police, unions, and many public organizations and community groups. Operation Lifesaver offers information on rail safety, as well as free resources for your classroom or community group.
County Connect
Ask it, report it or suggest it using County Connect
---