Trains and railway crossings
An at-grade crossing, also referred to as street level crossing, is where a roadway passes across a rail line at the same elevation. Vehicles are required to stop and yield to the crossing train.
There are several at-grade crossings in Strathcona County. Both Canadian Pacific (CP) and Canadian National (CN) operate rail lines which run through Strathcona County.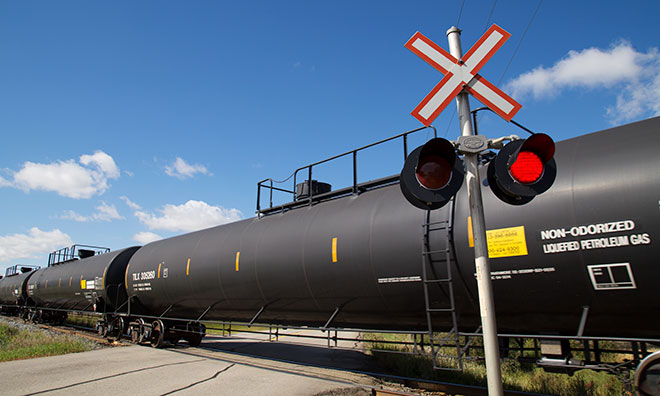 Questions about railways and crossings
Train whistle cessation
Update: On June 9, 2020, Strathcona County Council passed a resolution to enact whistle cessation:
Range Road 214; north of Highway 630 
Township Road 524; east of Highway 630 
Highway 830 (Range Road 215); north of Highway 630 
Prior to Council passing a resolution to enact whistle cessation, a detailed safety assessment has been done at each crossing and safety improvements have been installed. Now that the resolution for these crossings has passed, rail companies have 30 days (from June 9, 2020) to notify Transport Canada about whistle cessation for implementation.
You may still hear a train whistle from time to time.  Train operators always have the responsibility to sound the whistle at their discretion should they feel it is needed.
Please observe and obey all warning devices when approaching any railway crossing and look both directions before crossing.
Questions about train whistle cessation
Train safety resources
Government of Alberta -Rail Safety
Information on teaching your children how to safely negotiate an at-grade crossing as a pedestrian
Operation Lifesaver is a partnership initiative of the Railway Association of Canada and Transport Canada and works in cooperation with the rail industry, government, police, unions, and many public organizations and community groups. Operation Lifesaver offers information on rail safety, as well as free resources for your classroom or community group.
County Connect
Ask a question, report it or suggest it using County Connect
---