Rural Roadside Vegetation Control Program
Strathcona County's annual Rural Roadside Vegetation Control Program controls weeds, brush and trees on rural roadsides and in municipal reserves.
Weeds include plants designated as noxious and prohibited noxious under the Alberta Weed Act, and they are controlled to prevent their spread onto adjacent property. Brush and trees are controlled to improve sightlines and visibility at intersections and long the roadside, to increase efficiency during snow clearing in winter, and to improve drainage.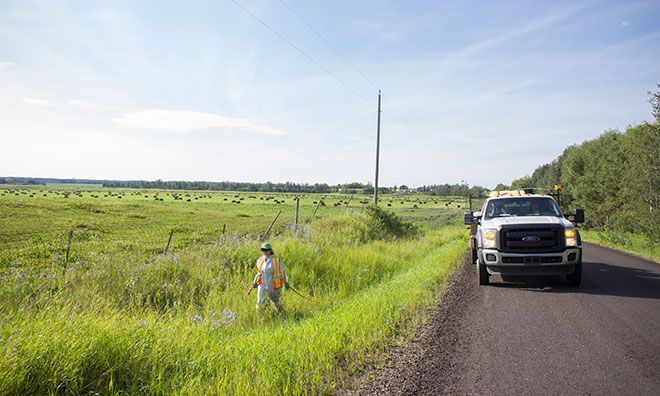 Strathcona County uses an integrated management strategy that involves prevention, identification, monitoring and controlling undesirable vegetation. All County maintained rights-of-way are treated where required each year, using a variety of mechanical techniques and herbicides to ensure a healthy plant community.
This program adheres to industry standards provided by Alberta Environment and Parks and the Professional Vegetation Managers Association of Alberta.
Please note that vegetation control on primary and secondary highways is the responsibility of Alberta Transportation. View a complete listing of primary and secondary highways in Strathcona County.
Mulching
The purpose of mulching is to improve traffic sightlines, drainage and County-led mowing and winter maintenance activities. The process involves using a machine to shred trees and brush into mulch chips that are left to naturally decompose in the ditch over time.
Mulching is only conducted in County-owned ditches and roadsides in parts of rural Strathcona County. Ornamental trees near approaches and shelterbelts on private property are not removed as part of the County's mulching program.
Landowner Option Program 
Rural residents in Strathcona County who do not wish to have herbicide applied to the roadside adjacent to their property can sign up for Strathcona County's Landowner Option Program (LOP). Once enrolled in the program, landowners assume the responsibility of noxious weed, prohibited noxious weed and brush control. 
To learn more, or to take part in the program, please contact Transportation and Agriculture Services at 780-417-7100.
Vegetation control companies 
Strathcona County does not endorse any product or service listed on this page. We do not guarantee the accuracy or completeness of this information. Other businesses can be added to this list by contacting Transportation and Agriculture Services.
Park Equipment – Sherwood Park
780-464-4646
Tow behind sprayer – 25 gallon, 8 foot boom, walk behind 24 inch mower, rough cut flail mower.
Triple Two Rentals – Sherwood Park
780-922-6534
Tractor mount and walk-behind rough cut mower, 25 gallon yard sprayer with boom wand, industrial weed eater.

When hiring a spraying contractor, it is up to you to confirm that they use licensed applicators and that their business has a valid Alberta Service Registration.

Ace Vegetation - Nisku
Ian McDonald – 780-955-8980
Mows/sprays large properties only.
Catamount Lawn and Snow Ltd. – Ardrossan
Paul Berthiaume – 780-399-0434
Rough and finish mowing any size, commercial,
acreage and residential lots.
Cortex Management Inc. – Ardrossan
Laura Hammer – 780-718-1458
Industrial, commercial and acreage spraying, any size.
Delta Valley Landscaping and Lawn Services Ltd.
Robert Klay – 780-955-7904
Mows/sprays commercial lots only.
Enviro Masters – Edmonton Capital Region
Edward Ramsden – 780-460-5958
Sprays industrial, commercial and residential properties. Also mows up to 2 acres with 48" deck mower.
Excel Vegetation – Tofield
Heather Stanley – 780-446-8015
Sprays acreages/larger parcels.
G & J – Edmonton
Willis Kozak – 780-454-0700/780-233-3569 (cell)
Mows/sprays commercial and residential lots, can mow large properties – 17 and 19 foot flail mower.
Green Drop – Edmonton
Gerald Grona – 780-447-1000
Sprays west of Range Road 224.
Green Oasis – Sherwood Park
Travis Pulfer/Dave Montgomery – 780-414-6777
Sprays acreages, farmland, residential and industrial.
Greenskeepers Inc. – Sherwood Park
Chance Sheiwe/Greg Lott – 780-417-5296
Any lot size.
Integrated Vegetation Solutions – Morinville
Dwight Lakusta – 780-938-6008
Mows any lot size.

KJM

Services – Sherwood Park
Keith Marshall – 780-964-7766
Mows any lot size.
Landura Enterprises – Sherwood Park
Al Boychuk – 780-991-7771
landura@hotmail.com
Mows any size lot.
McLean Vegetation Services Ltd
Mark McLean – 587-360-3093
Cell – 780-403-315-4959
www.mcleanvegetation.com
Sprays any size lot.
Mida Contracting – Edmonton
David Pigeon – 780-233-9592
Mows any lot size.
Nutrilawn - Edmonton
780-438-3537/780-438-4036
Sprays residential, acreages and commercial.
PropertyPro Maintenance – Edmonton
Kevin Johannsen – 780-707-8480/780-665-7399
Mows any lot size.
Salisbury Landscape – Sherwood Park
780-410-0611
Mows any lot over 1/2 acre, 48 to 66 inch deck mower.
Sherwood Enterprises – Sherwood Park
Tim Martin – 780-467-3621
Mows any lot size from urban to 20 acres or larger.
Versatile Services – Ardrossan
Dolly Dixon – 780-235-0007
Mows/sprays acreages up to 10 acres, commercial and residential.
Vanguard Vegetation Control – Stony Plain
Chris McGuire – 780-974-4156
Sprays up to 3 acres.
Wild Rose Lawn and Snow Care
Charles Graham – 780-292-4430
Mowing and spraying.
County Connect
Ask it, report it or suggest it using County Connect