Wye Road improvements
Construction updates
Wye Road construction will be completed in spring 2021.
Construction was anticipated to be completed as early as fall 2020 but has been delayed due to weather and unforeseen construction issues. Motorists will notice some uneven pavement, ongoing construction signage, and interim barricades.
The construction zone has been prepared for winter driving:
• Open to three lanes in westbound and eastbound direction,
• Roadway surfaces have temporary pavement and transitions to ensure safe traffic flow,
• New traffic signals are fully functional on Wye Road at Estate Drive and at Nottingham Way,
• All travel lanes have paint striping to ensure safety for road users.
Strathcona County is initiating construction of the final phase of five kilometres of improvements on Wye Road. This important, high-volume connection to the region will have six lanes, similar to Baseline Road.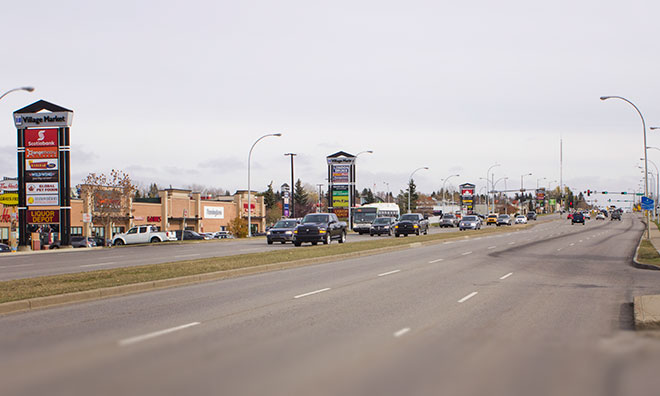 What's happening in 2020
Construction on Wye Road, between Estate Drive and Clover Bar Road, will begin in spring 2020. We may be complete as early as fall 2020, pending impacts from weather and unforeseen construction issues.
Improvements include:
increase road from four to six lanes
completion of a walking and cycling trail
additional turn lanes into Hillshire, Estate Drive and Nottingham Way
new traffic signals at Nottingham Way and Estate Drive 
adding crosswalks for safety and comfort at Nottingham Way
a more walkable and accessible community, with a three-metre paved walking and cycling trail complete to Clover Bar Road
a more inviting area with green space, landscaping and lighting
ensuring other major infrastructure meets current and future growth needs, including stormwater pipes, power cables, curbs, gutters and drainage
Construction on Sherwood Drive at Wye Road, including an additional turn lane and turn lane improvements, will also begin in 2020.
What to expect
We will keep your commute as convenient as possible while we finish improvements.
You can expect traffic to be slower. Please consider alternate routes to reduce traffic volume in the construction area.  Traffic will be restricted to one lane in each direction to allow construction to continue uninterrupted in the closed lanes.
Please make sure everyone gets home safe. Posted speed limits in construction zones apply whether or not workers are present.
About Wye Road improvements
Wye Road is a high-volume traffic road providing an important connection to the region, and a significant entrance to Strathcona County. The design and recommendations for this project were developed with input from stakeholders through significant public engagement.
County Connect
Ask it, report it or suggest it using County Connect