Wye Road improvements
Construction updates
Construction work to complete improvements on Wye Road will start in mid-May. This work is expected to be complete by August 2021, weather dependant. Road work will involve temporary lane closures and some delays in the area.
Last Modified: July 8, 2021, 2:03 p.m.
Strathcona County is initiating construction of the final phase of five kilometres of improvements on Wye Road. This important, high-volume connection to the region will have six lanes, similar to Baseline Road.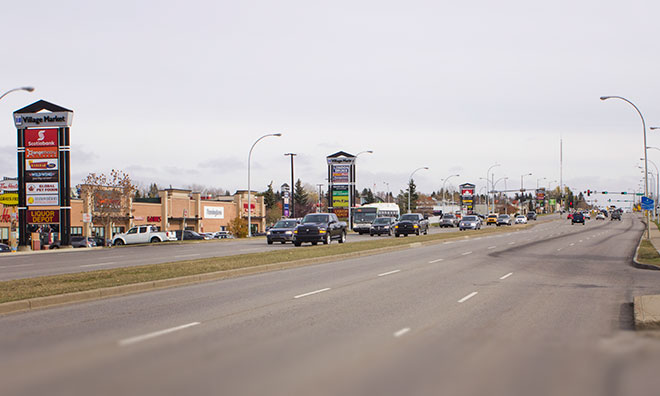 Road work in 2021 includes:
Base repairs and asphalt overlay in both the eastbound and westbound lanes between Brentwood Blvd and Clover Bar Road 
Trail construction on the south side of Wye Road, connecting to Nottingham Way and Clover Bar Road. 
Concrete island removal and replacement at Clover Bar Road, in the northwest corner near Sobey's  
Curb and gutter construction along north side of Wye Road, between Clover Bar Road and Nottingham Way  
Landscaping along all disturbed areas 
Overall improvements include:
Increase road from four to six lanes 
Completion of a walking and cycling trail 
additional turn lanes into Hillshire, Estate Drive and Nottingham Way 
New traffic signals at Nottingham Way and Estate Drive  
adding crosswalks for safety and comfort at Nottingham Way 
A more walkable and accessible community, with a three-metre paved walking and cycling trail complete to Clover Bar Road 
A more inviting area with green space, landscaping and lighting 
Ensuring other major infrastructure meets current and future growth needs, including stormwater pipes, power cables, curbs, gutters and drainage 
Additional turn lane and turn lane improvement at Sherwood Drive and Wye Road 
What to expect
We will keep your commute as convenient as possible while we finish improvements.
You can expect traffic to be slower. Please consider alternate routes to reduce traffic volume in the construction area.  Traffic will be restricted to one lane in each direction to allow construction to continue uninterrupted in the closed lanes.
Please make sure everyone gets home safe. Posted speed limits in construction zones apply whether or not workers are present.
About Wye Road improvements
Wye Road is a high-volume traffic road providing an important connection to the region, and a significant entrance to Strathcona County. The design and recommendations for this project were developed with input from stakeholders through significant public engagement.
County Connect
Ask it, report it or suggest it using County Connect