Township Road 550 upgrades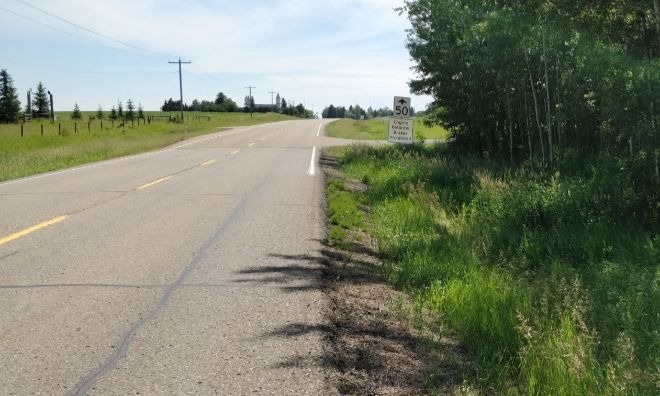 Township Road 550 is planned to be upgraded between Range Road 220 (north) to Highway 830. The Township Road 550 upgrades will help provide a safe and sustainable roadway to help support growth.
Proposed upgrades include constructing 1m wide shoulders on the existing roadway, improving the roadway asphalt surfacing, and providing gentler ditch side slopes. The original road is 7.0m wide, has no shoulders and has steep slide slopes. These characteristics make it difficult for vehicles to pass each other, and the steep side slopes add collision severity risk for vehicles leaving the roadway.
Intersection improvements will be constructed at Range Road 221 (south) and Highway 830/Township Road 550 intersection and is proposed to be converted into a four-way stop.
In May 2020, tree clearing was completed throughout the project limits. Starting end of July 2020, road construction will begin. the road construction work was awarded to G & J Construction Group LP, who will be the Prime Contractor for this project.
Map of Construction Area (1.9 MB)
Public meetings
A public open house was held on March 13, 2019 at the Josephburg Community Hall to present project information to residents and stakeholders. A copy of the presentation materials can be accessed here:
Open House Presentation March 13, 2019 (14.9 MB)
Project timeline
This project is currently in the construction phase.

The project will move forward with road upgrade construction once the project has been tendered and a general contractor is hired.
Timeline
March 13, 2019: resident open house to learn more about the project and the proposed upgrades and construction impacts.
Spring 2019: finalize roadway design, complete land acquisition, and obtain utility agreements.
Spring 2020: tree clearing and site preparation
Summer 2020: road construction
Traffic Impacts
During road construction, there will be significant traffic delays and disruptions. Please adhere to all traffic and construction signage.
Project contacts:
Emergency contact:
Brad Stone, Project Manager
G & J Construction Group
(Prime Contractor)
780-293-2105
Consultant contact:
Ryan Betker, Project Manager
McEhanney Consulting Services Ltd.
780-809-3299
rbetker@mcelhanney.com
County Connect
Ask it, report it or suggest it using County Connect