2020 Traffic safety improvements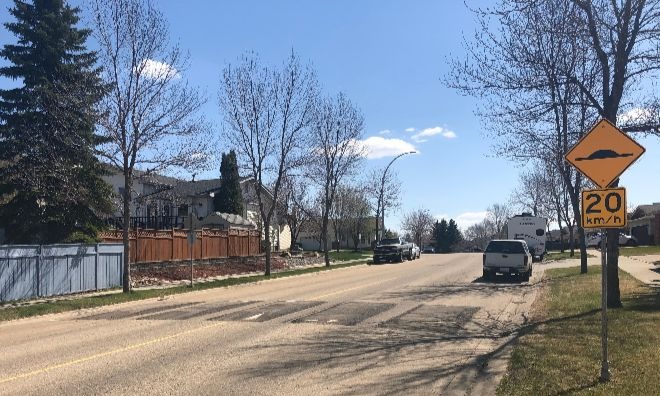 Strathcona County has completed traffic safety improvements along roadways and trail crossings within Sherwood Park. The 2020 traffic safety improvements project includes three areas of improvements:
six new traffic calming features within Heritage Hills to improve traffic and pedestrian safety surrounding the new Heritage Hills school and along existing trail crossings
two new Traffic Calming features within Davidson Creek to improve safety at crosswalk locations near an existing school
eight intersection Improvements throughout Sherwood Park:

Lakeland Drive (Petroleum Way) and Broadmoor Boulevard
Baseline Road and Shivam Road (Chippewa Road)
Clover Bar Road and Davidson Drive
Heritage Drive and Clover Bar Road
Emerald Drive and Ellesmere Lane
Emerald Drive and Eton Boulevard
Lakeland Drive and Sherwood Drive
Baseline Road and Broadview Drive
Traffic calming features include raised asphalt crosswalks, asphalt speed cushions, and concrete curb extensions. Intersection improvements will include concrete reconstruction, including medians and pedestrian ramps, updated pavement markings, and changing pedestrian crossing signal pedestals and signals.
Locations of the improvements can be found on CountyWorks.
Project timeline
This project is completed.

Timeline: 
Construction was completed in September 2020. The project has a two-year warranty period, ending in 2022. The contractor may be required to work onsite to complete repairs or fix deficiencies.
Traffic impacts:
There may be minor and sporadic traffic impacts during repairs during the two-year warranty period.
Project contact:
County Connect
Ask it, report it or suggest it using County Connect