Gym rental
Rentable space at the Millennium Place Gymnasium
A limited number of casual gymnasium time slots are available to rent at Millennium Place.
The gym is divided into four gym spaces. Limited casual space is available to rent in Gym 1 and 2. With a casual booking, you will be given the exclusive use of the allotted gym space.
This casual booking space has been released in support of a pilot project to determine the level of interest in booking more desirable times in the gymnasium. A casual booking can be made a maximum of twice a month per person or organization (subject to change).
Timeslots are available on a first come, first served basis.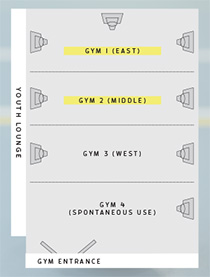 <picture class="uk-display-block uk-overflow-hidden">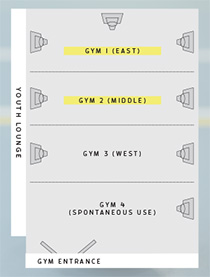 </picture>
Saturday and Sunday (Gym 1)
9 a.m. to 12 noon (55 minute time slots)
Monday to Thursday (Gym 2)
8 p.m. to 8:55 p.m.
Additional booking times (block or casual) are available weekdays and before 9 a.m. on weekends.