Gym rental
Updates and notices
June 16, 2020
Strathcona County indoor recreation facilities remain CLOSED, targeted re-opening dates listed below.
Strathcona County is taking a phased approach to re-opening recreation and culture facilities. Residents can expect the delivery of County-run services to look different upon re-opening. The safety of our guests and staff remains our top priority.
Please note: re-opening dates listed below are targets and may be subject to change.
Millennium Cards continue to be suspended with no payments being taken. Cardholders will be notified before payments resume.
Fees and admission rates for re-opening are being reviewed, more information to come.
Strathcona Wilderness Centre – campsites and fire pits to open June 19, Lodge and Info Centre to open July 7 to 15.
Wellness centres, racquet courts, and fitness tracks – to open July 7 to 15.
Indoor fields and dry-surface spaces – to open July 7 to 15
Halls at Ardrossan Recreation Complex and Moyer Recreation Centre – to open July 7 to 15
Arenas – phased re-opening starting the week of July 7

Sherwood Park Arena, Sherwood Park Sports Centre, Glen Allan Recreation Complex – July 7 to 15
Millennium Place – August 4 to 7
Ardrossan Recreation Complex – mid August
Strathcona Olympiette Centre – late August
Moyer Recreation Centre – mid September
Broadmoor Arena –

TBA

Festival Place – accepting September rental bookings starting July 15.
Public meeting spaces – to open July 7 to 15.
Emerald Hills Leisure Centre – to open July 15 to 22.
Kinsmen Leisure Centre – to open mid August
Pool at Millennium Place – to open early November (due to in progress revitalization project).
Indoor playgrounds, youth lounges, and child minding – remain closed (listed in Stage 3 of the province's relaunch plan.)
More information including guidelines for guests and precautions taken to help prevent the spread of COVID-19 will be available prior to re-opening. Learn more about Strathcona County's response to COVID-19.
Rentable space at the Millennium Place Gymnasium
A limited number of casual gymnasium time slots are available to rent at Millennium Place.
The gym is divided into four gym spaces. Limited casual space is available to rent in Gym 1 and 2. With a casual booking, you will be given the exclusive use of the allotted gym space.
This casual booking space has been released in support of a pilot project to determine the level of interest in booking more desirable times in the gymnasium. A casual booking can be made a maximum of twice a month per person or organization (subject to change).
Time slots are available on a first come, first served basis.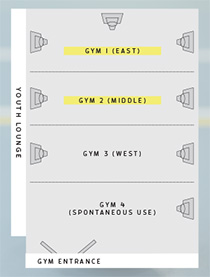 Saturday and Sunday (Gym 1)
9 a.m. to 12 noon (55 minute time slots)
Additional booking times (block or casual) are available weekdays and before 9 a.m. on weekends.