Gym rental
Updates and notices
Know before you go: learn what to expect, including new guidelines and procedures in place, before you arrive at the facility for your booking.
Gymnasium bookings
Bookings can be completed by calling 780-416-7252 or by emailing mpbooking@strathcona.ca up to 24 hours before your requested time. Bookings staff are available from Tuesday to Friday – 9 a.m. to 5 p.m. and Mondays – 1 p.m. to 5 p.m.
Access and use of the gymnasium will be by facility booking only.
Use of the gymnasium is not included in activity time slot bookings or passes.
Bookings will be taken up to two weeks in advance.
Pricing for a court is $34.61 +

GST

per hour.
Minimum bookings are 1 hour.
Guest maximums are no more than 25 people per court.
Gymnasium guidelines
While we encourage booking guests to bring their own equipment, equipment can be arranged; please leave details with a bookings administrator for these requests.
Nets and equipment can be provided for the following activities: Volleyball, Basketball, Badminton, Floor hockey and Pickleball.
Please arrive a maximum of 10 minutes before your booking.
Food and drinks are not permitted in the gymnasium, water only.
There will be no access to change rooms, washrooms only, please come ready to play.
Once you arrive for your booking please listen to staff and follow all posted signage.
Rentable space at the Millennium Place Gymnasium
A limited number of casual gymnasium time slots are available to rent at Millennium Place.
The gym is divided into four gym spaces. Limited casual space is available to rent in Gym 1 and 2. With a casual booking, you will be given the exclusive use of the allotted gym space.
This casual booking space has been released in support of a pilot project to determine the level of interest in booking more desirable times in the gymnasium. A casual booking can be made a maximum of twice a month per person or organization (subject to change).
Time slots are available on a first come, first served basis.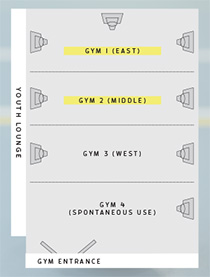 Saturday and Sunday (Gym 1)
9 a.m. to 12 noon (55 minute time slots)
Additional booking times (block or casual) are available weekdays and before 9 a.m. on weekends.