Thank you for keeping our facility safe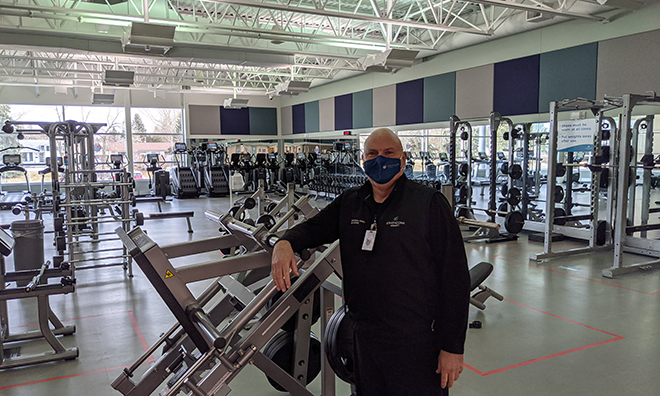 Kent Anderson
Dad | Husband | Strathcona County Fitness Technician
A retired teacher, Kent Anderson joined the Fitness Technician team at Strathcona County as a way to stay connected to the community and use his experience as a coach, weightlifter and triathlete.
A few months after he started his role, the COVID-19 pandemic hit. Motivated by his love of people and comforted by the rigorous guidelines put into place, Kent decided to return to his role when our wellness centres were able to re-open.
Working in such a public position during the pandemic can be nerve wracking. Not everyone is willing to accept and follow the rules or understand the impact their actions have on others.
For Kent, following the rules and guidelines in place to help stop the spread of COVID-19 is personal. Not only are Kent and his wife both in their sixties, his daughter Emily was born with a significant heart defect. The day after she was born, Emily had open-heart surgery and has experienced issues with her lungs. While she is now a healthy 23 year old, Emily is at higher risk of experiencing a severe outcome if she were to catch COVID-19.
To protect Emily's health, Kent and his family have erred on the side of caution. Together they continue to follow all health guidelines in place, including restricting visits with their oldest daughter, Kennedy. It's been difficult but everyone in the family knows how important it is to keep each other safe.
When thinking about the guests in our facilities who are resistant to the guidelines in place, Kent says, "The staff, we have families, we want to be protected, we want to keep our families safe. We don't want you sick, we don't want to get sick. It's about more than just who you see in the facility, it's also the relationships we have in our lives."
Overall, Kent is thrilled to be back in the wellness centres helping people and being part of the team. He is thankful that the vast majority of guests are taking the guidelines seriously and doing what they can to help stop the spread of COVID-19 in the community. To those individuals doing their best, Kent says, "Thank you for keeping our facility safe!"
Know before you go! Learn more about the provincial and facility guidelines in place to help stop the spread of COVID-19 in our community