Fun Factory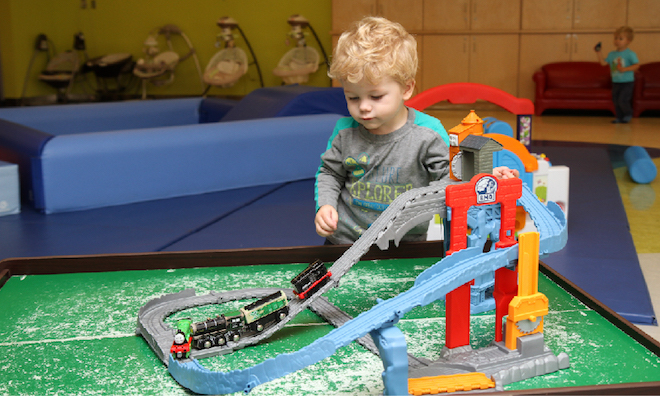 Millennium Place Fun Factory Saturday hours
Starting September 1, Saturday Fun Factory hours will be:
8:45 am – 1 pm
Millennium Place Fun Factory Brochure
Ardrossan Recreation Complex Fun Factory Brochure
Millennium Place
Closed on statutory holidays
September – June
Mon & Wed
8:45 a.m. – 2 p.m.
5 p.m. – 8:15 p.m.
Tue / Thur / Fri / Sat
8:45 a.m. – 1 p.m.
July – August
Mon – Fri
8:45 a.m. – 1 p.m
Ardrossan Recreation Complex
Closed on statutory holidays
September – June
Mon – Fri
9 a.m. – 12 noon
July – August
Mon/Wed/Thu
9 a.m. – 12 noon
Please see drop in schedule for exact schedule dates.
What is Fun Factory?
Fun Factory is a drop-in babysitting service for parents involved in activities located at Millennium Place. We provide a safe and caring environment for your children while you have some leisure time to participate in a healthy lifestyle.We will entertain your little one with colouring, toys, playdough, puzzles and books!
Our childcare providers are certified in Standard First Aid and Level C CPR and have undergone a Criminal Records Check.
Our ratios follow the guidelines established by the Alberta Government for drop-in daycare centres:

* Newborn to 19 months 5:1


19 months to 3 years 8:1

3-5 years 10:1

5 years + 12:1

$3.25 per child per half hour
$4.25 per family per half hour (single household)

| 10-hour punch pass | 32-hour punch pass |
| $59.00 Single child | $188.00 Single child |
| $77.00 Family | $246.40 Family |

Prices are based on 5%

GST

Family = immediate family only
Please note there is a 5 minute grace period

When you arrive at Fun Factory, please use our boot area to complete a Fun Factory form for each child participating as well as create a name label for each child and their belongings. When you enter the Fun Factory room our staff will collect each child's Fun Factory form, record each child's name and age group as well as the location of your activity. Our staff will record the time of entry according to the clock on the desk.

Staff will return your child's Fun Factory form to be used at your next visit as well as your child's belongings. We encourage you to store the form in your child's bag for use during your next visit. Extra forms are located in the boot area if required. Our staff will record the sign-out time from the clock on the desk. The staff will calculate your payment and punch your visit card or accept single tickets. There is a 5-minute grace period, anything over 5 minutes will be charged the next half hour.

Children play in close contact, which allows germs to be easily transmitted. Will you help us keep all visiting children healthy by keeping your child at home if influenza like symptoms are present? Fun Factory staff collect each parent or guardians location upon sign-in. When staff observe children exhibiting "influenza-like symptoms":http://www.albertahealthservices.ca parents are contacted.

Our childcare room has special safety locks out of the reach of the children. Please ensure that you re-lock when entering and leaving the room.

Toys and equipment are disinfected daily to ensure a clean and safe play environment. The cleaning of high touch surfaces (e.g., doorknobs, highchairs, snack tables, exersaucers, baby swings, mats, change stations) occurs at least twice daily to prevent transmission of viruses from person to person through contaminated hands. Fun Factory staff collect each parent or guardians location upon sign-in.

In consideration of children with allergies, please do not send snacks with peanuts or peanut products.

We are not equipped to serve lunches or breakfasts. Please enjoy the use of our lobby to feed your child their meal prior to entering childcare.

Please label all personal items (diapers, bottles, baby wipes, extra clothing, snacks, etc) before you bring them.

If your child likes a special toy, you are welcome to bring it along. However, we caution that we cannot be responsible for lost, shared or damaged toys.

Remember – you are responsible for the safety of your personal items.

Please take your valuables with you (i.e. – purses, wallets, cash) and avoid leaving them in diaper bags.

Wallet and purse lockers are available at the main reception desk for your convenience.

There is a coat room with lockers available for your convenience located near the Fun Factory at Millennium Place.
---
Please note: Fun Factory is a special service not included in the Millennium Card. Two weeks notice will be provided for any fee or schedule changes. Pick-up our childcare brochure at Millennium Place or Ardrossan Recreation Complex.
Additional information
780-416-3300 (Millennium Place) or
780-400-2084 (Ardrossan Recreation Complex)
recreation@strathcona.ca
County Connect
Ask it, report it or suggest it using County Connect