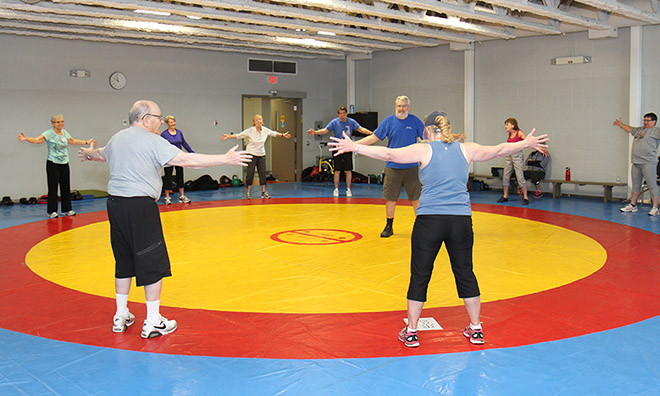 Do you have a chronic health condition?
Strathcona County offers programs specific to managing a lifestyle that includes Parkinson's, multiple sclerosis, 
Alzheimer's, arthritis, joint replacement and more.
Participating in one of these programs is one way to manage a new lifestyle, keep active and meet new people who are impacted by a similar set of health-related circumstances. Programs are tailored to the varying needs in the class.
Program examples: Next Step, Boxing Circuit, Minds in Motion™
Next step pass
The next step pass is $60 and is valid for 30 days after the purchase date. The pass includes access to Next Step Individual, Next Step Deep Water, Next Step Shallow Water, Pole Walking and Strength, Boxing circuit, Virtual - Aging Backwards with Essentrics, Virtual - Stability Yoga, and Stability Yoga.
Next Step classes are designed for people living with chronic health conditions or are finished a medically-supervised post-rehab program.
To purchase a pass, please call 780-464-8262.
Learn more about Next Step programs
Remaining active is key to managing a lifestyle that includes a chronic health condition.
 You will experience the benefits of:
•  Managing pain
•  Slowing the progression of your illness
•  Improving joint function, strength and balance
For more information and to register
780-464-8262