Health related programs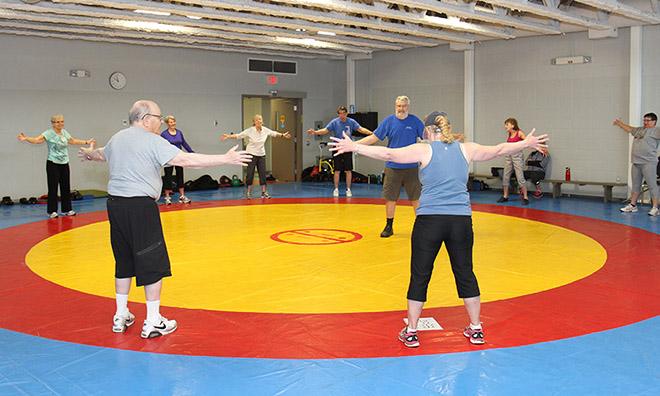 Do you have a chronic health condition?
Strathcona County offers programs specific to managing a lifestyle that includes Parkinson's, Multiple Sclerosis, 
Alzheimers, Arthritis, joint replacement and more.
If you or a loved one is affected by a chronic health condition, consider registering for a program. Programs are tailored to the varying needs in the class. Participating in one of these programs is one way to manage a new lifestyle, keep active and meet new people who are impacted by a similar set of health-related circumstances.
Examples of some of these programs are:
Better Backs
Fighting Back
Fighting Back - Shallow Water
Joint Health
Joint Mobility Clinic
Joint Works™
Minds in Motion™
See the below link for a complete program listing and descriptions.
Next Step Program
If you have a chronic health condition or are finishing up a medically supervised post rehab program, The Next Step Program is a great option. It is designed for people who want to become more physically active. All Next Step programs are led by a Certified Exercise Physiologist and address varying participant abilities.
Choose what's best for you.
Next Step Individual Program 
An individual program will be developed to enhance strength, stamina, circulation, mobility and cardiovascular fitness. Exercise will be done as part of a group.
Next Step Deep Water Program
This group program is ideal for people who enjoy exercise in warm water or have mobility issues. The class focuses on improved weight management, joint function, strength and cardiovascular fitness. Our warm water pool is easily accessible.
Next Step Group Program
Regular exercise is an essential part of any health treatment plan. This group class will focus on gentle exercises to help you move better, increase strength and endurance, and improve quality of life.
Remaining active is key to managing a lifestyle that includes a chronic health condition.
 You will experience the benefits of:
•  Managing pain
•  Slowing the progression of your illness
•  Improved joint function, strength and balance
For more information and to register
780-416-7233