Pitch-In
Make Strathcona County shine with Pitch-In for Canada's 150th anniversary, volunteer today!
May 1 - 31, 2017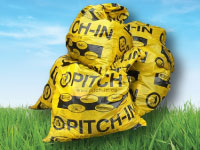 Pitch-In is a volunteer program that helps keep our community clean and green. We welcome businesses, families, organizations, schools and individuals to get involved. 
Last year over 2,500 bags of garbage was collected in Strathcona County, thanks to the 6,900 volunteers. Across Canada, over 622,400 volunteers help clean over 15,000 different sites.
To "Pitch-In" fill out the  Pitch-in Registration Form (96.7 KB)  and let us know where and when you would like to help out. We will provide you and your group with free plastic garbage bags. 
The garbage bags may be picked up at:
Recreation, Parks and Culture Administration Office
2025 Oak Street, Sherwood Park
Monday to Friday 
8:30 a.m. to 4:30 p.m.
Proud Partner: