Millennium Place Event Bookings
Are you planning a social event?
Design and arrange your own staff parties, sports parties, conferences, group bookings, family reunions, friendly get togethers or any social events now. Tournaments or competitions for all sorts of sports including lacrosse, soccer, ringette, hockey, and more can be arranged.
Do you plan to have alcohol service?
If you are booking space in Strathcona County's community halls, recreation centres or senior centres you are required to purchase Host Liquor Liability insurance in the amount of $2 million.
Are you planning a tournament or sporting competition?
Millennium Place is the perfect place to host your tournament, provincial, national or international events. We have the amenities to provide a first class experience.
Competition Benefits
On site full-service physiotherapy clinic
Tournament Operations Centre complete with telephone and computer outlets
Team dressing rooms and 600 locker change facilities
Washrooms located in the main lobby and the upper concourse
Seating for up to 250 people in main foyer
Fully accessible wheelchair facility
State-of-the-art wellness centre, aquatic centre with lap pool and leisure-wave pool, children's play area, special event centre and twin arena
Easy Access
Free parking for over 900 vehicles
Convenient bus lay-by at east entrance to accommodate team buses
Easy access from all major highways and arterial roads
Links to over 50 kilometres of Heritage Parkway Trail System located throughout Strathcona County
Retail, food services and accommodations
Food services include Second Cup and Coyote Jacks
Running Room retail store on site
Numerous hotels within four minutes of Millennium Place
We have experience
Canada 55+ Games – 2014
Canadian Elite Gymnastic 2013
Pan American Junior Badminton Championships – 2012
Western Ringette Championship 2011
Agricultural Service Board Tour 2010
Great Canadian Trade Fair – 2001 – 2014
Family Fest Expo 2010 – 2014
Team Handball Nationals 2008 – 2014

AVA

Provincials 2008 – 2011
Feis in the Park Irish Dance 2005 – 2011
Pink Ribbon Triathlon 2010-2011
Francophone Raje
Edmonton Oiler's Training Camps – 2000 – 2014
Olympic Wrestling Trials for Beijing Olympics – 2008
Canadian Urban Forest Conference – 2007
Northern Alberta Regional Figure Skating Championships
In-line Alberta Regionals/Provincials
Edmonton Men's & Millennium Place Triathlons
In-Line Nationals 2007
2007 Western Canada Summer Games
Esso Women's Hockey Nationals, 2004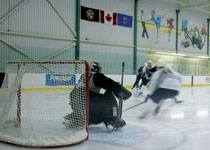 Edmonton Oilers training camp
Not only do we have the facilities to host your event, but also have the little bit extra to add that special touch.
Get ready to have a
BLAST
Millennium Place is designed to provide an indoor fitness opportunity for everyone. This exciting recreation facility is suited to satisfy your entire recreational, social and business needs. The facility prides itself on being accessible to a variety of people of all ages and abilities.
Recreation Opportunities
twin arena and leisure ice
twin sport fields
wellness centre
leisure wave pool with 0-depth entry
water play structure with slides and tipping buckets
whirlpool, sauna and steam room
lazy river with spiraling vortex
10-lane, 25-meter competition pool
indoor track that is three lanes, 235 metres long (6.8 laps = 1 mile) and features a unique incline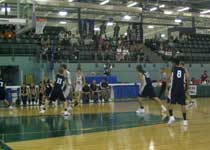 2007 Western Canada Summer Games
Rentals include a full range of amenities and services.
View the Millennium Place event booking brochure
Additional information
780-416-3300
millenniumplace@strathcona.ca