Ardrossan 55 Plus Club
The Ardrossan Senior Citizens' Drop In Centre is operated by the Ardrossan 55 Plus Club. The hall is located at 21 Queen Street, Ardrossan.
Directions to Ardrossan Seniors' Centre – Google Maps
Some of the centre amenities include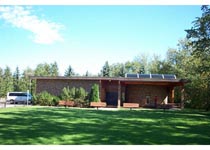 a mix of lino and carpet
with a full kitchen including 2 stoves, fridge, freezer and a commercial dishwasher
liquor is prohibited
smoke free environment
The building is 3572 square feet with a paved parking for 25. Capacity is 200 standing, 150 catered.
Outdoor amenities include
4 bocce ball courts
4 horseshoe pits
Rental rates
Meetings – varies
Socials – $75 (members)
Socials – $150 (non-members)
Security deposit – $200
Are you serving alcohol at this community hall for your function?
Alcohol is not allowed at this rental facility.
If you would like to find out more about this facility please call Elmer at 780-922-2748.
Programs and special events
The Ardrossan Seniors Citizens Club plans, administers and offers a number of community based programs and special events.
Monday
Exercise Class
9:30 a.m. – 10:30 a.m.
2nd Monday – every month
Pot Luck Supper
at 5:45 p.m.
1st Tuesday – every month
General Meeting
7 p.m.
2nd Tuesday – every month
Ardrossan Painters Group
11 a.m. – 3 p.m.
Wednesday
Exercise Class
9:30 a.m. – 10:30 a.m.
Bocce
10 a.m.
Floor Curling
1 p.m. – 4 p.m.
Thursday
Cribbage
7 p.m.
Activity Fun Night
crib and pool 7 p.m.
Friday
Scrabble
1 p.m. – 3 p.m.
Artists
9:30 a.m. – 12:30 p.m.
4th Sunday – every month
Jam Session
1 p.m. – 4 p.m.
For more information about activities please call Elmer at 780-922-2748. Current events and program information can also be found on the Event Calendar.
Strathcona County publishes community hall and senior centre information using content provided by the local community and seniors' associations licensed to operate and administer these facilities. We cannot guarantee the accuracy and currency of the information provided.