You are your child's best teacher!
Toddlers Don't Just Toddle 
Sensitive periods in early brain development
Sensitive periods are times of increased opportunity to positively affect development, and increased risk to hamper development.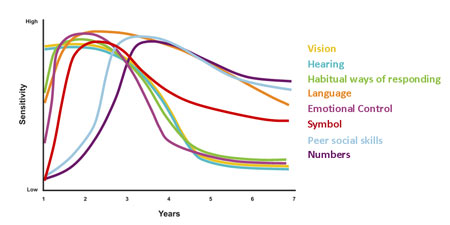 Critical Years are birth to three: 
Most important period for human development  
Lay the foundation for all later development  
Impact lifelong learning, behaviour, health and well-being
Curious about your child's development?
Learn what you can expect at various ages & stages. You can complete a questionnaire that provides a look at your child's expected milestones for his/her age. You can also stop by Parent Link and ask a resource worker for a questionnaire.
You can now complete an Ages & Stages Questionnaire or a Social-Emotional Questionnaire online.
Wondering what to expect at each age and stage?
Looking for ideas to try at home? 
Are you looking to read more about a parenting topic?
Strathcona County Library has booklists of terrific titles read and recommended by SCL staff. You can also find print copies in the Library.
Want to find out more?
Zero To Three Child Development - Includes tips and tools for parents of children 0-3 with questions on challenging behaviours, early development, health/nutrition, promoting social/emotional development, play, sleep, etc. 
Early Experiences - Offers parents strategies around getting school reading, activities to try at home, and information on early childhood development.
Triple P Tip Sheets - Get started right away by exploring helpful parenting tips!