Public engagement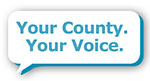 Strathcona County recognizes the growing demand for public engagement and the value of public contribution to decision making. The County supports public engagement that is honest, transparent and accessible.
 
Current Engagement Opportunities
Please check back for future engagement opportunities.
Public Engagement Framework
The County's public engagement is based on the Strathcona County Public Engagement Framework. This framework, approved by Council in June 2010, outlines a process for planning and implementing public engagement activities, including:
Guiding principles
Continuum of engagement
See also: Public Engagement Policy
Public Engagement e-newsletter
Collection and use of personal information
This personal information is being collected in accordance with the Municipal Government Act, Section 3 and the Freedom of Information and Protection of Privacy Act, Section 33. It will be used to distribute an electronic newsletter and only used for this purpose. Privacy and Security Statement. Strathcona County uses Edmonton based Industry Mailout for our eNewsletter needs. All data, including the subscribe email addresses are kept in data bases in Canada.
Further information
Dawn Green
Senior Advisor, Public Engagement
Corporate Planning & Intergovernmental Affairs
Phone: 780-464-8092
Email: dawn.green@strathcona.ca