County is over the moon excited for the start of the 2023 Special Olympics Alberta Winter Games
February 1, 2023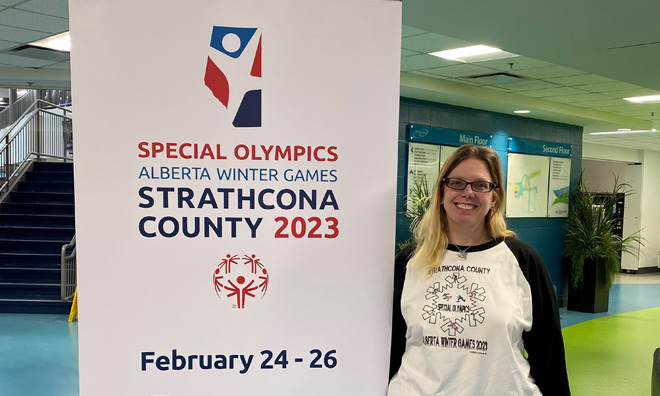 Excitement is building in Strathcona County for the 2023 Special Olympics Alberta Winter Games, hosted at five local recreation facilities from February 24 to 26 and featuring eight winter sports. In celebration of the Games, the world-travelling public art experience, moonGARDEN, is set to land outside the front entrance of Millennium Place starting February 17, and will showcase imagery themed to the Games. Residents also have an opportunity to gear up by purchasing limited edition, Games-branded t-shirts designed by a local artist.

Since its debut at Montreal's winter festival, Luminothérapie, in 2012, moonGARDEN has captivated more than one million viewers across the globe. Ranging from six to 15 feet in height, giant spheres hold a unique spectacle of shadow puppetry amidst a dreamy soundscape and radiant light. The shadow puppets were designed for the 2023 Special Olympics Alberta Winter Games to honour the commitment, perseverance and achievement shared by Games athletes.
moonGARDEN is toured by Wireframe Public Art Agency and created by Lucion Media; a collective of visual artists, urban designers, interactive developers, storytellers and musicians. The installation is sponsored by Goodwill and as the 2023 Special Olympics Alberta Winter Games Cultural Experience Sponsor, they offer a message of support to athletes: "Perfection is not attainable, but if we chase perfection we can catch excellence. Good luck to all athletes!"
Visitors can enjoy free access to the installation positioned outside the main entrance of Millennium Place from February 17 to March 3.
While awaiting the arrival of moonGARDEN, the community can get into the Games spirit by purchasing limited edition t-shirts. In fall 2022, artists with developmental and/or intellectual disabilities from Winder Inclusive Communities Service, Robin Hood Association and The Nina Haggerty Centre for the Arts submitted t-shirt designs to a small selection panel. The panel chose the design of local Sherwood Park artist, Candice Bagan:
"I'm really proud of my artwork. This project was a lot of fun to do, and it was a great experience," says Candice Bagan.
Candice's t-shirt design is on sale now at Millennium Place and can be purchased for $30 + GST (while supplies last). Proceeds go towards supporting accessible and inclusive cultural programming in Strathcona County.
In addition to the t-shirt, a display showcasing all artwork submitted to the panel will be available for viewing at Millennium Place during the Games. Strathcona County wishes to thank all participating artists and groups, as well as the Games Inclusion Sponsor, Pembina Pipeline Corporation, for supporting this important initiative.
For more information about the 2023 Special Olympics Alberta Winter Games, including sporting activities, venues and event schedules, visit strathcona.ca/SOA2023.
-30-
 
Contact: Strathcona County Communications, 780-410-6595