County unveils new public art with an interactive addition
May 12, 2020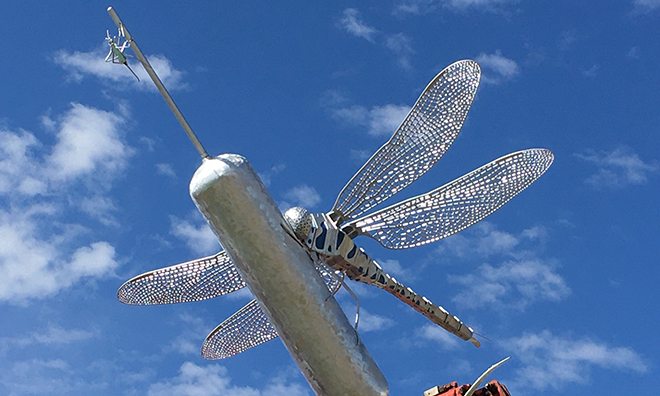 A 20–foot sculpture of a bulrush featuring a dragonfly finding a mosquito for lunch was installed on Wednesday, May 6 at the ArrKann Spray Park and Playground in Ardrossan Regional Park. The latest in Strathcona County's public art collection, "Eyes on the Prize" was created by Canadian artist, William Frymire.
The artist, William Frymire, derives most of his inspiration from the beauty of nature and has an interest in habitat and water conservation. "Eyes on the Prize" is crafted of aluminum with green acrylic in the leaves, blue acrylic in the dragonfly's body and red in the mosquito. At a later date, ten additional mosquitoes will be mounted throughout the playground for children to search for.
William Frymire's public artworks can be found in many communities including Edmonton, Fort Saskatchewan, St. Albert and Fort Chipewyan. "Eyes on the Prize" was selected from 12 submissions by artists from across Canada. Work on this piece started in 2019, but installation was delayed until May 2020.
The ArrKann Spray Park and Playground is located just behind the Ardrossan Recreation Complex at 80-1 Avenue, Ardrossan. The public can enjoy the walking trails and view this piece of art however, at this time the spray park, playground, and recreation complex remain closed due to COVID-19 physical gathering restrictions. 
For more information about the County's Public Art Plan, visit strathcona.ca/publicart.
Set in the centre of Alberta's energy and agricultural heartland, Strathcona County is a thriving, successful and vibrant community of over 98,000 residents. Strathcona County is made up of the urban area of Sherwood Park and a large adjacent rural area of farms, acreages and smaller hamlets. It is home to 75 per cent of hydrocarbon processing in Western Canada. Strathcona County is a leader in environmental conservation, and 55 per cent of its land is within the UNESCO Beaver Hills Biosphere. With a focus on economic, governance, social, cultural and environmental sustainability, Strathcona County is committed to balancing the unique needs of its diverse community.
- 30 -
Contact: Strathcona County Communications, 780-410-6595