Temporary recycle site to open in Strathcona County
April 29, 2020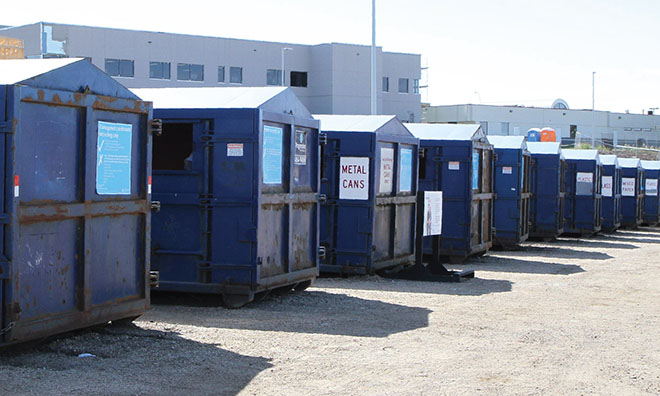 Strathcona County is opening a temporary recycling site to help residents manage their short-term recycling, yard waste and waste during the COVID-19 pandemic. This site is intended for residents who lack the space to store these materials until the Broadview Enviroservice Station reopens. Residents are still being asked to limit out of home interactions, and so should hold onto their materials if possible.
The temporary recycling site will be located at the Strathcona Public Services Yard at 420 Streambank Avenue. The site will be open daily starting Thursday, April 30, from 10 a.m. to 6 p.m. and will be accepting household recycling, residential yard waste and minimal waste.
Residents are asked to sort their items ahead of time to ensure only accepted items are brought to the site. Pre-sorting will also help the site run quickly and smoothly.
To ensure the health and well-being of all staff and other residents:
Please stay home if you are feeling sick or showing any symptoms of COVID-19
Follow the instructions of the attendant
Only 15 vehicles will be permitted at any given time
Keep at least 2 metres from others (physical distancing)
Avoid touching communal surfaces, and wash or sanitize your hands afterwards
Strathcona County will be following Alberta Health Services guidelines such as cleaning high contact points on a regular basis.
The site will only accept:
Household recyclables: cardboard, mixed paper, glass, tin cans, plastic containers and non-deposit tetra-packs 
Residential yard waste – grass, leaves and small amounts of twigs and branches (will need to be debagged or in paper or compostable bags)
Garbage – (No longer accepted at this site as of July 8, 2020, please take garbage to Broadview, fees may apply) limit one bag per household per week (free)
The site will not accept:
Household hazardous waste such as used oil, electronics and paint
Styrofoam
Large furniture, electrical appliances or other large waste or metal items
Tires
Commercial volumes of trees and brush and yard waste. Landscape and yard waste contractors will have to find alternative disposal options
Residents are asked to hold on to these materials until our regular facilities reopen. Hazardous materials should not be disposed of in the black cart. Please store safely in a shed or garage.
Residents are encouraged to download the County's waste management app for up-to-date program information and collection notices at strathcona.ca/greenroutineapp.
More information: strathcona.ca/recycle
Set in the centre of Alberta's energy and agricultural heartland, Strathcona County is a thriving, successful and vibrant community of over 98,000 residents. Strathcona County is made up of the urban area of Sherwood Park and a large adjacent rural area of farms, acreages and smaller hamlets. It is home to 75 per cent of hydrocarbon processing in Western Canada. Strathcona County is a leader in environmental conservation, and 55 per cent of its land is within the UNESCO Beaver Hills Biosphere. With a focus on economic, governance, social, cultural and environmental sustainability, Strathcona County is committed to balancing the unique needs of its diverse community. 
- 30 - 
Contact: Strathcona County Communications, 780-410-6595